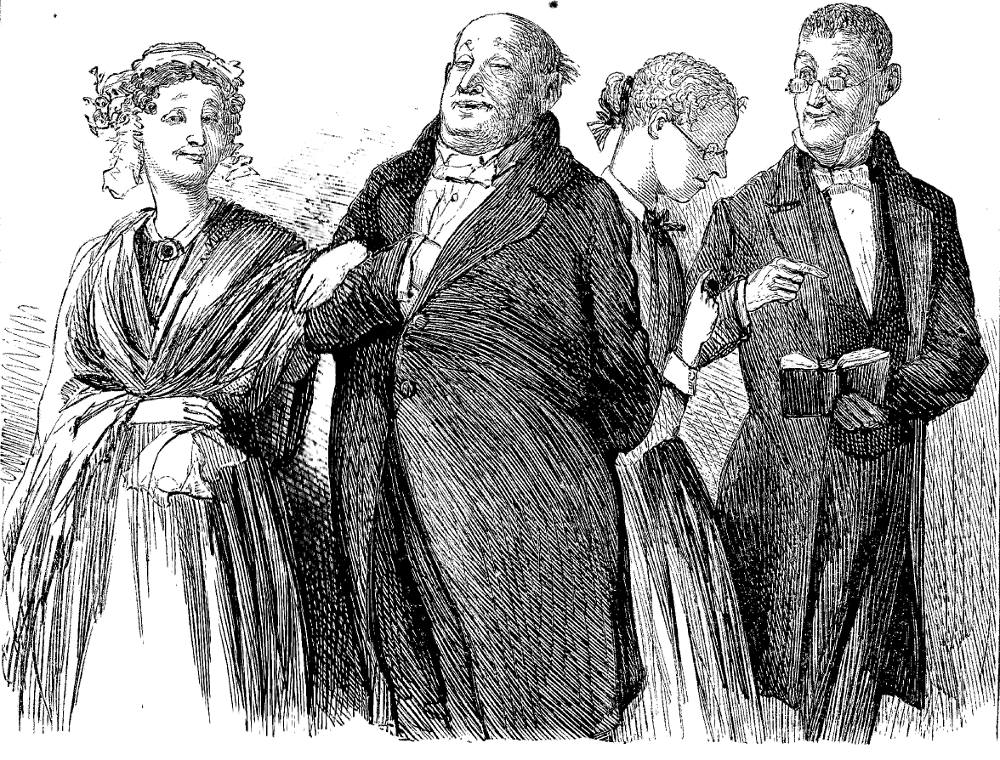 The fourth full-page illustration for Dombey and Son: The Blimbers and Mr. Feeder. Sol Eytinge, Jr. 8.5 cm high by 10 cm wide, framed. The Diamond Edition of Dickens's Works, Volume III (Boston: Ticknor and Fields, 1867), facing page 82. [Click on the image to enlarge it.]
Context of the Illustration: Introducing the Education Professionals
The Doctor was a portly gentleman in a suit of black, with strings at his knees, and stockings below them. He had a bald head, highly polished; a deep voice; and a chin so very double, that it was a wonder how he ever managed to shave into the creases. He had likewise a pair of little eyes that were always half shut up, and a mouth that was always half expanded into a grin, as if he had, that moment, posed a boy, and were waiting to convict him from his own lips. Insomuch, that when the Doctor put his right hand into the breast of his coat, and with his other hand behind him, and a scarcely perceptible wag of his head, made the commonest observation to a nervous stranger, it was like a sentiment from the sphynx, and settled his business.
Miss Blimber, too, although a slim and graceful maid, did no soft violence to the gravity of the house. There was no light nonsense about Miss Blimber. She kept her hair short and crisp, and wore spectacles. She was dry and sandy with working in the graves of deceased languages. None of your live languages for Miss Blimber. They must be dead — stone dead — and then Miss Blimber dug them up like a Ghoul.
Mrs Blimber, her Mama, was not learned herself, but she pretended to be, and that did quite as well. She said at evening parties, that if she could have known Cicero, she thought she could have died contented. It was the steady joy of her life to see the Doctor's young gentlemen go out walking, unlike all other young gentlemen, in the largest possible shirt-collars, and the stiffest possible cravats. It was so classical, she said.
As to Mr. Feeder, B. A., Doctor Blimber's assistant, he was a kind of human barrel-organ, with a little list of tunes at which he was continually working, over and over again, without any variation. He might have been fitted up with a change of barrels, perhaps, in early life, if his destiny had been favourable; but it had not been; and he had only one, with which, in a monotonous round, it was his occupation to bewilder the young ideas of Doctor Blimber's young gentlemen. The young gentlemen were prematurely full of carking anxieties. They knew no rest from the pursuit of stony-hearted verbs, savage noun-substantives, inflexible syntactic passages, and ghosts of exercises that appeared to them in their dreams. Under the forcing system, a young gentleman usually took leave of his spirits in three weeks. He had all the cares of the world on his head in three months. He conceived bitter sentiments against his parents or guardians in four; he was an old misanthrope, in five; envied Curtius that blessed refuge in the earth, in six; and at the end of the first twelvemonth had arrived at the conclusion, from which he never afterwards departed, that all the fancies of the poets, and lessons of the sages, were a mere collection of words and grammar, and had no other meaning in the world. [Chapter 11, "Paul's Introduction to a New Scene," p. 82]
Comment
Eytinge depicts the Blimbers and Feeder as a class or type, self-centred and self-important. The claims of Mrs. Blimber (left) to being educated are mere pretentions, but secretly she yearns to be able to read Cicero in the original Latin. The chief figure in the group study, Dr. Blimber (centre), is the Head of Paul Dombey's school in fashionable Brighton, a pedant whom Dickens characterizes by his girth, out-moded clothing, shining forehead, and multiple "double" chins. Cornelia (the studious-looking young woman in spectacles) teaches "dead" languages at her father's academy, and is destined, upon her father's retirement, to marry the Assistant Headmaster, Mr. Feeder (right). Eytinge's group study is consistent with Dickens's extensive satire of Dr. Blimber's Academy, whose Master and scholars Phiz depicted at the beach in Doctor Blimber's Young Gentlemen As They Appeared When Enjoying Themselves (Part 4, January 1847).
The Relevant Illustrations of Dr. Blimber the Novel from Other Editions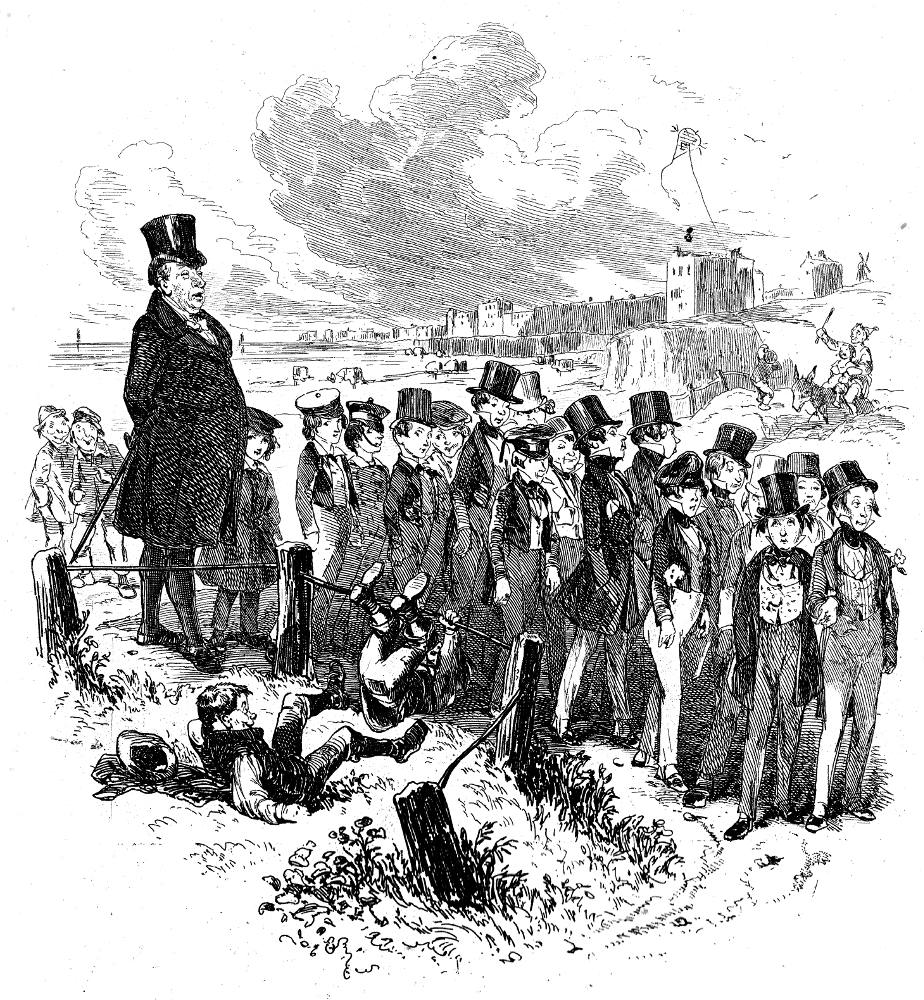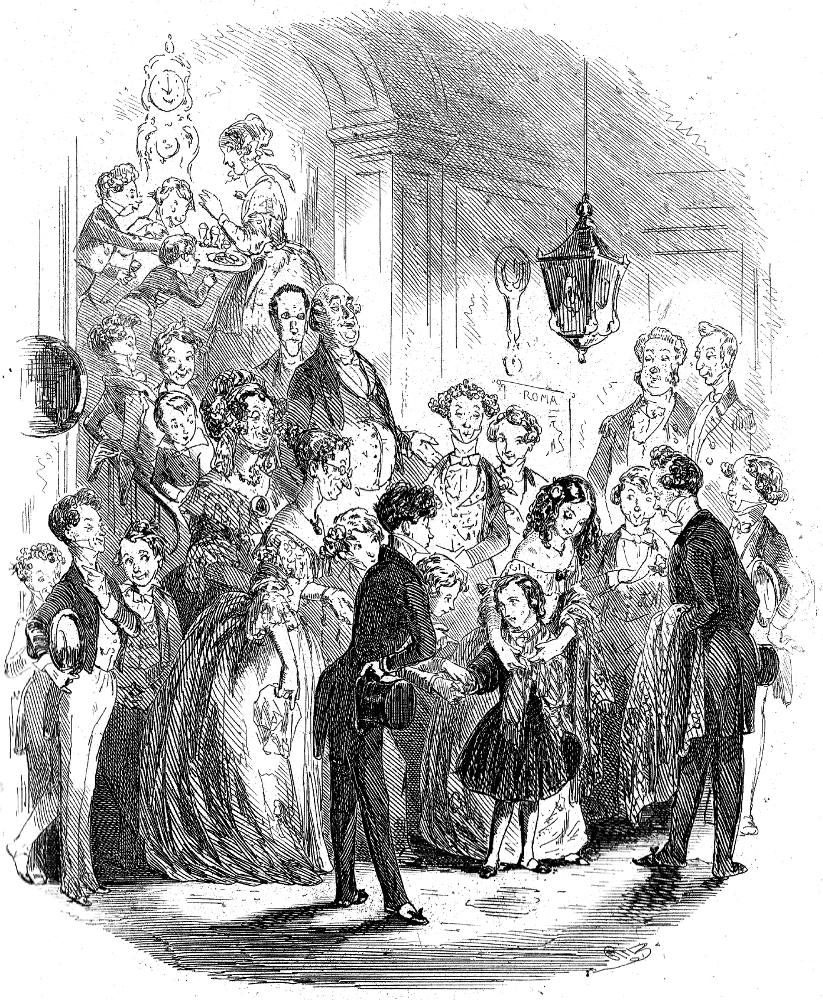 Left: Phiz's January 1847 illustration for the twelfth chapter, Doctor Blimber's Young Gentlemen as they appeared when Enjoying Themselves. Centre: Phiz's other study of Dr. Blimber's Academy, Paul goes Home for the Holidays (February 1847). Right: Fred Barnard's Household Illustration of Dr. Blimber in his study in Chapter 12: When the Doctor smiled auspiciously at his author, or knit his brows, or shook his head and made wry faces at him . . . (1877).
Scanned image and text by Philip V. Allingham. [You may use this image without prior permission for any scholarly or educational purpose as long as you (1) credit the person who scanned the image and (2) link your document to this URL in a web document or cite the Victorian Web in a print one.]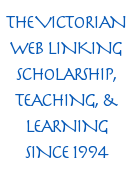 Related Material, including Other Illustrated Editions of
Dombey and Son
Bibliography
Dickens, Charles. Dombey and Son. Illustrated by Hablot Knight Browne (Phiz). 8 coloured plates. London and Edinburgh: Caxton and Ballantyne, Hanson, 1910.
_______. Dombey and Son.16 Illustrations by Sol Eytinge, Jr., and A. V. S. Anthony (engraver). The Diamond Edition. Boston: Ticknor & Fields, 1867. III.
Hammerton, J. A.. "Ch. XVI. Dombey and Son."  The Dickens Picture-Book. London: Educational Book Co., [1910], 294-338.
---
Created 6 December 2020