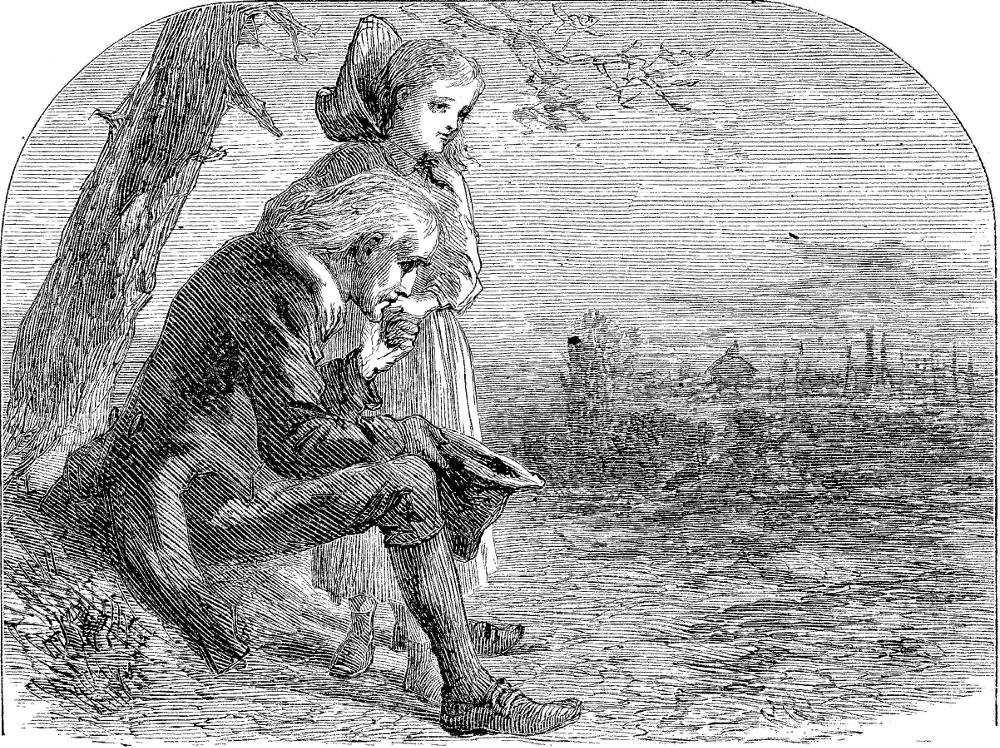 The initial full-page illustration for The Old Curiosity Shop,Little Nell and Her Grandfather, may allude to the parallel scene in the first edition for Chapter 15, A Rest by the Way; or, Little Nell and Her Grandfather Looking back on London. Frontispiece by Sol Eytinge, Jr. 7.5 cm high by 10.1 cm wide, framed. The Diamond Edition of Dickens's Works, Volume XII (Boston: Ticknor and Fields, 1867), facing title-page.
Passage Illustrated: Escape to the Countryside
Then came the public-house, freshly painted in green and white, with tea-gardens and a bowling green, spurning its old neighbour with the horse-trough where the waggons stopped; then, fields; and then, some houses, one by one, of goodly size with lawns, some even with a lodge where dwelt a porter and his wife. Then came a turnpike; then fields again with trees and hay-stacks; then, a hill, and on the top of that, the traveller might stop, and-looking back at old Saint Paul's looming through the smoke, its cross peeping above the cloud (if the day were clear), and glittering in the sun; and casting his eyes upon the Babel out of which it grew until he traced it down to the furthest outposts of the invading army of bricks and mortar whose station lay for the present nearly at his feet — might feel at last that he was clear of London.
Near such a spot as this, and in a pleasant field, the old man and his little guide (if guide she were, who knew not whither they were bound) sat down to rest. She had had the precaution to furnish her basket with some slices of bread and meat, and here they made their frugal breakfast. [Chapter XV, 75]
Commentary: Looking Back on a Romantic Vista
Eytinge may well have modelled his frontispiece of Little Nell and Grandfather Trent looking back on London in the distance, but he foregrounds the figures rather than the surrounding vegetation, and throws London under an obscuring pall of smoke. Although this, too, is a composite blockblock graving, Eytinge and his engraver, A. V. S. Anthony, has sharpened lines and made Grandfather Trent more human and appealing than the figure in the original Phiz illustration. Eytinge clearly felt that the experiences of the wanderers were the novel's central feature, and that the novel's initial setting, the Old Curiosity Shop itself, was not suitable for setting the keynote for the picaresque action. In fact, in Eytinge's series of twelve illustrations, setting is often minimal, and the shop which gives the novel its name is not represented.
Related Resources for Dickens's
The Old Curiosity Shop

(1841-1924)
Relevant American Engraved Title-Pages for this Novel (1861)
Of the five chief nineteenth-century illustrated editions that preceded Furniss's 32-illustration volume in 1912, only three had long programs exclusively produced by a single artist: Eytinge (1867), Worth (1876), and Green (1876).
Scanned image, colour correction, sizing, caption, and commentary by Philip V. Allingham. [You may use this image without prior permission for any scholarly or educational purpose, as long as you (1) credit the person who scanned the image, and (2) link your document to this URL in a web document or cite the Victorian Web in a print one.]
Bibliography
Bentley, Nicolas, Michael Slater, and Nina Burgis. The Dickens Index. Oxford and New York: Oxford U. P., 1988.
Davis, Paul. Charles Dickens A to Z: The Essential Reference to His Life and Work. New York: Facts On File, 1998.
Dickens, Charles. The Old Curiosity Shop in Master Humphrey's Clock. Illustrated by Phiz, George Cattermole, Samuel Williams, and Daniel Maclise. 3 vols. London: Chapman and Hall, 1841.
_______. The Old Curiosity Shop and Reprinted Pieces. 18 Illustrations by Sol Eytinge, Jr. The Diamond Edition. Boston: Ticknor & Fields, 1867. XII.
Kitton, Frederic George. Dickens and His Illustrators: Cruikshank, Seymour, Buss, "Phiz," Cattermole, Leech, Doyle, Stanfield, Maclise, Tenniel, Frank Stone, Landseer, Palmer, Topham, Marcus Stone, and Luke Fildes. Amsterdam: S. Emmering, 1972. Re-print of the London 1899 edition.
Schlicke, Paul, ed. The Oxford Reader's Companion to Dickens. Oxford and New York: Oxford U. P., 1999.
Winter, William. "Charles Dickens" and "Sol Eytinge." Old Friends: Being Literary Recollections of Other Days. New York: Moffat, Yard, & Co., 1909. 181-202, 317-319.
---
Created 28 May 2020

Last modified 10 August 2020