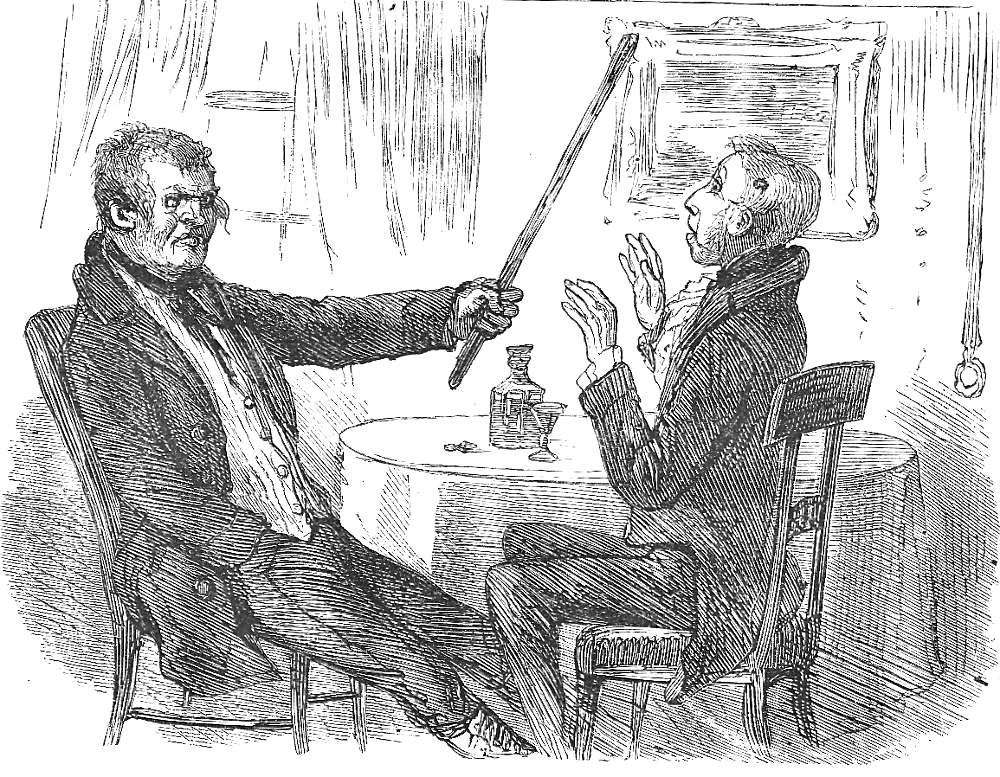 "The Great Winglebury Duel", the seventh full-page illustration by Sol Eytinge, Jr., in the Sketches by Boz section. 7.4 cm high by 9.9 cm wide. The Diamond Edition of Dickens's Christmas Books and Sketches by Boz, Illustrative of Every-day Life and Every-day People (Boston: Ticknor and Fields, 1867; rpt., James R. Osgood, 1875). Whereas the illustration The Great Winglebury Duel is facing p. 448, the story does not actually begin until p. 449, so that Eytinge introduces readers to the odd situation of an hotel employee holding a guest against his will some six pages before the point in the letterpress at which the scene occurs. The older man, dressed in fustian and breeches, shaking his cane, is the boots at The Winglebury Arms, and the alarmed young man in modern tailcoat and cravat is Alexander Trott, just arrived by stagecoach from London, and already challenged by letter to a duel with Horace Hunter. Scanned image and text by Philip V. Allingham. [You may use these images without prior permission for any scholarly or educational purpose as long as you (1) credit the photographer and (2) link your document to this URL in a web document or cite the Victorian Web in a print one.]
Passage Illustrated
"You'd better be quiet, young feller," remarked the boots, going through a threatening piece of pantomime with the stick.
"Or mad!" said Mr. Trott, rather alarmed. "Leave the room!" shouted Trott, ringing the bell violently: for he began to be alarmed on a new score.
"Leave that 'ere bell alone, you wretched loo-nattic!" said the boots, suddenly forcing the unfortunate Trott back into his chair, and brandishing the stick aloft. "Be quiet, you miser'ble object, and don't let everybody know there's a madman in the house."
"He is a madman! He is a madman!" exclaimed the terrified Mr. Trott, gazing on the one eye of the red-headed boots with a look of abject horror.
"Madman!" replied the boots — "dam'me, I think he is a madman with a vengeance! Listen to me, you unfort'nate. Ah! would you?" [a slight tap on the head with the large stick, as Mr. Trott made another move towards the bell-handle] "I caught you there! did I?"
"Spare my life!" exclaimed Trott, raising his hands imploringly.
"I don't want your life," replied the boots, disdainfully, "though I think it 'ud be a charity if somebody took it."
"No, no, it wouldn't," interrupted poor Mr. Trott, hurriedly, "no, no, it wouldn't! I — I —'d rather keep it!"
"O werry well," said the boots: "that's a mere matter of taste — ev'ry one to his liking. Hows'ever, all I've got to say is this here: You sit quietly down in that chair, and I'll sit hoppersite you here, and if you keep quiet and don't stir, I won't damage you; but, if you move hand or foot till half-past twelve o'clock, I shall alter the expression of your countenance so completely, that the next time you look in the glass you'll ask vether you're gone out of town, and ven you're likely to come back again. So sit down."
"I will — I will," responded the victim of mistakes; and down sat Mr. Trott and down sat the boots too, exactly opposite him, with the stick ready for immediate action in case of emergency.
Long and dreary were the hours that followed. The bell of Great Winglebury church had just struck ten, and two hours and a half would probably elapse before succour arrived. — "Tales," Chapter 8, "The Great Winglebury Duel," p. 456-57.
Brighton and Faversham are 41 miles from London, but Dickens announces that the sleepy setting of the prose farce "is exactly forty-two miles and three-quarters from Hyde Park Corner" (194); in other words, quite removed from this boundary between country and city, and therefore far removed from the more sophisticated milieu of the metropolis. However, Great Winglebury is a market town not unlike Rochester in Kent (albeit, only 32 miles from central London); Chatham, the other Medway town that Dickens knew well from boyhood, is just 34 miles. Both towns are now connected by rapid rail service to central London, but rail service occurred later in Dickens's life, so that a coach journey was the only alternative for both Alexander Trott in this sketch and Samuel Pickwick in The Pickwick Papers. As a young author, Charles Dickens used such somnolent settings to appeal to Victorian readers' nostalgic longing for the old usages of life in county towns and villages, a way of life that was rapidly vanishing even in the early decades of Victoria's reign.
The short story "The Great Winglebury Duel" became the basis for Dickens's early farce "The Strange Gentleman," which débuted at the St. James's Theatre, London, on 29 September 1836, with the names of the principals slightly altered, possibly for comic effect: "Alexander Trott," the "Strange Gentleman," becomes "Walter Trott"; "Horace Hunter," Trott's rival, becomes "Horatio Tinkles"; and "Lady Julia" becomes plain "Miss Julia Dobbs." Paul Davis admirably sums up the short story's complicated romantic plot of mistaken identity:
When Alexander Trott tries to avoid fighting a duel with Horace Hunter over the hand of Emily Brown by soliciting the influence of the mayor of Winglebury, he inadvertently becomes entangled with Lady Julia Manners and Lord Peter. The duel is averted, but Trott is taken for Lord Peter. When he is bundled off in a carriage with Lady Julia, the two decide to marry, thus allowing Emily Brown to marry Horace Hunter. [162]
Although most of the sketches in this work were originally published as separate entries in various magazines and journals between 1833 and 1836, the 1837 "Second Series" edition does represent the first appearance of five of the sketches: "A Visit to Newgate," "The Black Veil," "The Great Winglebury Duel," "Our Next-Door Neighbour," and "The Drunkard's Death." Accordingly, the illustration of Alexander Trott and the boots is one of the last which Cruikshank produced for the series. Precisely the same scene is realised by George Cruikshank (1839), Sol Eytinge, Junior (1867), and Harry Furniss (1910) in The Great Winglebury Duel. All four visual interpretations of the scene occur in Trott's room at the Winglebury Arms. Whereas Eytinge's version shows a sour-faced boots's raising his cane and Trott asking to be spared, Cruikshank's is much more static, as the boots (looking very much like the wild-eyed London cabbie in The Last Cab-Driver) merely stares malevolently at the surprised young gentleman, sitting next to a nicely appointed table with fruit, a wine decanter, and a small glass of wine. Since these details are consistent with Eytinge's 1867 wood-engraving (which also has a landscape painting on the wall behind Alexander Trott), it is likely derived from Cruikshank's illustration. The provenance of the Barnard interpretation is not so obvious, as his boots, not seated as in the Cruikshank original, and now holding a countryman's walking-stick aloft, is a much more dynamic figure as he attempts to grab the terrified young gentleman, cowering in his armchair. The action is intensified by the vigorous crosshatching that has replaced the patterned carpet in the Cruikshank copper-engraving, and the lightness with which Barnard has sketched in the bell-pull and painting in the backdrop brings the eye forward, as if Barnard is making use of the photographic effect of blurring the background in order to emphasize figures in the foreground. The Furniss illustration of thirty-five years later is much more a caricature of both the bolt-upright young gentleman and thoughtful, determined boots, holding his fur-cap on his knee as he menaces Trott with his heavy-headed walking-stick.
Relevant Illustrations from other editions (1867-1910)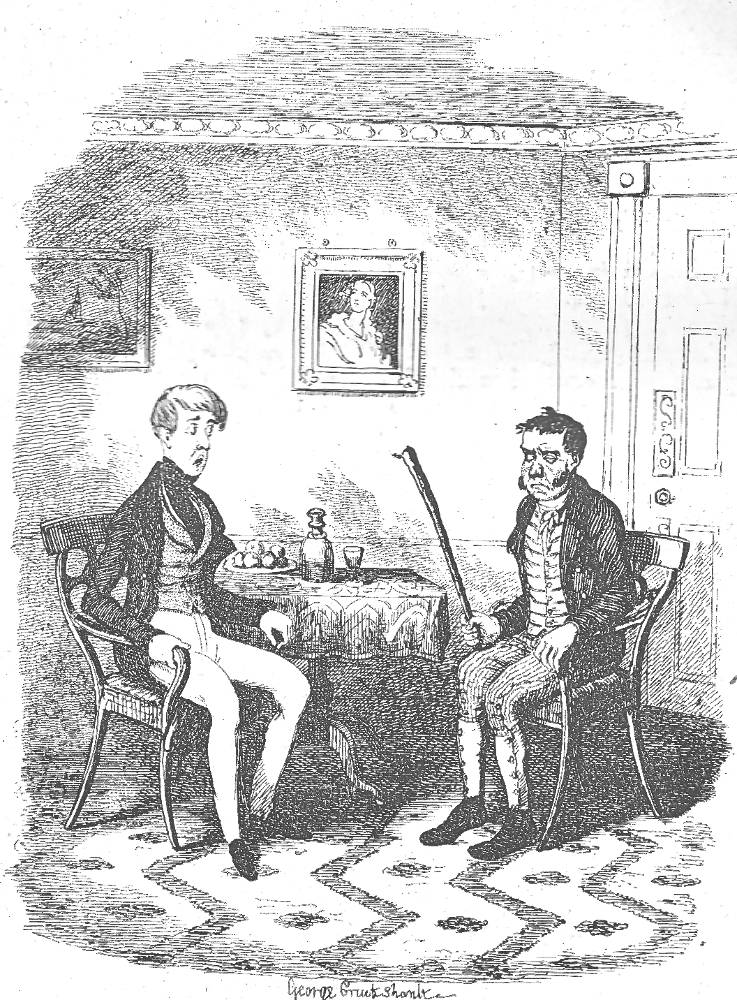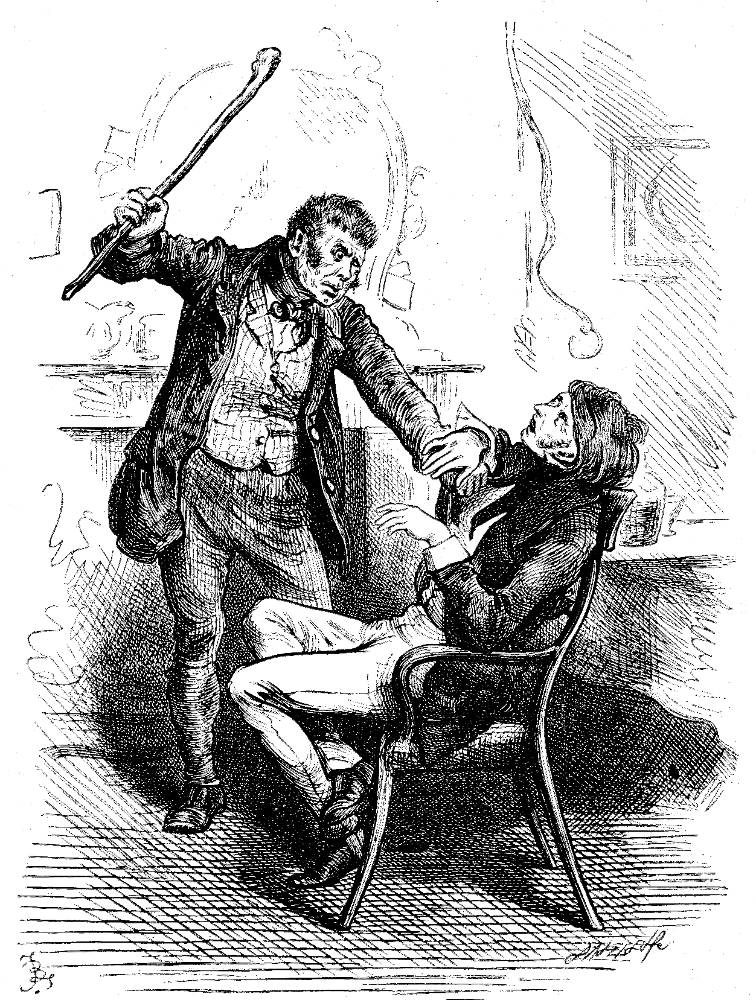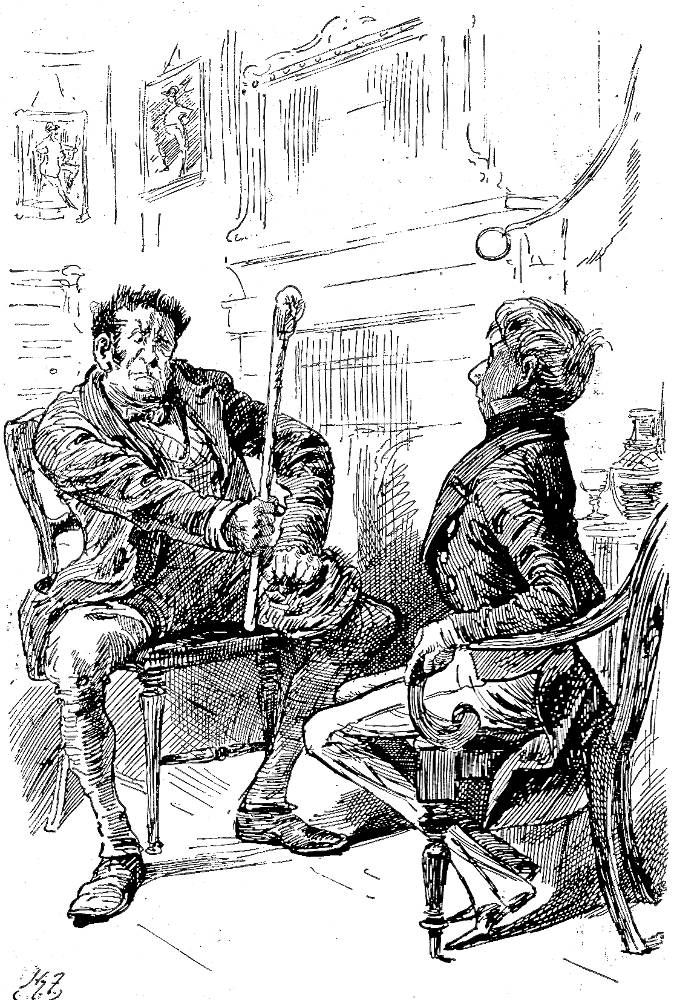 Left: George Cruikshank's original depiction of the scene, with a much more self-contained boots, "The Winglebury Duel. Right: Harry Furniss's 1910 depiction of the same incident, likely derivative, The Great Winglebury Duel. [Click on the images to enlarge them.]
Bibliography
Ackroyd, Peter. Dickens: A Biography. London: Sinclair-Stevenson, 1990.
Bentley, Nicholas, Michael Slater, and Nina Burgis. The Dickens: Index. Oxford: Oxford U. P., 1990.
Davis, Paul. Charles Dickens A to Z. The Essential Reference to His Life and Work. New York: Checkmark and Facts On File, 1998.
Dickens, Charles. "The Great Winglebury Duel," Chapter 8 in "Tales," Sketches by Boz. Illustrated by George Cruikshank. London: Chapman and Hall, 1839; rpt., 1890. Pp. 305-18.
Dickens, Charles. "The Great Winglebury Duel," Chapter 8 in "Tales," Christmas Books and Sketches by Boz, Illustrative of Every-day Life and Every-day People. Illustrated by Sol Eytinge, Jr. The Diamond Edition. Boston: James R. Osgood, 1875 [rpt. of 1867 Ticknor & Fields edition]. Pp. 449-59.
Dickens, Charles. "The Great Winglebury Duel," Chapter 8 in "Tales," Sketches by Boz. Illustrated by Fred Barnard. The Household Edition. London: Chapman and Hall, 1876. Pp. 194-202.
Dickens, Charles. "The Great Winglebury Duel," Chapter 8 in "Tales," Sketches by Boz. Illustrated by Harry Furniss. The Charles Dickens Library Edition. London: Educational Book Company, 1910. Vol. 1. Pp. 391-408.
Hammerton, J. A. The Dickens Picture-Book: A Record of the Dickens Illustrators. The Charles Dickens Library Edition, vol. 17. London: Educational Book, 1910.
Hawksley, Lucinda Dickens. Chapter 3, "Sketches by Boz." Dickens Bicentenary 1812-2012: Charles Dickens. San Rafael, California: Insight, 2011. Pp. 12-15.
Schlicke, Paul. "Sketches by Boz." Oxford Reader's Companion to Dickens. Oxford: Oxford U. P., 1999. Pp. 530-535.
Slater, Michael. Charles Dickens: A Life Defined by Writing. New Haven and London: Yale U. P., 2009.
---
Last modified 27​May 2017