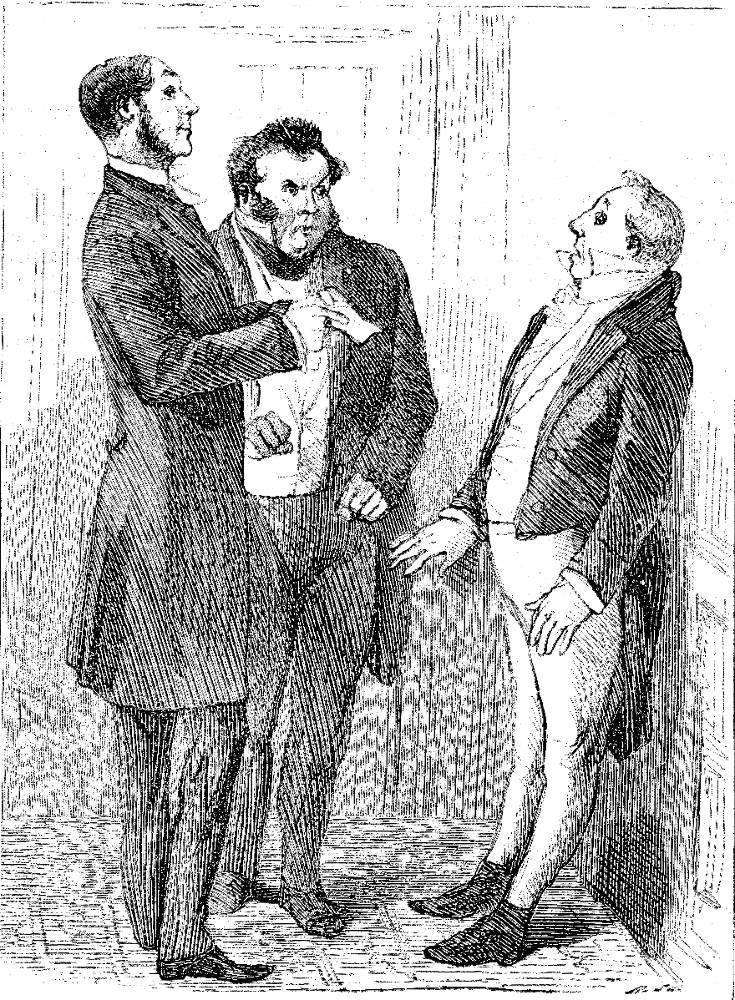 Mr. Watkins Tottle
Sol Eytinge, Jr.
1867
Wood-engraving
9.9 x 7.4 cm (framed)
After the heart-warming, sentimental seasonal tales which Dickens wrote between 1843 and 1848, this volume of the Diamond Edition, commemorating Dickens's Second American Reading Tour, features seven scenes from Dickens's earliest work, "Our Parish," the twenty-five chapters from "Scenes," and twelve chapters from "Characters," the text established by Chapman and Hall in 1839.
[Click on image to enlarge it.]
Scanned image and text by Philip V. Allingham.
[You may use these images without prior permission for any scholarly or educational purpose as long as you (1) credit the photographer and (2) link your document to this URL in a web document or cite the Victorian Web in a print one.]
Passage Illustrated
"Never mind, my dear fellow," replied Timson, all suavity, shaking hands with Tottle again most heartily, "so long as we see you to breakfast, you know —"
"Eh!"​said Parsons, with one of the most extraordinary expressions of countenance that ever appeared in a human face.
"What!"​ejaculated Watkins Tottle, at the same moment.
"I say that so long as we see you to breakfast,"​replied Timson, "we will excuse your being absent from the ceremony, though of course your presence at it would give us the utmost pleasure."
Mr. Watkins Tottle staggered against the wall, and fixed his eyes on Timson with appalling perseverance.
"Timson,"​said Parsons, hurriedly brushing his hat with his left arm,​"when you say​'us,'​whom do you mean?"
Mr. Timson looked foolish in his turn, when he replied, 'Why — Mrs. Timson that will be this day week: Miss Lillerton that is —"
"Now don't stare at that idiot in the corner," angrily exclaimed Parsons, as the extraordinary convulsions of Watkins Tottle's countenance excited the wondering gaze of Timson, — "but have the goodness to tell me in three words the contents of that note?"
"This note," replied Timson, "is from Miss Lillerton, to whom I have been for the last five weeks regularly engaged. Her singular scruples and strange feeling on some points have hitherto prevented my bringing the engagement to that termination which I so anxiously desire. She informs me here, that she sounded Mrs. Parsons with the view of making her her confidante and go-between, that Mrs. Parsons informed this elderly gentleman, Mr. Tottle, of the circumstance, and that he, in the most kind and delicate terms, offered to assist us in any way, and even undertook to convey this note, which contains the promise I have long sought in vain — an act of kindness for which I can never be sufficiently grateful."
"Good night, Timson," said Parsons, hurrying off, and carrying the bewildered Tottle with him.
"Won't you stay — and have something?" said Timson.
No, thank ye," replied Parsons; "I've had quite enough;" and away he went, followed by Watkins Tottle in a state of stupefaction. — "Tales," Chapter 10, "A Passage in the Life of Mr. Watkins Tottle," p. 484.
Commentary: Earlier versus Later Illustrations
Instead of his usual practice in illustration, that is, providing a portrait of a pair of significant characters, Eytinge has elected to set the keynote of the two-part story with the discovery scene at the very conclusion. Here, the prospective groom, Watkins Tottle, accompanied by his sponsor in the marriage scheme, Gabriel Parsons, delivers Miss Lillerton's note regarding the date of the wedding to the Reverend Mr. Timson — only to discover that Timson and not he will be the groom. Despondent about the failure of their plan to marry him to a spinster with an income of £500 per annum and owing Parsons £150 in anticipation of his coming into his wife's estate, Watkins Tottle drowns himself in the Regent's Canal — a pathetic conclusion much at odds with the prevailing jocular tone, facetious narrative commentary, and farcical plot of the story. Later illustrators of the story, using the original Cruikshank trio of copper-plate engravings as their point of departure, have focussed on the interesting but minor figure of the sheriff-officer's mercury (messenger), who delivers the news to Parsons that Tottle has been apprehended for debt and Parson's flashback to his own rather rocky courtship of Fanny. This is the only story in the 1839 Chapman and Hall anthology to receive three illustrations, and one of the few in the 1876 Household Edition to receive more than a single wood-engraving, so that the farcical marriage plot and the ridiculous superannuated bachelor's failed attempt to secure a wealthy bride must have been very appealing to George Cruikshank, Sol Eytinge, Junior, Fred Barnard, and Harry Furniss.
Although the backdrop is so generalised that only a reading of the story reveals that it is a hallway in the villa of Charles Timson's uncle, the identities of the three figures must have been immediately apparent to the American reader of 1867. The short, rotund figure of the aging Watkins Tottle in Regency tailcoat and trousers (right) is unmistakable. The tall clerical gentleman in Victorian tailcoat, left, is undoubtedly the Reverend Charles Timson, receiving the note despatched by Miss Lillerton just minutes earlier, and the rather sour-faced, be-whiskered gentleman of medium height in the background is Gabriel Parsons, whose expression suggests that he has just realised that Tottle will not be the groom, and therefore will not be able to repay him for the discharge from the debtors' holding facility depicted by Cruikshank in The Lock-up House.
Illustrations from the 1839 and Other Editions for "Watkins Tottle"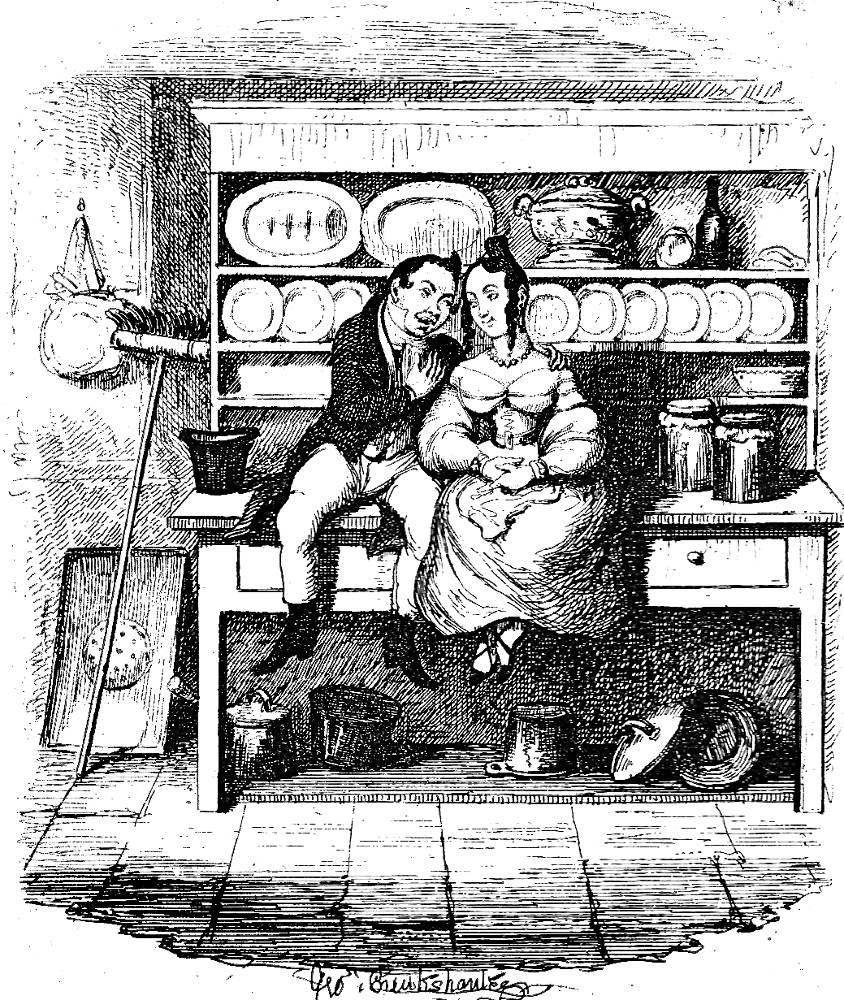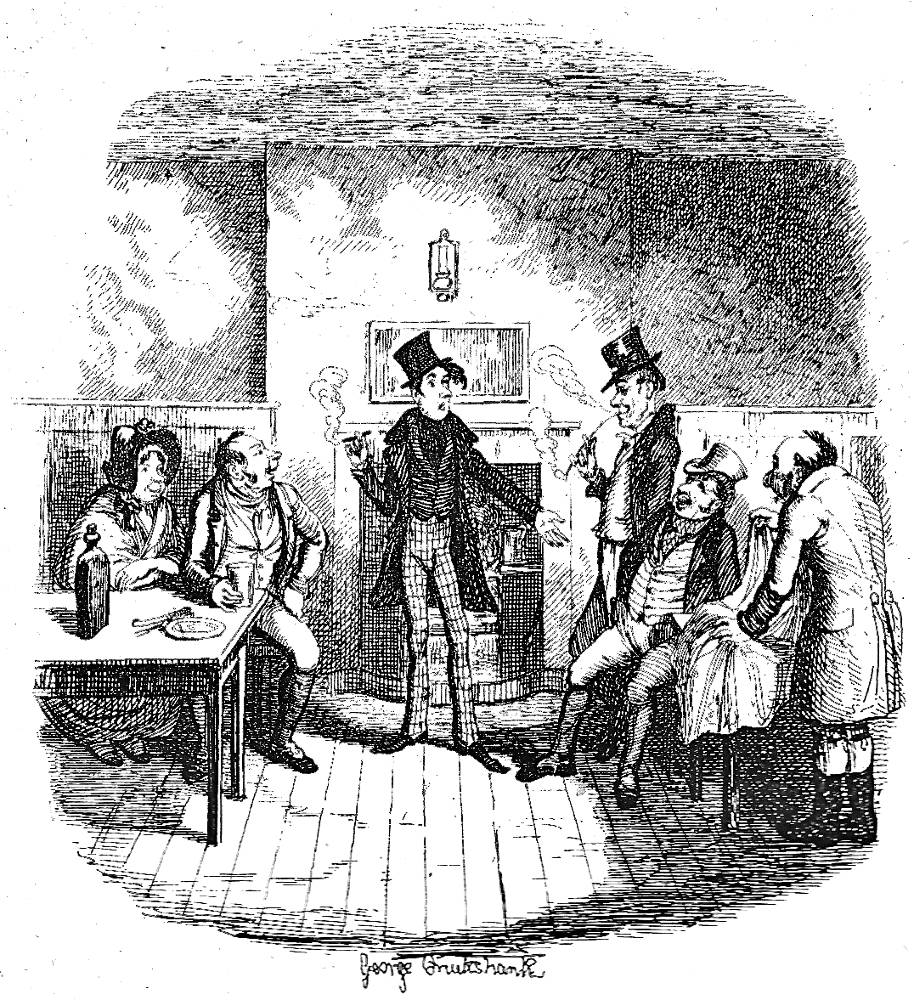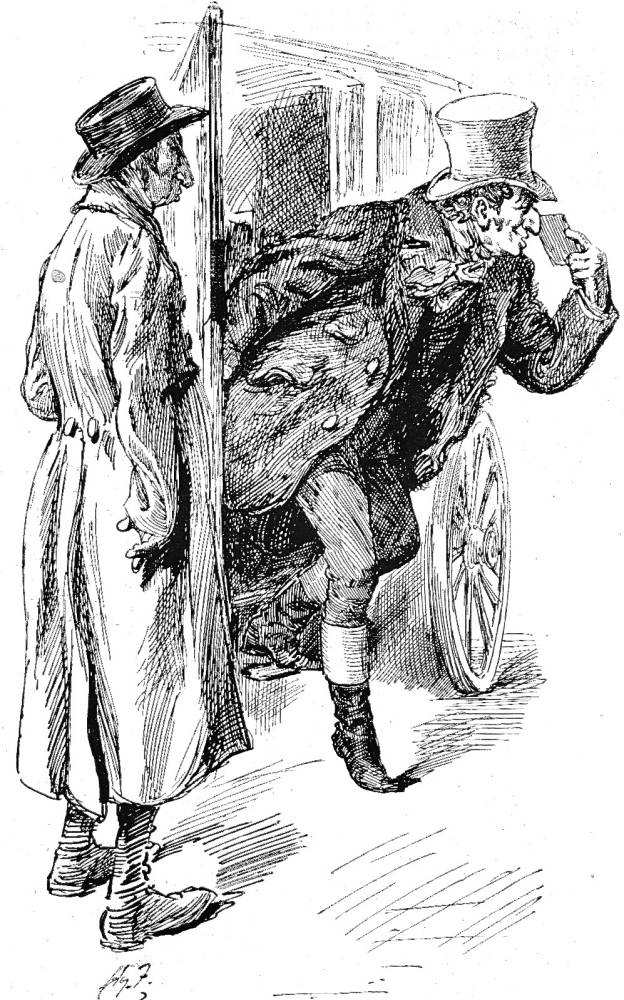 Left: Cruikshank's initial illustration for the story, introducing the timid protagonist, Watkins Tottle. Left of centre: Cruikshank's third illustration, which suggests that Tottle will be successful in his courtship of the affluent spinster, Mr. Watkins Tottle and Miss Lillerton. Right of centre: Cruikshank's second illustration, depicting the common-room of the lock-up house, Mr. Watkins Tottle (1867). Right: Furniss's realisation of the agent of the lock-up house, The Sheriff-Officer's Mercury (1910). [Click on the images to enlarge them.]
The Relevant Illustrations from The Household Edition (1876)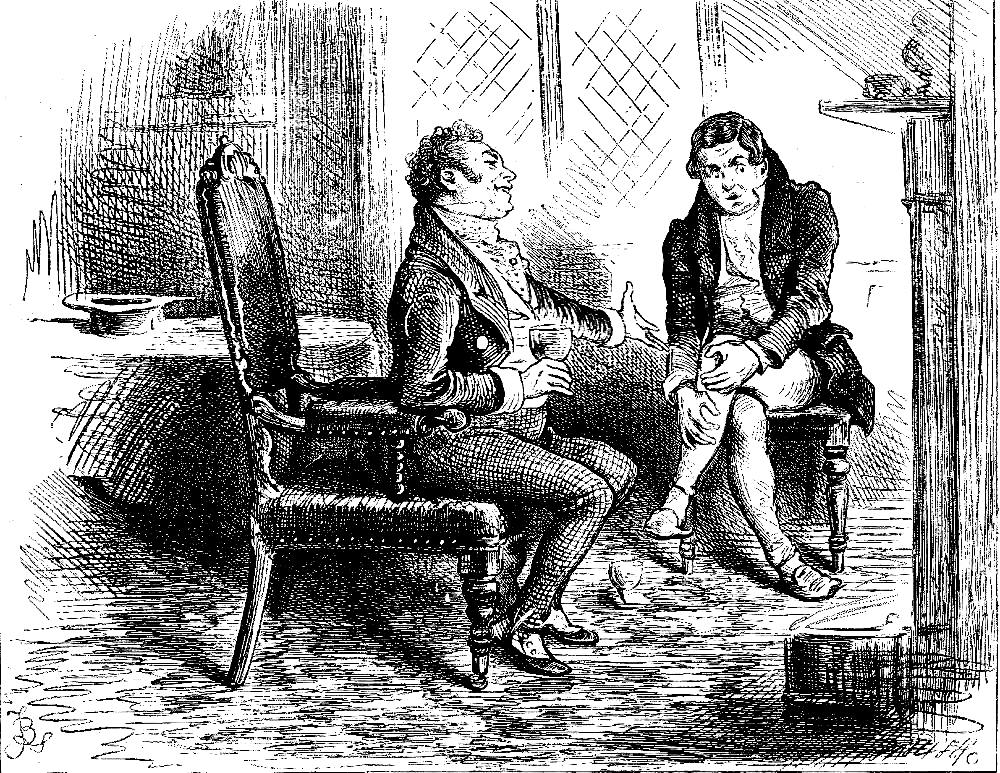 Above: Fred Barnard's wood-engraving of the same situation in the two-part short story, "Why," replied Mr. Watkins Tottle, evasively; for he trembled violently, and felt a sudden tingling throughout his whole frame; "Why — I should certainly — at least, I think I should like —" — to marry the wealthy spinster, Miss Lillerton. [Click on the image to enlarge it.]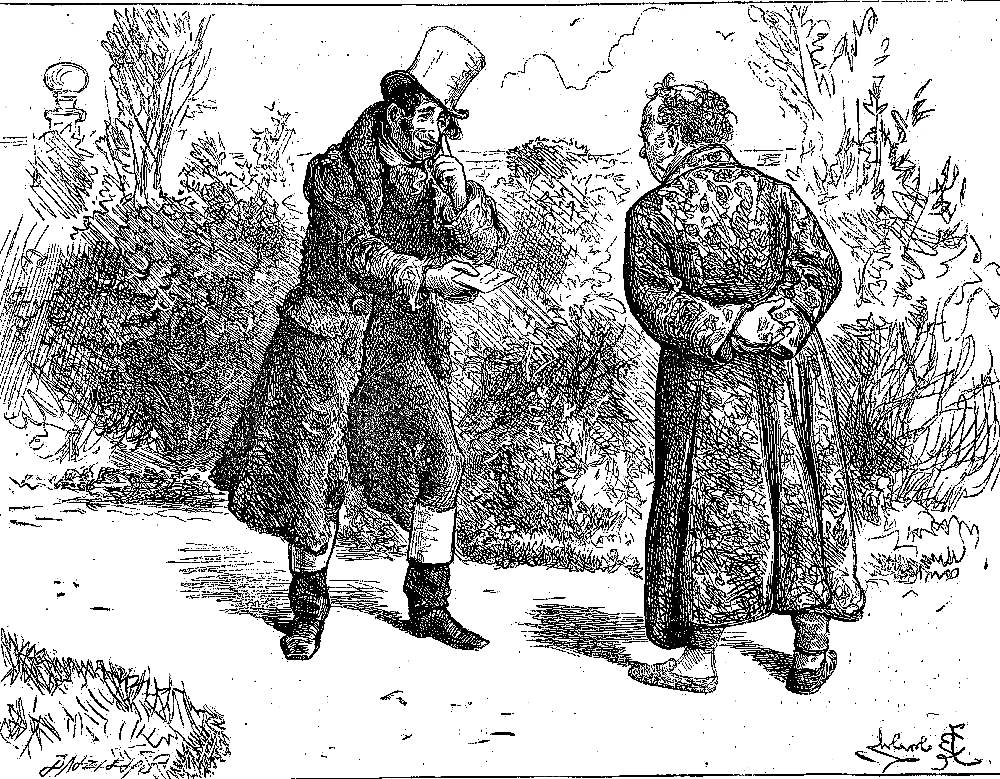 Above: Fred Barnard's wood-engraving of the same situation in the two-part short story, "I've brought this here note," replied the individual in the painted tops in a hoarse whisper; "I've brought this here note from a gen'l'm'n as come to our house this mornin'." [Click on the image to enlarge it.]
Bibliography
Ackroyd, Peter. Dickens: A Biography. London: Sinclair-Stevenson, 1990.
Bentley, Nicholas, Michael Slater, and Nina Burgis. The Dickens: Index. Oxford: Oxford U. P., 1990.
Davis, Paul. Charles Dickens A to Z. The Essential Reference to His Life and Work. New York: Checkmark and Facts On File, 1998.
Dickens, Charles. ""A Passage in the Life of Mr. Watkins Tottle," Chapter 10 in "Tales," Sketches by Boz. Illustrated by George Cruikshank. London: Chapman and Hall, 1839; rpt., 1890. Pp. 326-55.
Dickens, Charles. "A Passage in the Life of Mr. Watkins Tottle," Chapter 10 in "Tales," Christmas Books and Sketches by Boz, Illustrative of Every-day Life and Every-day People. Illustrated by Sol Eytinge, Jr. The Diamond Edition. Boston: James R. Osgood, 1875 [rpt. of 1867 Ticknor and Fields edition]. Pp. 465-85.
Dickens, Charles. "A Passage in the Life of Mr. Watkins Tottle," Chapter 10 in "Tales," Sketches by Boz. Illustrated by Fred Barnard. The Household Edition. London: Chapman and Hall, 1876. Pp. 115-117.
Dickens, Charles. "A Passage in the Life of Mr. Watkins Tottle," Chapter 10 in "Tales," Sketches by Boz. Illustrated by Harry Furniss. The Charles Dickens Library Edition. London: Educational Book Company, 1910. Vol. 1. Pp. 419-55.
Hawksley, Lucinda Dickens. Chapter 3, "Sketches by Boz." Dickens Bicentenary 1812-2012: Charles Dickens. San Rafael, California: Insight, 2011. Pp. 12-15.
Kitton, Frederic G. "George Cruikshank." Dickens and His Illustrators. London: Chapman & Hall,1899. Rpt. Honolulu: U. Press of the Pacific, 2004. Pp.1-28.
Schlicke, Paul. "Sketches by Boz.Oxford Reader's Companion to Dickens. Oxford: Oxford U. P., 1999. Pp. 530-535.
Slater, Michael. Charles Dickens: A Life Defined by Writing. New Haven and London: Yale U. P., 2009.
---

Victorian
Web

Illus-
tration

Charles
Dickens

Sol
Eytinge
Last modified 25​May 2017