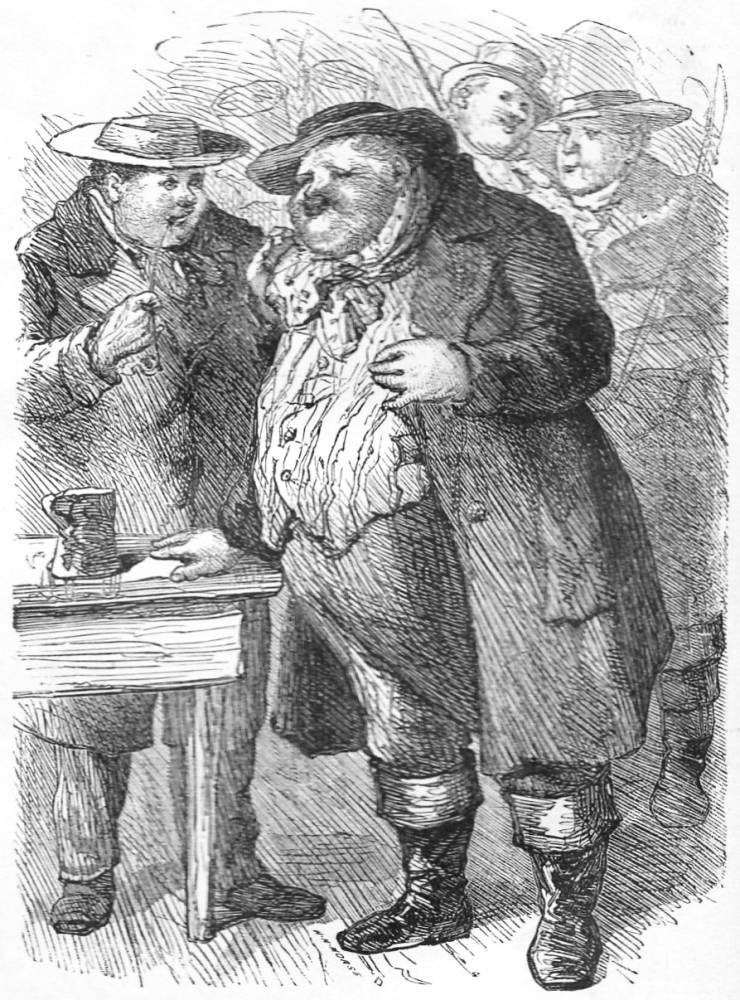 Old Weller and The Coachmen
Sol Eytinge
Wood engraving, approximately 10 cm high by 7.5 cm wide (framed)
Illustration for Dickens's The Posthumous Papers of the Pickwick Club in the Ticknor and Fields (Boston, 1867) Diamond Edition, facing p. 448.
In this sixteenth full-page character study for the last novel in the compact American publication, Eytinge concludes the picaresque narrative's program of illustration with the likeness of Sam's philosophical father, the hefty coachman and de facto proprietor of the Marquis of Granby public-house through marriage, Tony Weller, but recently a widower for the second time. [continued below.]
Scanned image and text by Philip V. Allingham.
[You may use these images without prior permission for any scholarly or educational purpose as long as you (1) credit the photographer and (2) link your document to this URL in a web document or cite the Victorian Web in a print one.]
Tony invites several members of his profession to bear witness to his dealings with attorney Solomon Pell in the matter of his handling of the probate of the late Mrs. Weller's estate. Eytinge has substituted for Phiz's original drinking party a study of the redoubtable coachman Tony Weller, supported by three of his compatriots, who gather in chapter 55 to celebrate the execution of Susan Weller's will, as in Phiz's original illustration, "Mr. Weller and his friends drinking to Mr. Pell" (plate), November 1837. Although Phiz's treatment of the convivial drinking scene is somewhat cartoonish, with the slender figures of Sam and Pell contrasting the vast rotundity of the jolly coachmen, the original illustrator has imparted a liveliness and sense of camaraderie that Eytinge's illustration lacks, since the 1867 woodcut has omitted both Sam and Pell, the convivial drinking, and the background details.The picture's realisation of Tony Weller is based on the following passage:
It was a kind of festive occasion, and the parties were attired accordingly. Mr. Weller's tops were newly cleaned, and his dress was arranged with peculiar care; the mottled–faced gentleman wore at his button–hole a full–sized dahlia with several leaves; and the coats of his two friends were adorned with nosegays of laurel and other evergreens. All three were habited in strict holiday costume; that is to say, they were wrapped up to the chins, and wore as many clothes as possible, which is, and has been, a stage–coachman's idea of full dress ever since stage–coaches were invented. [Chapter 55, p. 450]
Sol Eytinge's coachmen are more substantial and three-dimensional, but the disfigured, red noses betoken a negative attitude to the tippling in which these larger-than-life figures are wont to indulge. In emphasising the outward and visible sign of Tony Weller's alcoholism, Eytinge has rendered him a mere caricature, rather than Dickens's embodiment of the freedom of the road. Phiz's reworking of the 1837 illustration, "The mottled-faced gentleman reviewed the company, and slowly lifted his hand" (Household Edition, p. 393) reveals more than the girth of Tony Weller, and treats the gathering of coachmen as more than a mere assemblage of grotesques, retaining the original's sense of bonhomie that Eytinge's woodcut seems to lack. Phiz's characters are animated and smiling as they toast each other's healths with a drop of beer, after which they intend to partake of a luncheon of oysters and cold beef, as befits a traditional, masculine appetite, before walking to the office of Wilkins Flasher, of the Stock Exchange, behind the Bank of England. Eytinge does not communicate the relationship of his figures: "executor, legatee, attorney, and umpires" (451), even though he conveys a satisfactory sense of their physical dimensions and attire:
In pursuance of this notable resolution, the services of the mottled–faced gentleman and of two other very fat coachmen — selected by Mr. Weller, probably, with a view to their width and consequent wisdom — were put into requisition; and this assistance having been secured, the party proceeded to the public–house in Portugal Street, whence a messenger was despatched to the Insolvent Court over the way, requiring Mr. Solomon Pell's immediate attendance.
The messenger fortunately found Mr. Solomon Pell in court, regaling himself, business being rather slack, with a cold collation of an Abernethy biscuit and a saveloy. The message was no sooner whispered in his ear than he thrust them in his pocket among various professional documents, and hurried over the way with such alacrity that he reached the parlour before the messenger had even emancipated himself from the court.
"Gentlemen," said Mr. Pell, touching his hat, "my service to you all. I don't say it to flatter you, gentlemen, but there are not five other men in the world, that I'd have come out of that court for, to–day."
"So busy, eh?" said Sam.
"Busy!' replied Pell; "I'm completely sewn up, as my friend the late Lord Chancellor many a time used to say to me, gentlemen, when he came out from hearing appeals in the House of Lords. Poor fellow; he was very susceptible to fatigue; he used to feel those appeals uncommonly. I actually thought more than once that he'd have sunk under 'em; I did, indeed."
Here Mr. Pell shook his head and paused; on which, the elder Mr. Weller, nudging his neighbour, as begging him to mark the attorney's high connections, asked whether the duties in question produced any permanent ill effects on the constitution of his noble friend. [chapter 55, p. 448]
Other artists who illustrated this work
Bibliography
Bentley, Nicolas, Michael Slater, and Nina Burgis. The Dickens Index. Oxford and New York: Oxford U. P., 1988.
Cohen, Jane Rabb. "Dickens and His Principal Illustrator, Hablot Knight Browne." Charles Dickens and His Original Illustrators. Columbus: Ohio State U. P., 1980. Pp. 61-122.
Davis, Paul. Charles Dickens A to Z: The Essential Reference to His Life and Work. New York: Checkmark and Facts On File, 1998.
Dickens, Charles. The Posthumous Adventures of the Pickwick Club. Il. Sol Eytinge, Jr. Boston: Ticknor and Fields, 1869.
Dickens, Charles. "Pickwick Papers (1836-37). Il. Hablot Knight Browne. The Charles Dickens Edition. Boston: Ticknor & Fields, 1867.
Dickens, Charles. "Pickwick Papers (1836-37). Il. Hablot Knight Browne. The Household Edition. London: Chapman and Hall, 1873.
Dickens, Charles. "Pickwick Papers (1836-37). Il. Thomas Nast. The Household Edition. New York: Harper and Bros., 1873.
Guiliano, Edward, and Philip Collins, eds. The Annotated Dickens. Vol. 1. New York: Clarkson N. Potter, 1986.
Hammerton, J. A. The Dickens Picture-Book. London: Educational Book Co., 1910.
Kitton, Frederic G. Dickens and His Illustrators. 1899. Rpt. Honolulu: U. Press of the Pacific, 2004.
Steig, Michael. Dickens and Phiz. Bloomington & London: Indiana U.P., 1978.
---

Victorian
Web

Illus-
tration

Pickwick
Papers

Sol
Eytinge

Next
Last modified 4 March 2012