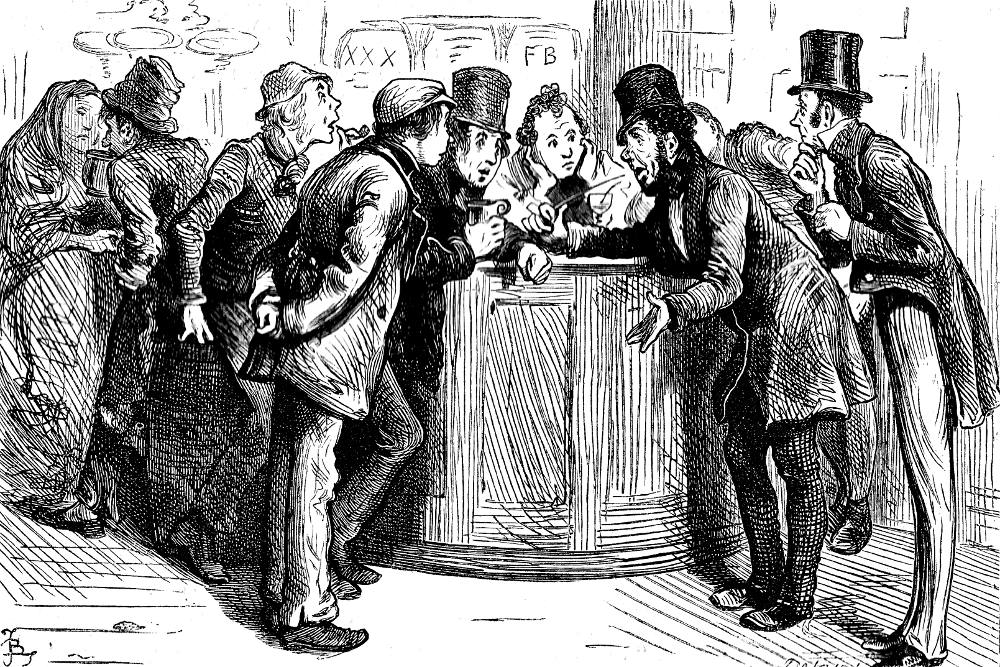 It appears that he met everybody concerned in the late transaction, everywhere, and said to them, 'Sir,' or 'Madam,' as the case was, 'why do you look so pale?' at which each shuddered from head to foot, and said, 'Oh, Perch!' and ran away — Fred Barnard's fifty-first illustration for Dickens's Dombey and Son, Household Edition (1877), half-page, p. 372 (scene from chap. li). Wood engraving by the Dalziels, 3 ⅝ x 5 ⅜ inches (9.3 by 13.7 cm), framed. Running head: "Chorus," 369. [Click on the images to enlarge them.]
Passage Illustrated: Florence takes refuge with Captain
As to Perch, the messenger, he is in a fair way of being ruined for life. He finds himself again constantly in bars of public-houses, being treated and lying dreadfully. It appears that he met everybody concerned in the late transaction,  everywhere, and said to them, 'Sir,' or 'Madam,' as the case was, 'why do you look so pale?' at which each shuddered from head to foot, and said, 'Oh, Perch!' and ran away. [Chapter 51, "Mr. Dombey and The World," 369]
Commentary: What the Gossip is about Dombey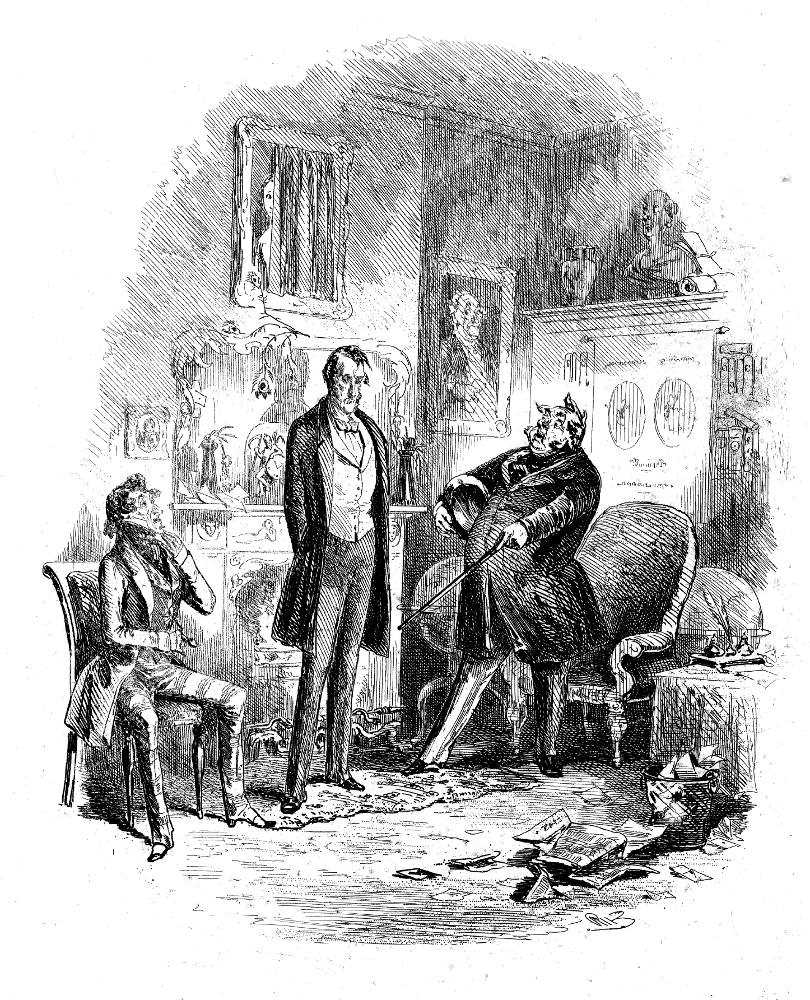 Phiz's original serial illustration for the same chapter focuses on Mr. Dombey's introversion: Mr. Dombey and the World (January 1848).
The illustrator provides an internal comment for the sharp-eyed viewer in strategically placing his own initials on a keg in the background, suggesting by its juxtaposition with the keg marked "XXX" that the "FB" product must be a heady beverage indeed. The three X's on the keg signify that its contents have completed that triple-step process of distillation to refine the alcoholic content beyond 40 per cent proof. In this 1877 illustration set in a British pub it is reasonable to assume that the "triple-distilled" designation was generally applied to alcoholic beverages such as whiskey and gin.
At the conclusion of Part 16 (January 1848), after the collapse of his marriage to Edith Granger Dombey retreats from public life. He pointedly refuses to assist former society acquaintances Major Bagstock, Mrs. Chick, Cousin Feenix, and Mrs Chick. Isolating himself from former acquaintances after abusing his daughter, Dombey retreats into his own private hell of remorse and dishonour. He is therefore quite unaware of the gossip which servants and employees of Dombey and Son such as his office messenger, Perch, are sharing as they speculate upon whom their dour employer will settle the manager's position in the wake of Carker's sudden disappearance.
Related Material including Other Illustrated Editions of
Dombey and Son
Scanned image and text by Philip V. Allingham. [You may use this image without prior permission for any scholarly or educational purpose as long as you (1) credit the person who scanned the image and (2) link your document to this URL in a web document or cite the Victorian Web in a print one.]
Bibliography
Dickens, Charles. Dombey and Son. Illustrated by Phiz. (Hablot K. Browne). London: Chapman and Hall, 1848.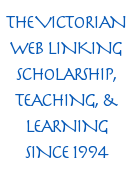 _______. Dombey and Son. Illustrated by Hablot Knight Browne (Phiz). 8 coloured plates. London and Edinburgh: Caxton and Ballantyne, Hanson, 1910.
_______. Dombey and Son. Illustrated by Fred Barnard [62 composite wood-block engravings]. The Works of Charles Dickens. The Household Edition. 22 vols. London: Chapman and Hall, 1877. XV.
"Dombey and Son — Sixty-two Illustrations by Fred Barnard." Scenes and Characters from the Works of Charles Dickens, Being Eight Hundred and Sixty-six Drawings by Fred Barnard, Gordon Thomson, Hablot Knight Browne (Phiz), J. McL. Ralston, J. Mahoney, H. French, Charles Green, E. G. Dalziel, A. B. Frost, F. A. Fraser, and Sir Luke Fildes. London: Chapman and Hall, 1907.
---
Created 15 January 2020