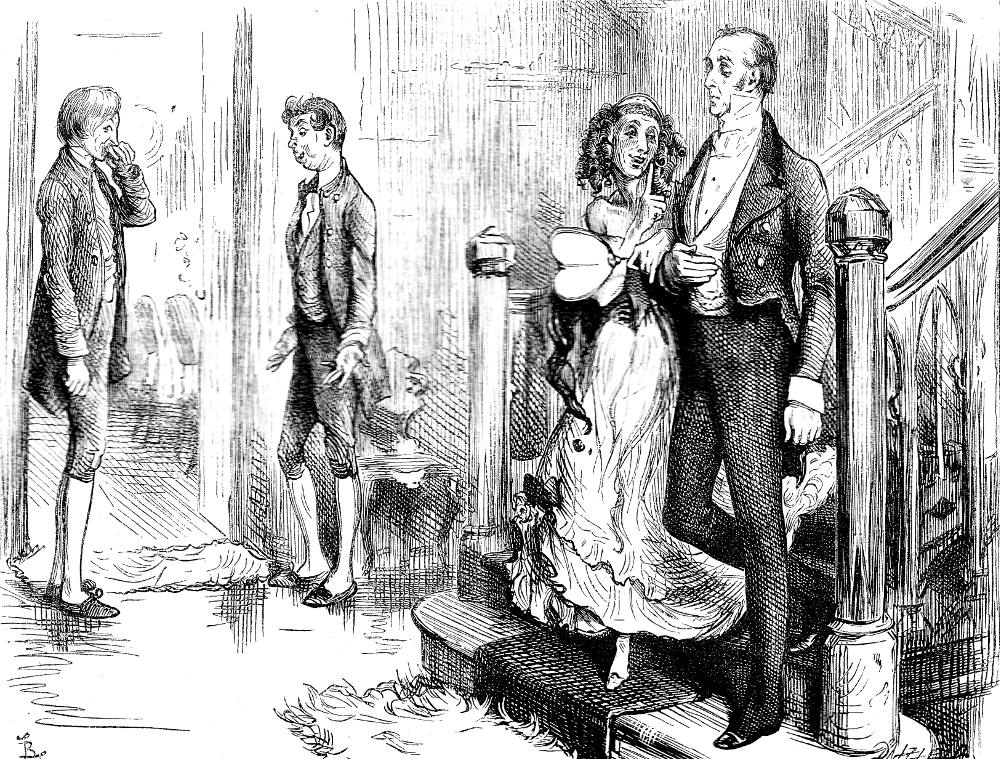 One of the very tall young men on hire, whose organ of veneration was imperfectly developed, thrusting his tongue into his cheek, for the entertainment of the other very tall young man on hire, as the couple turned into the dining-room. — Fred Barnard's thirty-first illustration for Dickens's Dombey and Son, Household Edition (1877), half-page, p. 220 (scene from chap. xxxii). Wood engraving by the Dalziels, 5 x 6 ¾ inches (12.7 cm high by 17.2 cm wide), framed. Running head: "The Joyful Day Approaches," 221. [Click on the images to enlarge them.]
Passage Illustrated: The Waiters Sniggering at at the aged Mrs. Skewton with the middle-aged Groom
"But Edith, my dear Dombey," she continued in a whisper, "when she cannot have you near her — and as I tell her, she cannot expect that always — will at least have near her something or somebody belonging to you. Well, how extremely natural that is! And in this spirit, noth ing would keep her from riding off to-day to fetch our darling Florence. Well, how excessively charming that is!"
As she waited for an answer, Mr. Dombey answered, "Eminently so."
"Bless you, my dear Dombey, for that proof of heart!" cried Cleopatra, squeezing his hand. "But I am growing too serious! Take me downstairs, like an angel, and let us see what these people intend to give us for dinner. Bless you, dear Dombey!"
Cleopatra skipping off her couch with tolerable briskness, after the last benediction, Mr. Dombey took her arm in his and led her ceremoniously downstairs; one of the very tall young men on hire, whose organ of veneration was imperfectly developed, thrusting his tongue into his cheek, for the entertainment of the other very tall young man on hire, as the couple turned into the dining-room. [Chapter 30, "The interval before the Marriage," 219]
Commentary
Reacting to the beautiful, panoramic study by Phiz of the wedding party coming home from the wedding in the July 1847 serial number, Barnard has chosen to represent the advent of the marriage with a comic scene that de-sentimentalizes Dombey's extensive preparation for the society wedding that he stages in the next chapter. The scene of Dombey's descending the stairs with "Cleopatra" (Mrs. Skewton, the bride's mother) on his arm merely renders the merchant-prince laughable in the eyes of the hired servants. Dickens's use of the phrenological term "Organ of Veneration" is merely satirical here because the author is using the quasi-medical term to suggest that the young waiter is a bit of a wag who finds the behaviour of his elders and social superiors funny rather than admirable or worthy of veneration. Dickens makes many such phrenological references in a satirical vein, thereby suggesting his skepticism that one could not judge a person's character simply from the shape of his or her skull.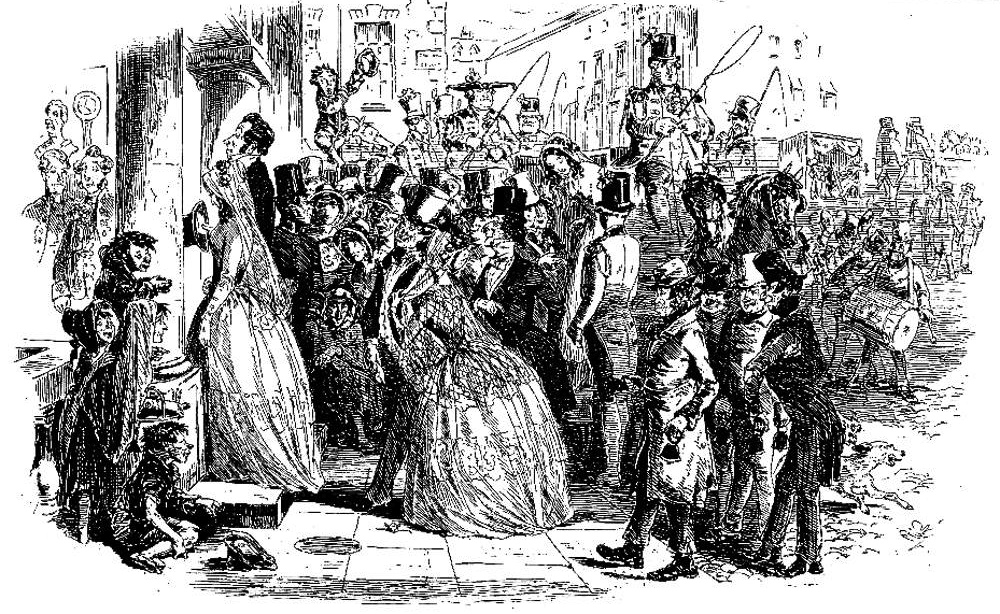 Hablot Knight Browne's memorable group study of the wedding party, his first use of the vertically oriented illustration: Coming Home from Church (July 1847).
Related Material including Other Illustrated Editions of
Dombey and Son
Scanned image and text by Philip V. Allingham. [You may use this image without prior permission for any scholarly or educational purpose as long as you (1) credit the person who scanned the image and (2) link your document to this URL in a web document or cite the Victorian Web in a print one.]
Bibliography
Dickens, Charles. Dombey and Son. Illustrated by Phiz. (Hablot K. Browne). London: Chapman and Hall, 1848.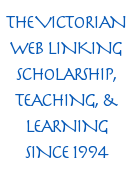 _______. Dombey and Son. Illustrated by Hablot Knight Browne (Phiz). 8 coloured plates. London and Edinburgh: Caxton and Ballantyne, Hanson, 1910.
_______. Dombey and Son. Illustrated by Fred Barnard [62 composite wood-block engravings]. The Works of Charles Dickens. The Household Edition. 22 vols. London: Chapman and Hall, 1877. XV.
"Dombey and Son — Sixty-two Illustrations by Fred Barnard." Scenes and Characters from the Works of Charles Dickens, Being Eight Hundred and Sixty-six Drawings by Fred Barnard, Gordon Thomson, Hablot Knight Browne (Phiz), J. McL. Ralston, J. Mahoney, H. French, Charles Green, E. G. Dalziel, A. B. Frost, F. A. Fraser, and Sir Luke Fildes. London: Chapman and Hall, 1907.
---
Created 3 January 2021