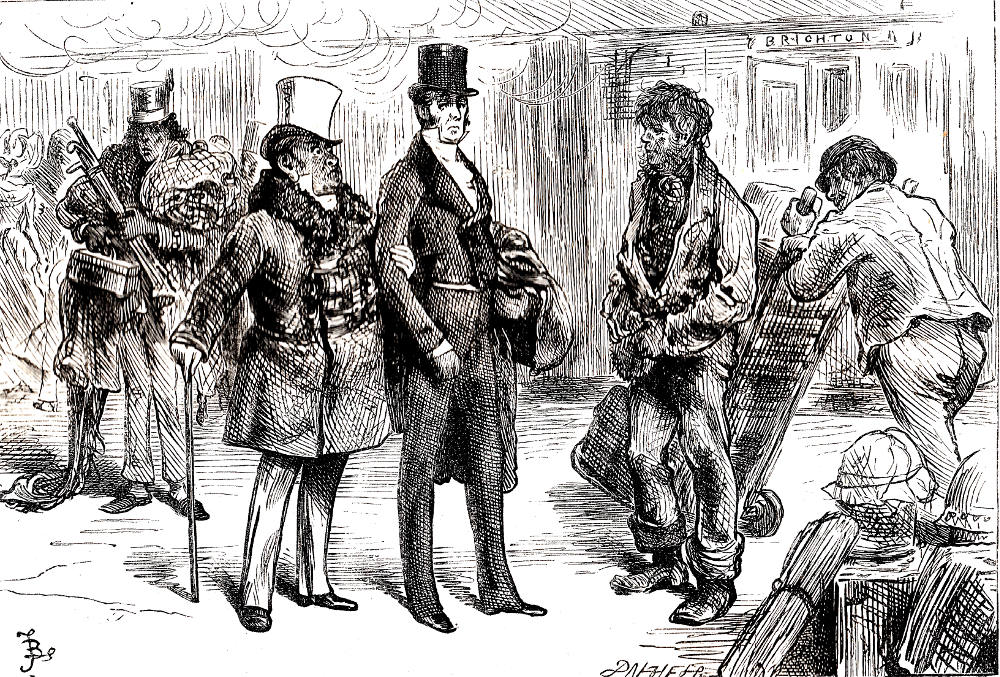 "Take advice from plain old Joe, and never educate that sort of people, sir." — Fred Barnard's twenty-first illustration for Dickens's Dombey and Son, Household Edition (1877), p. 144 (scene from chap. xx). Wood engraving by the Dalziels, 3 ¾ x 5 ⅜ inches (9.4 cm high by 13.8 cm wide), framed. Running head: "The Train," 145. [Click on the images to enlarge them.]
Passage Illustrated: Major Bagstock on the folly of educating the Working Class
"Beg your pardon, Sir," resumed Toodle, taking a step before them and deferentially stopping them again, still cap in hand: "I wouldn't have troubled you with such a pint except as a way of gettin' in the name of my son Biler — christened Robin — him as you was so good as to make a Charitable Grinder on."
"Well, man," said Mr. Dombey in his severest manner. "What about him?"
"Why, Sir," returned Toodle, shaking his head with a face of great anxiety and  distress, "I'm forced to say, Sir, that he's gone wrong."
"He has gone wrong, has he?" said Mr Dombey, with a hard kind of satisfaction.
"He has fell into bad company, you see, genelmen," pursued the father, looking  wistfully at both, and evidently taking the Major into the conversation with the hope of  having his sympathy. 'He has got into bad ways. God send he may come to again, genelmen, but he's on the wrong track now! You could hardly be off hearing of it somehow, Sir," said Toodle, again addressing Mr. Dombey individually; "and it's better I should out and say my boy's gone rather wrong. Polly's dreadful down about it, genelmen," said Toodle with the same dejected look, and another appeal to the Major.
"A son of this man's whom I caused to be educated, Major," said Mr Dombey, giving him his arm. "The usual return!"
"Take advice from plain old Joe, and never educate that sort of people, Sir," returned the Major. "Damme, Sir, it never does! It always fails!" [Chapter 20, "Mr. Dombey goes upon a Journey," 144]
Phiz's, Eytinge's, and Furniss's Joey B. Plates for
Dombey and Son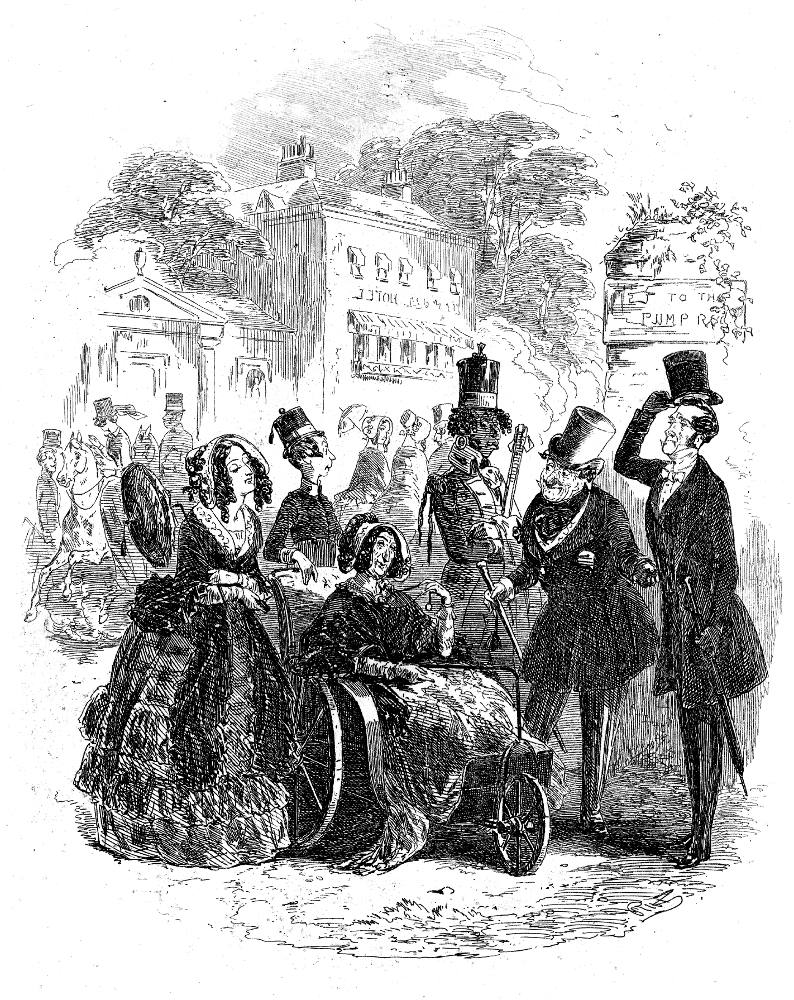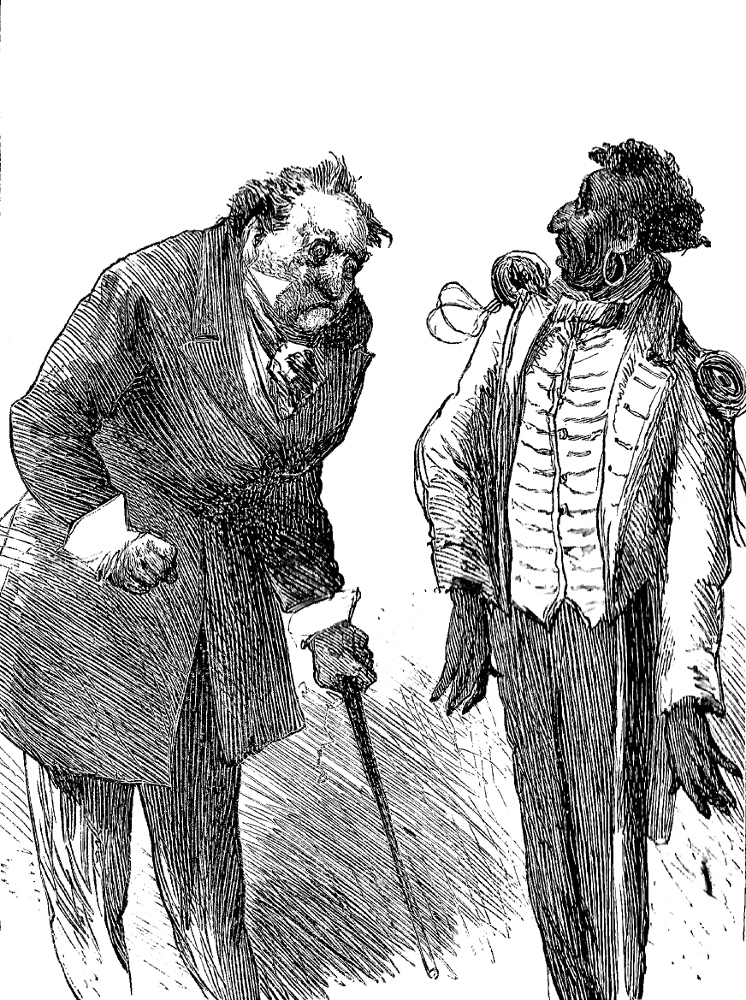 Left: Phiz's March 1847 introduction of the superannuated Major in the nineteenth chapter, Major Bagstock is delighted to have the Opportunity. Centre: Furniss's version of the same encounter, Mr. Dombey meets Edith (1910). Right: Sol Eytinge, Junior's study of the bluff retired military man and his colonial servant: Major Bagstock and The Native (1867).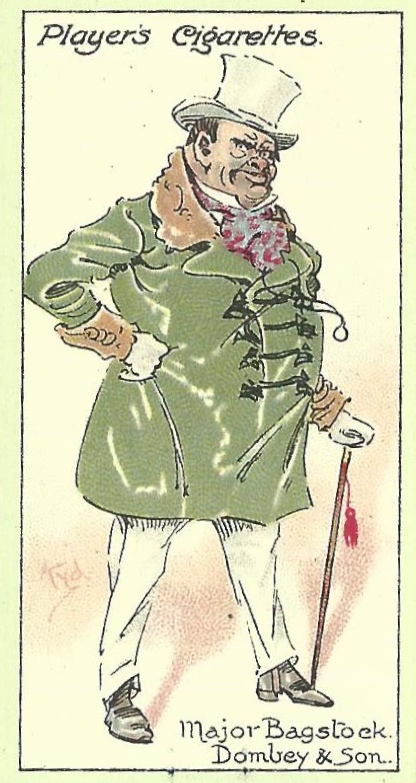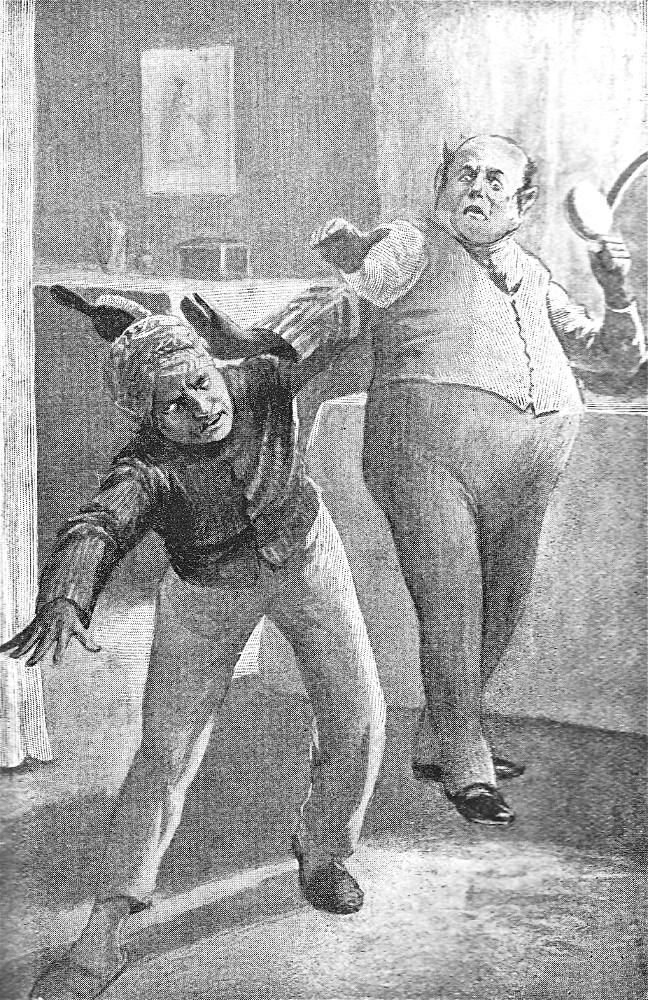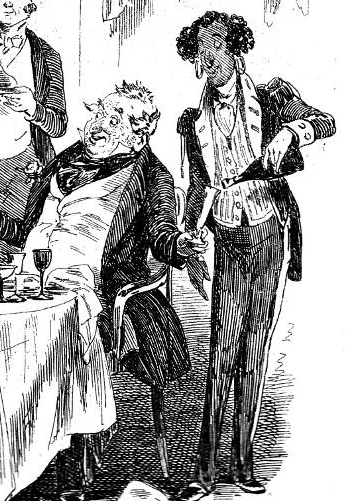 Left: Clayton J. Clarke's Player's Cigarette Card No. 7 watercolour study, Major Bagstock (1910). Centre: W. H. C. Groome's dual character study for the Collins Pocket Edition: The unfortunate Native suffered terribly (1900). Right: Detail of Phiz's second study of the Major and his valet, Chapter 26: "Joe B. Is Sly, Sir, Devilish Sly" (June 1847).
Related Material including Other Illustrated Editions of
Dombey and Son
Scanned image and text by Philip V. Allingham. [You may use this image without prior permission for any scholarly or educational purpose as long as you (1) credit the person who scanned the image and (2) link your document to this URL in a web document or cite the Victorian Web in a print one.]
Bibliography
Dickens, Charles. Dombey and Son. Illustrated by Phiz. (Hablot K. Browne). London: Chapman and Hall, 1848.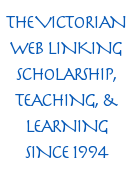 Dickens, Charles. Dombey and Son. With illustrations by H. K. Browne. The illustrated library Edition. 2 vols. London: Chapman and Hall, c. 1880.
_______. Dombey and Son. Illustrated by Hablot Knight Browne (Phiz). 8 coloured plates. London and Edinburgh: Caxton and Ballantyne, Hanson, 1910.
_______. Dombey and Son. Illustrated by Fred Barnard [62 composite wood-block engravings]. The Works of Charles Dickens. The Household Edition. 22 vols. London: Chapman and Hall, 1877. XV.
"Dombey and Son — Sixty-two Illustrations by Fred Barnard." Scenes and Characters from the Works of Charles Dickens, Being Eight Hundred and Sixty-six Drawings by Fred Barnard, Gordon Thomson, Hablot Knight Browne (Phiz), J. McL. Ralston, J. Mahoney, H. French, Charles Green, E. G. Dalziel, A. B. Frost, F. A. Fraser, and Sir Luke Fildes. London: Chapman and Hall, 1907.
---
Created 27 March 2017

Last modified 19 December 2020