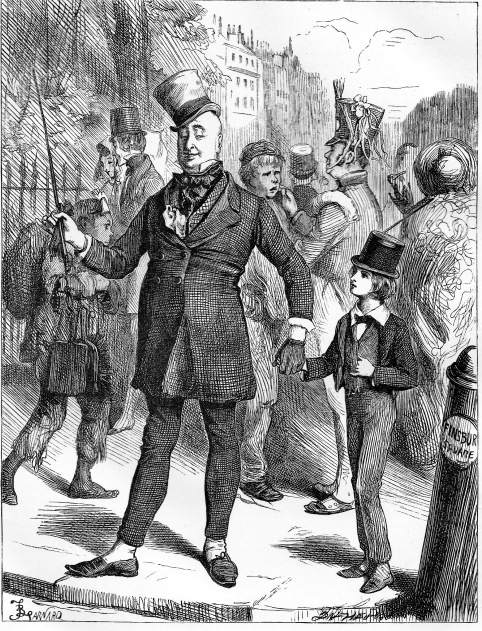 Second full-page wood-engraving
Fred Barnard
1872
17.2 cm. x 13 cm.
Wilkins Micawber, a character whom Dickens based upon his own father, introduces David to the arcana of the metropolis.
Scanned image and text by Philip V. Allingham.
[You may use this image without prior permission for any scholarly or educational purpose as long as you (1) credit the person who scanned the image and (2) link your document to this URL in a web document or cite the Victorian Web in a print one.]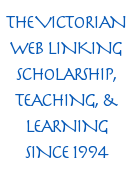 Commentary
Aside from the apartment buildings in the background, Barnard's London street scene contains an anachronism that might not have been fully apparent to Household Edition readers in the 1870s: Finsbury Park, North London. Although the notion of establishing such a green space in the metropolis was bruited in the first sixth months of Household Words, in "Lungs for London" by Dickens's subeditor, W. H. Wills (3 August 1850), when David Copperfield was reaching the end of its serial run, the park itself was not legally established until 1857, and did not actually open until the year prior to Dickens's death:
During the early part of the second quarter of the nineteenth century, following developments in Paris, Londoners began to demand the creation of open spaces as an antidote to the ever-increasing urbanisation of London. In 1841 the people of Finsbury in the City of London petitioned for a park to alleviate conditions of the poor. The present-day site of Finsbury Park was one of four suggestions for the location of a park. Originally to be named Albert Park, the first plans were drawn up in 1850. Renamed Finsbury Park, plans for the park's creation were finally ratified by an Act of Parliament in 1857. Despite some considerable local opposition, the park was formally opened on Saturday 7 August 1869. Although the park's name was taken from the area where the nineteenth century benefactors who created it lived, Finsbury Park had earlier been part of an area that bore the name as part of the Finsbury division of the Ossultone Hundred. (http://en.wikipedia.org/wiki/Finsbury_Park)
Wilkins Micawber: Homo Urbanus — The Spirit of London
In The Dickens Index, Nicholas Bentley et al. describe Wilkins Micawber, introduced in Chapter 11, when David takes up residence in London to work at Murdstone and Grinby's, wine merchants, as a lovable, incorrigible flim-flam man for whom something is always "about to turn up." "He is shabby, but makes a good show with his imposing shirt-collar'" (165). With his jaunty cane and quizzing glass, he exemplifies the tawdry-genteel, eloquent bourgeois who lives hand-to-mouth on a complex system of IOUs (which to Micawber are tantamount to legal tender). The portrait is so developed and so convincing because it is based on somebody that Charles Dickens knew intimately and, at least in some ways, immensely admired: John Dickens, of inflated rhetoric and theatrical personality. Occasionally, as in Barnard's final illustration of him, Micawber gives into despair, but even then he is outrageously hyperbolic and entertaining. Micawber begins as a unique voice:
"Under the impression," said Mr. Micawber, "that your peregrinations in this metropolis have not as yet been extensive, and that you might have some difficulty in penetrating the arcana of the Modern Babylon in the direction of the City Road — in short," said Mr. Micawber, in another burst of confidence, "that you might lose yourself — I shall be happy to call this evening, and instal you in the knowledge of the nearest way." — Chapter 11, "I Begin Life on My Own Account, and Don't Much Like It," p. 78.
Gentility, supreme self-confidence, non-chalance, combined with a pathetic shabbiness, Micawber is London personified, and this is the impression Barnard attempts to convey in one of the Household Edition's three full-page illustrations, the other two being the Peggotty boathouse on the Denes and Ham in the surf preparing to swim out to the wreck.
In addressing the visual features and appurtenances of the irrepressible Wilkens Micawber in David Copperfield, Barnard could not depart radically from the notions of that character imparted to a previous generation of readers by Phiz. In the 1849-50 serialisation, the initial illustrator had given Dickens's readers an indelible image: a nattily dressed middle-aged bourgeois of above average height with a cane, monocle or "quizzing glass" suggestive of the fashions and manners of the Regency, high starched collar, tail-coat, and beaver, a genial expression and a slightly protuberant stomach, beak-like nose, and spindly legs, their thinness accentuated by his close-fitting tights. Phiz's keynote, although he was unaware when he first drew the figure that the character was based on Dickens's father, is exuberance and flamboyance. But with a greater number of illustrations to create (61 to Phiz's 40), Barnard could give Micawber greater prominence and depict him in a greater number of situations. Although the original serialisation of the novel began in May, 1849, Micawber did not actually make his first appearance in the illustrations until October, 1850, when he quite unexpectedly turns up at the Heeps' home in Canterbury; however, in the last half of the serial run (February through November, 1850), Micawber is prominent in four of twenty-two illustrations. In contrast, Barnard depicts Micawber some times, almost entirely in scenes not attempted by Phiz, beginning with "I am presented to Mrs. Micawber" to accompany Chapter XI, "I Begin Life on my Own Account, and Don't Like It" (p. 73 in a book of 437 pages) and concluding with the uncaptioned tail-piece for Chapter LXIV, "A Last Retrospect," for a total of eight appearances. Although Barnard depicts Micawber with his family and engaged in cooking, the most telling representation of him is "Mr. Micawber, impressing the names of streets and shapes of corner houses upon me as we went along, that I might find my way back easily in the morning" (full-page, facing p. 78, on which the passage realised occurs), in which Micawber acts as an impresario-cum-surrogate father as he introduces David to the teeming and varied life of London's streets, announced by the sign-post, lower right, "Finsbury Square."
The full-page illustration presents Micawber in his element, a supreme character amidst the other types one would then have seen in the streets of the metropolis: a middle-class couple represent the "respectable" classes, a soldier accosts a gangly street-urchin, possibly a pick-pocket, a chimney-sweep loaded with his equipment passes behind Micawber, and to the right, that substantial woman with the large hat and umbrella: could it be Sairey Gamp from Martin Chuzzlewit? Just enough background is given to reinforce the setting denoted by the street sign: area railings, greenery suggesting a public park, and apartment blocks.
As is the case in six of the eight plates, Micawber is with David Copperfield; in every instance, he is the focal character, bustling, active, optimistic, and extroverted, in contrast to the more reflective and passive protagonist: David is ever the observer, Micawber always eminently observable, the novel's chief source of character comedy and a type still recognizable to viewers of television sit-coms: the inappropriate, embarrassing, bumbling but well-meaning companion. As is typical of Barnard and was not at all typical of Phiz, Micawber in the Household Edition even appears by himself. The character study entitled "Mr. Micawber in His Element" (middle, p. 201, illustrating Chapter 28, "Mr. Micawber's Gauntlet") showcases his unadulterated delight in punch-making and the prospect of consuming the beverage he has concocted, the punch-bowl and mug being supporting presences in the character study. He is nothing short of an embodiment of the life-force in all but the last of his appearances in the Household Edition. Whereas Phiz depicts Micawber's complete baldness in two interior scenes and wearing a hat in three to emphasize his height, Barnard's Micawber is bald in five of eight plates, to which image the later artist has added spats and gloves when Micawber is dressed for the out-of-doors.
References
Bentley, Nicolas; Michael Slater and Nina Burgis. The Dickens Index. Oxford and New York: Oxford U. P., 1990.
Dickens, Charles. David Copperfield, with 61 illustrations by Fred Barnard. Household Edition. London: Chapman and Hall, 1872. Vol. 3.
Schlicke, Paul, ed. The Oxford Reader's Companion to Dickens. Oxford and New York: Oxford U. P., 1999.
Steig, Michael. Dickens and Phiz. Bloomington: Indiana University Press, 1978.
Vann, J. Don. Victorian Novels in Serial. New York: The Modern Language Association, 1985.
The copy of the Household Edition from which this picture was scanned was the gift of George Gorniak, Editor of The Dickens Magazine, whose subject for the fifth series, beginning in January 2010, is this novel.
---

Victorian
Web

Visual
Arts

Illustra-
tion

Fred
Barnard

Charles
Dickens

Next
Last modified 17 August 2016