Voysey trained as an architect but filled his time between architectural commissions by producing decorative designs for textiles, fabrics, carpets and tiles. His designs were published widely, exhibited at the Arts & Crafts Exhibition Society from 1888 and were highly influential. Voysey's furniture was made by F C Nielsen, metalwork by Thomas Elsley & Co. and textiles by Alexander Morton, G. P. & J. Baker, A. H. Lee, J. W. & C. Ward, Stead McAlpin, Thomas Wardle, Turnbull & Stockdale, Donald Brothers, Foxton's, Templeton's, Tomkinson & Adam and to the shops Liberty's, Story's and Wylie & Lochead. [Arts & Crafts Textiles in Britain]
Textiles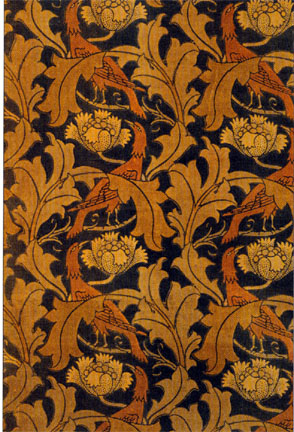 Related Designs — Wallpaper
Related Designs — Carpet
Additional information on Voysey and his other design work.
References
"The Arts and Crafts Exhibtion, 1896 (Third Notice)."The Studio (1896): 189-205. Internet Archive digitized from a copy in the University of Toronto Library.
Arts & Crafts Textiles in Britain. Exhibition Catalogue. The Fine Art Society in Association with Francesca Galloway, nd.
---
Last modified 26 December 2010