Bruce Talbert was educated at Dundee High School and then trained as a woodcarver spending two years running his own business before going into the office of a local architect From there he went to Glasgow where, in 1862, he won a design medal from the Edinburgh Architectural Association, but even so moved to Manchester to work for the cabinet-making firm of Doveston, Bird & Hull. He then spent some years in Coventry working For Skidmore & Co., before finally settling in London, where he renewed his acquaintance with artists and architects from his Glasgow days.
In London he specialised in designing furniture in the Gothic style and published in 1867 his Gothic Forms Applied to Furniture and Decoration for Domestic Purposes. He worked for Holland & Sons, for whom he designed several pieces which were shown in Paris in 1872. By 1873 Talbert was working for Gillows, who exhibited his 'Pet' sideboard (now in the V & A) at the International Exhibition, London in 1873, and an ebony cabinet at the Vienna Exhibition in the same year. Also in the Vienna Exhibition were his gates made by the Coalbrookdale Company which divided the two northern entrances to the British Section. He designed metalwork for Cox & Co., tapestries for Cowlishaw & Nicol, wallpaper for Jeffrey & Co., and carpets for Messrs Brinton. In 1876 he published Examples of Ancient and Modern Furniture. In the Paris Exposition Universelle of 1878 a number of exhibits in the field of furniture and decoration were designed by him, including an oak sideboord shown by Marsh, Jones & Cribb, the famous 'Juno' cabinet made by Jackson & Graham, as well as wallpaper for Jeffrey & Co. — Architect-Designers from Pugin to Mackintosh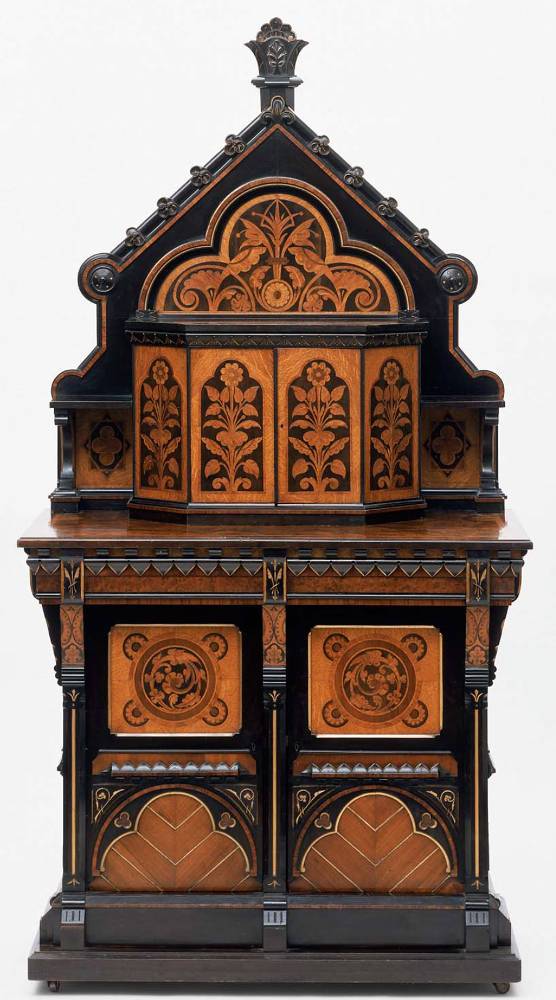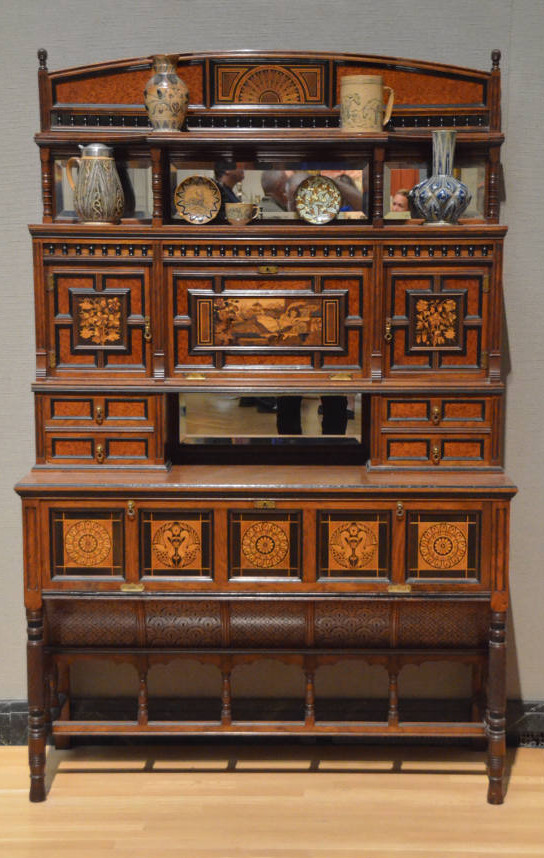 Furniture
Textile Design
References
Architect-Designers from Pugin to Mackintosh. Exhibition catalogue. London: The Fine Art Society with Haslam & Whiteway Ltd., 1981.
The Fine Art Society, London, has most generously given its permission to use information, images, and text from its catalogues in the Victorian Web. This generosity has led to the creation of hundreds and hundreds of the site's most valuable documents on painting, drawing, sculpture, furniture, textiles, ceramics, glass, metalwork, and the people who created them. The copyright on text and images from their catalogues remains, of course, with the Fine Art Society. [GPL]
---
Last modified 7 November 2015