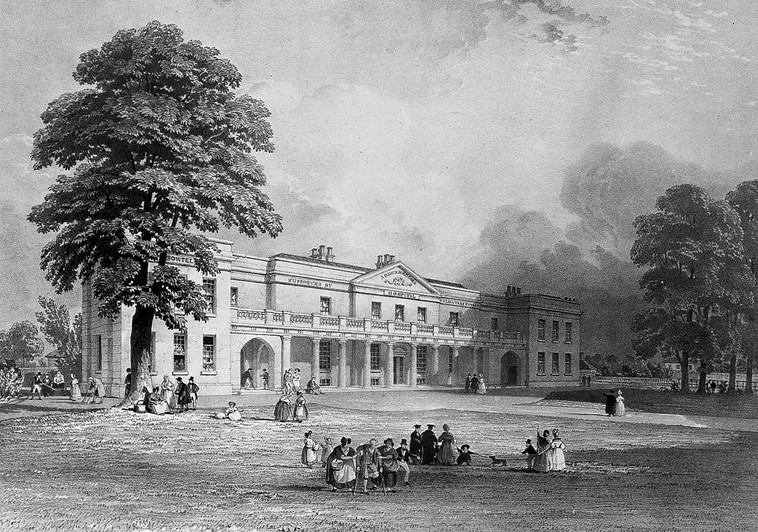 Addenbrooke's hospital and grounds, Cambridge. Lithograph by A. Picken after W. Fleetwood Varley. This building on Trumpington Street incorporated an older Georgian hospital building, but was given an entirely new façade in "South Kensington style" by Sir Matthew Digby Wyatt in 1863 (Robinson 251); the design was exhibited at the Royal Academy in 1865. According to English Heritage, Wyatt's work:
dramatically altered the appearance of the existing building.... The 1820s wings and colonnade ... were demolished to make way for two large three-storey wings, and a three-storey arcade was applied to the front elevation to Trumpington Street, executed in stone, terracotta and encaustic tiles. The name 'Addenbrooke's Hospital' was inscribed in the stone frieze over the second floor.
The hospital facilities later moved into much larger premises outside the town centre, and the building, which had previously been extended to meet increased need, was eventually adapted by John Outram Associates to house the Cambridge Judge Business School. This was first opened as the Judge Institute of Management Studies in 1996.
The new alterations were radical: for example, the interior was provided with floating staircases, and balconies to provide spaces for interaction and collaboration. All that remains of Wyatt's hospital interior are two listed fireplaces and doorframes. The façade, however, was restored, "forming the first three storeys of the building as it is viewed from Trumpington Street" ("History and Today"), and Wyatt would still be able to recognise it today.
"Façadism" is controversial, but in this case, the Trumpington Street frontage was Wyatt's main and certainly most distinctive contribution. Besides, when the only way of retaining a building is by giving it a completely new purpose, it may be the best option. As it turned out, the new interior attracted praise as well as controversy, and the building is Grade II* listed, both for Wyatt's input, and its highly innovative twentieth-century work.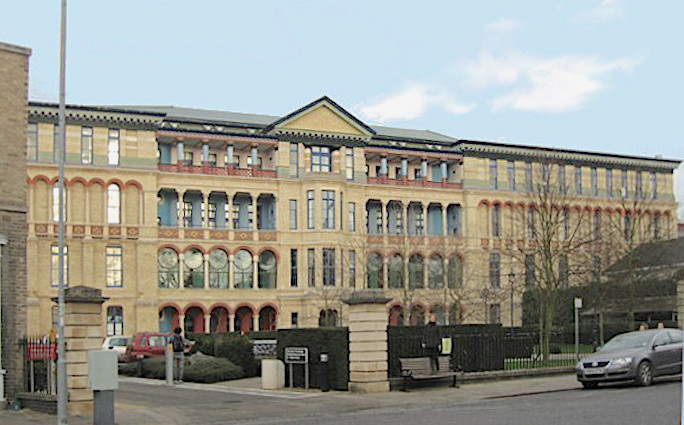 The building today, as Judge Business School.
Images downloaded, and text, by Jacqueline Banerjee. Both images are free to reuse with attribution under the Creative Commons License: the main image comes from the Wellcome Collection; the smaller image, above right, was originally posted on the Geograph website by someone identified only as "Given Up." The perspective of the latter image has been corrected, and the colour modified. [Click on both images to enlarge them.]
Bibliography
Addenbrooke's hospital and grounds, Cambridge." Wellcome Collection. Web 28 July 2019.
Cambridge Judge Business School. Hisotric England. Web 28 July 2019.
"History and Today." University of Cambridge Judge Business School. Web. 28 July 2019.
Robinson, John Martin. The Wyatts: An Architectural Dynasty. Oxford: Oxford University Press, 1979.
---
Created 27 July 2019