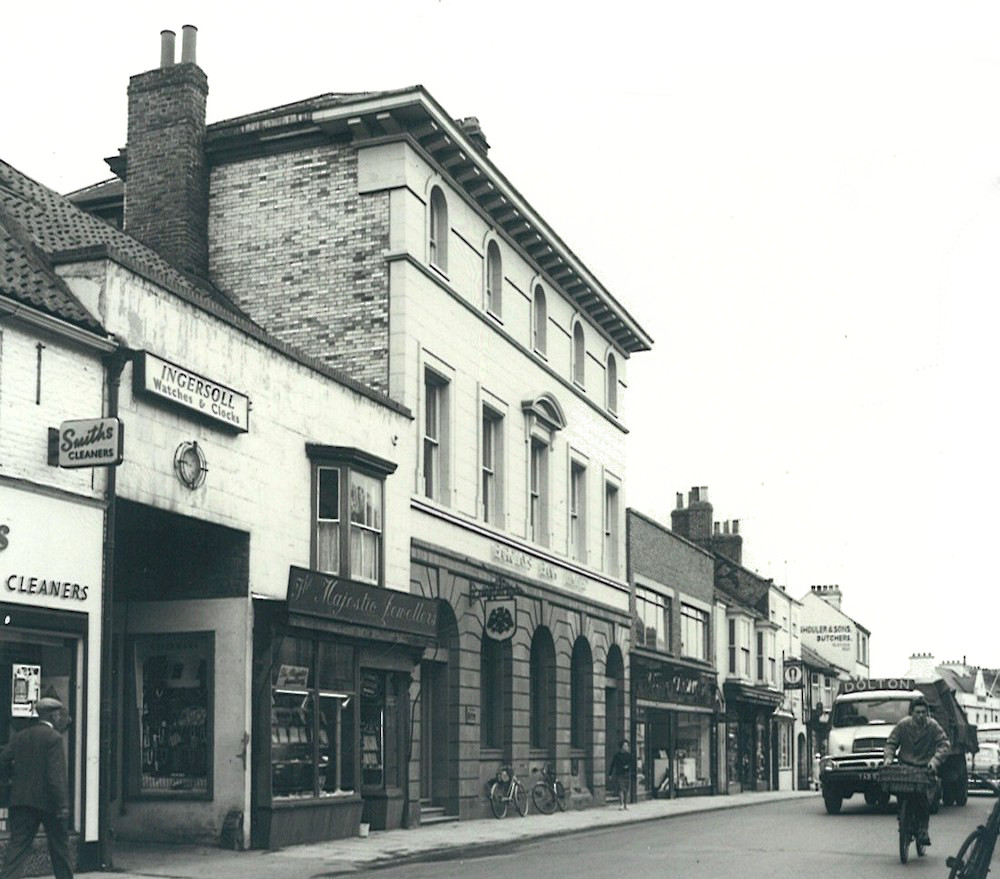 Photograph of the bank in 1964. Credit: sourced by the author and kindly provided by Barclays Group Archive. Click on the image to enlarge it.
Bank, originally for the York Union Banking Company, Driffield, 61 Market Place, East Riding, Yorkshire. Built in 1861, this was an early design by the architect Edward Taylor (1831-1908). It was not an insignificant commission: at that time the town was the centre of a prosperous farming region. The result was pleasant, dignified and quite (but not too) imposing. Nikolaus Pevsner and David Neave describe it as having "a restrained three-storey Classical façade of five bays. Rusticated arches to the ground floor and segmental pediments to three of the first-floor windows" (442).
Driffield, or Great Driffield, had been the first place after York to have an office for the York Union Banking Company: it had first been established there in 1833, the same year as the one in Parliament Street, York, and quickly went from strength to strength, as its record in the Barclays archive explains:
York Union Banking Company was established as one of the early joint stock banks in March 1833 with capital of £600,000 in 6,000 shares of £100 each. Of the five original directors perhaps the most famous was George Hudson, otherwise known as "The Railway King." The bank quickly opened branches at Driffield, Bridlington, Malton, Market Weighton, Pickering, Pocklington, Scarborough and Thirsk, as well as agencies at Easingwold, Helmsley and Kirby Moorside. ["Founding banks and building societies"]
Like the York office, this one went through a number of mergers. "The business prospered and expanded with the acquisition of Simpson, Chapman and Co. of Whitby and Pease and Co. of Hull and Beverley, in 1892 and 1894 respectively. The bank benefited from its relations with farming interests in the North and East Ridings and was commonly referred to as "The Farmers' Bank" ("Founding banks and building societies"). The photo above shows Taylor's 1861 building for it, about a century later (in 1964), as a branch of Martin's Bank. The most significant merger, however, was with Barclays Bank, because this "led to Barclays' shares first being listed on the London Stock Exchange" ("Founding banks and building societies").
Related Material
Bibliography
"Founding banks and building societies: York Union Banking Company." Barclays Archive. Web. 30 July 2020.
Pevsner, Nikolaus, and David Neave. Yorkshire: York and the East Riding. New Haven and London: Yale University Press, 2002.
---