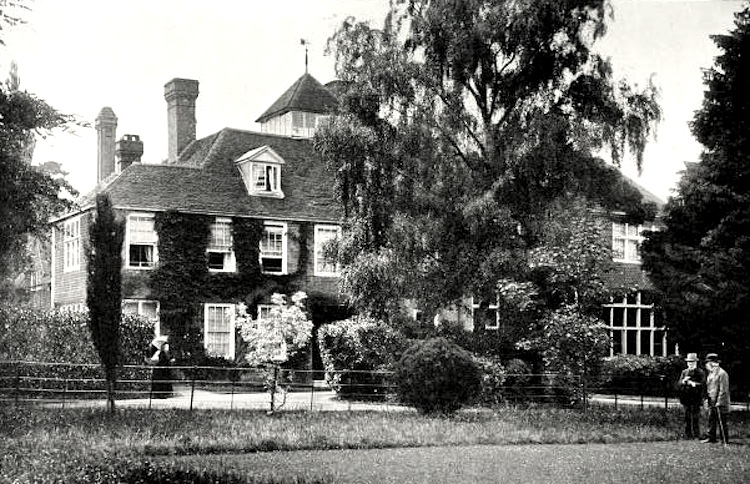 Willesley, Cranbrook, Kent, an early nineteenth-century house with some even earlier parts, remodelled for the artist John Callcott Horsley in Cranbrook, Kent, in 1864-70, when the architect was not yet established. Source: Horsley, facing p. 340. Converting and enlarging the house for Horsley's use was, in fact, Shaw's first big domestic commission, and the resulting building, which is Grade II* listed, is "one of the earliest examples of the vernacular/Queen Anne revival of which Shaw was later to be the principal exponent" ("Wilsley Hotel, Cranbrook"). Although by the time of listing it had been repurposed as a hotel, it has since been converted back to residential use. This involved splitting it into more manageable, attached homes. Remarkably, despite these changes, it retains many of its original and very distinctive features.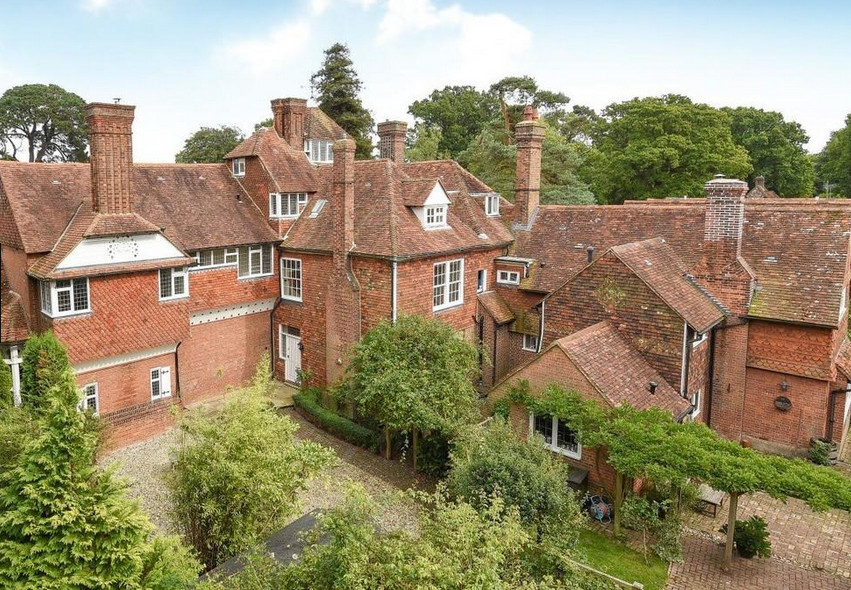 The complex layout of the house/s as seen today.
Among these features, on the exterior, are the tall chimneys, the cupola which is placed on the roof ridge (not centrally — the house is in all respects asymmetrical), the variety of dormers and window-types across the different wings, the tile-hanging and the areas of decorated plasterwork.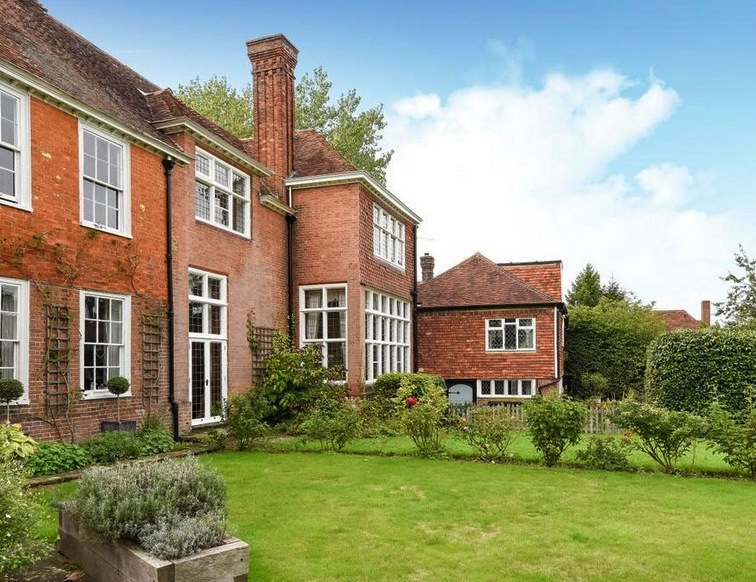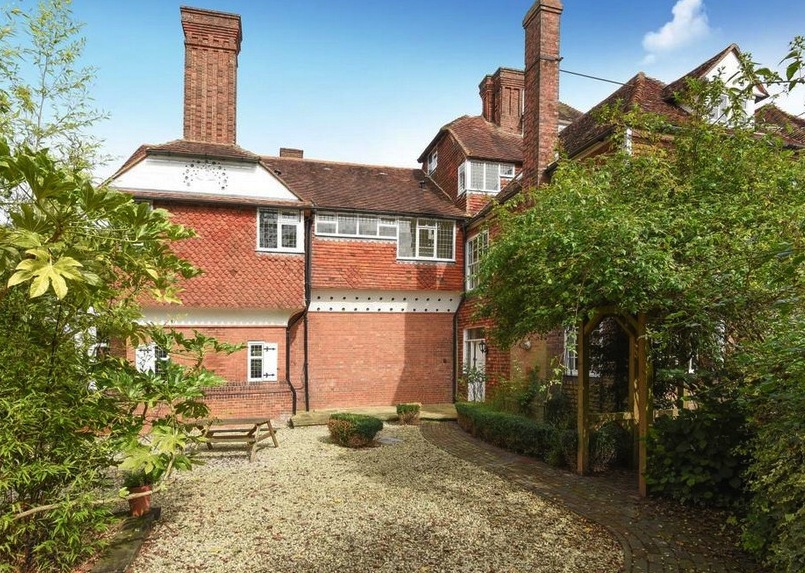 Two other (partial) views of the house.
On the left above can be seen one of the tall chimney stacks and a rectangular gable overhanging a high window, perhaps what might be called a "semi-dormer." On the right is a closer view of a larger, stepped gable still carrying Shaw's "delightful design ... of the peacock, and the familiar words, 'Except the Lord build the house, their labour is but lost who build it'" (Horsley 340). The listing text tells us that the eyes in the peacock's display feathers were made of the embedded ends of green bottles. The bottle-end design carries on in the plaster-work strip below it, to the right. It is interesting to see the peacock design, suggesting Japanese influence and later beloved of the Aesthetes, used so early on.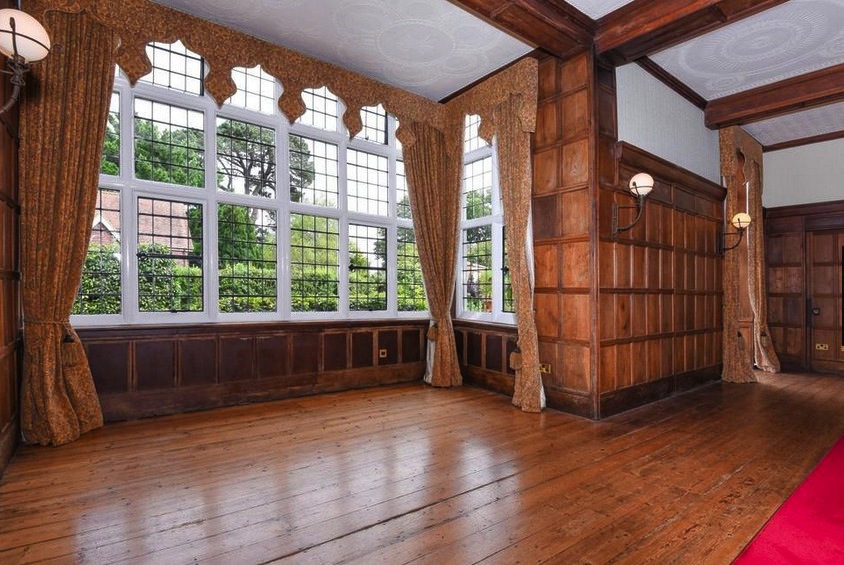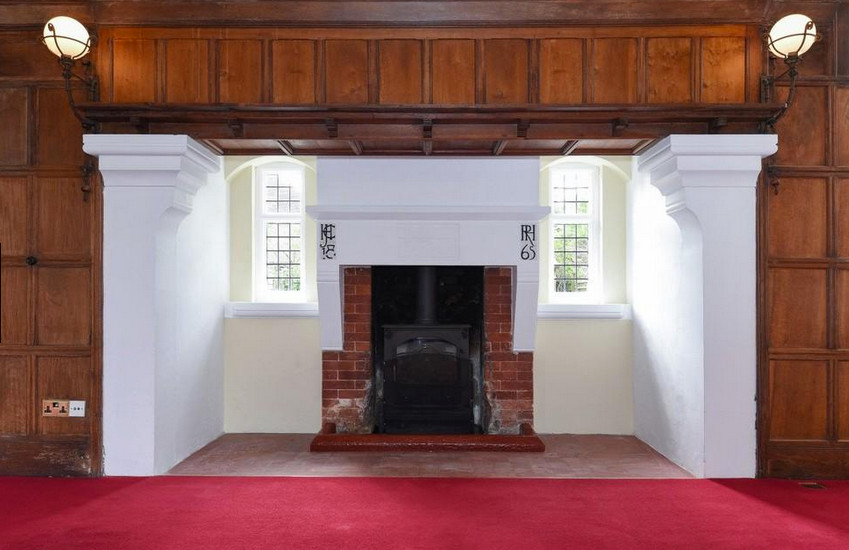 Left: The drawing room. Right: The drawing room fireplace.
Most remarkable of all is the preservation of Shaw's internal features. "When the question of wall-covering came up," says Horsley,
Norman Shaw suggested oak panelling. In these days oak for panelling was not easily come by, to the amount that was necessary for the large living-room, and many Wardour Street shops and kindred places were hunted through in vain. Finally I applied to a tradesman and curio collector in Cranbrook High Street, and I can see his queer old face now as he informed me, with a grin, that he had a whole room-full of well-seasoned oak timber, more than enough for what I wanted.
Then when Shaw suggested stamped leather for a frieze, a happy chance took me through Great Portland Street, and in a shop there I espied a quantity of sixteenth-century stamped leather from an old French chateau, which became mine for nine or ten pounds, there being no demand for it. It was Norman Shaw himself who first drew bold designs on the soft new plaster of the ceiling, and who was delighted to find his ideas ably and conscientiously carried out by the rustic "Men of Kent," the Cranbrook workmen, with a skill and verve that could never have been found in Londoners of the same calling. [340-341]
Also of great interest is the impressive fireplace, with the date 1865 and monogrammed initials either side: JCH for John Callcott Horsley, and RH for Rosamund (Rose) Horsley, his second wife. Again Horsley has a "brief anecdote," explaining that
We had been searching in many places, but without avail, for an old-fashioned iron fire-back, suitable for the deep fireplace with its inglenooks and dogs. One morning, when the workmen were doing some needful repairs in the nursery, I was suddenly summoned. I had just finished setting my palette, and was considerably annoyed at being disturbed at this juncture, contrary to all rules, but I yielded and went up. In taking down the nursery grate the workmen had discovered the very thing I was looking for — a genuine fire-back of a quaint and delightful pattern. [342-43]
This bit of serendipity provided the finishing touch to what is still a dramatic focus for the room.
Horsley had seven children by his second wife, but even so Willesley was a large house, especially considering that the main family home was in Kensington. Costume pictures and portraits were popular, but Horsley was never such a big name as, for example, Millais. He explains in his Recollections that the money for his Cranbrook establishment came from a legacy received by his wife, and that "it was so strictly tied up" that at first they had a battle to use it in this way — but that when they succeeded, they, like many other Victorians, enjoyed the experience of "dabbling in bricks and mortar" (339).
Image download and commentary by Jacqueline Banerjee. The recent photographs have been reproduced by kind permission of estate agents Right Move. You may use the first image without prior permission for any scholarly or educational purpose as long as you (1) credit the source and (2) link your document to this URL in a web document or cite the Victorian Web in a print one.
Bibliography
Horsley, John Callcott. Recollections of a Royal Academician. London: John Murray, 1903. Internet Archive. Contributed by the University of California Libraries. Web. 19 April 2018.
"Four bedroom townhouse for sale." Right Move. Web. 19 April 2018.
Valentine, Helen. "Horsley, John Callcott (1817–1903), painter." Oxford Dictionary of National Biography. Online ed. Web. 19 April 2018.
"Wilsley Hotel, Cranbrook." Historic England. Web. 19 April 2018.
---
Created 19 April 2018