Photographs taken and kindly contributed by Michael Critchlow. Commentary and formatting by Jacqueline Banerjee. You may use these images without prior permission for any scholarly or educational purpose as long as you (1) credit the photographer and (2) link your document to this URL in a web document or cite it in a print one. [Click on the images to enlarge them.]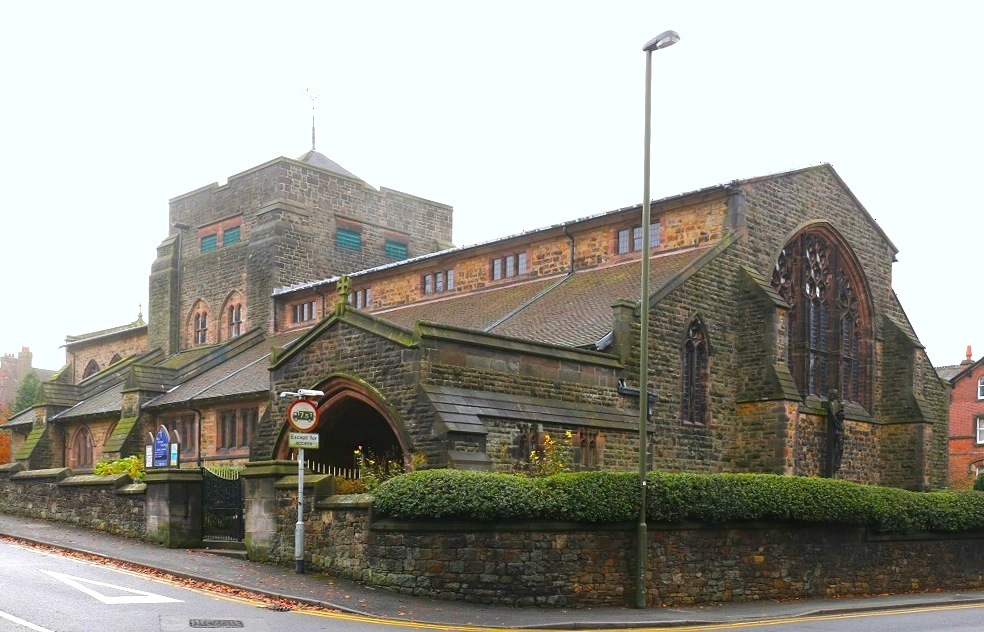 The impressive west front and the long, broad north-west porch of All Saints, Leek, its unusually squat tower straddling the nave roof at the crossing.
All Saints, Compton, Leek, by Richard Norman Shaw (1831-1912), with work inside by architect and Arts and Crafts designer Gerald Callcott Horsley (1862-1917), who had been Shaw's pupil; the painter and designer T. J. Jackson (1848-1923); and William Lethaby, now getting towards the end of his ten years in Shaw's office — in other words, by what Pevsner calls "the Shaw school" (169). Built 1885-87 of red rock-faced rubblestone with smooth (red) stone dressings, the Grade I listed church is notable for its large low crossing-tower and bold presence. It stands on Southbank Street, Leek, Staffordshire.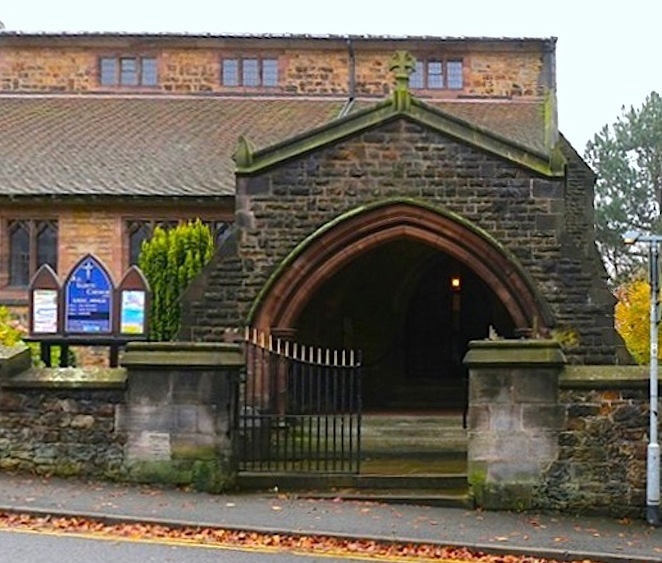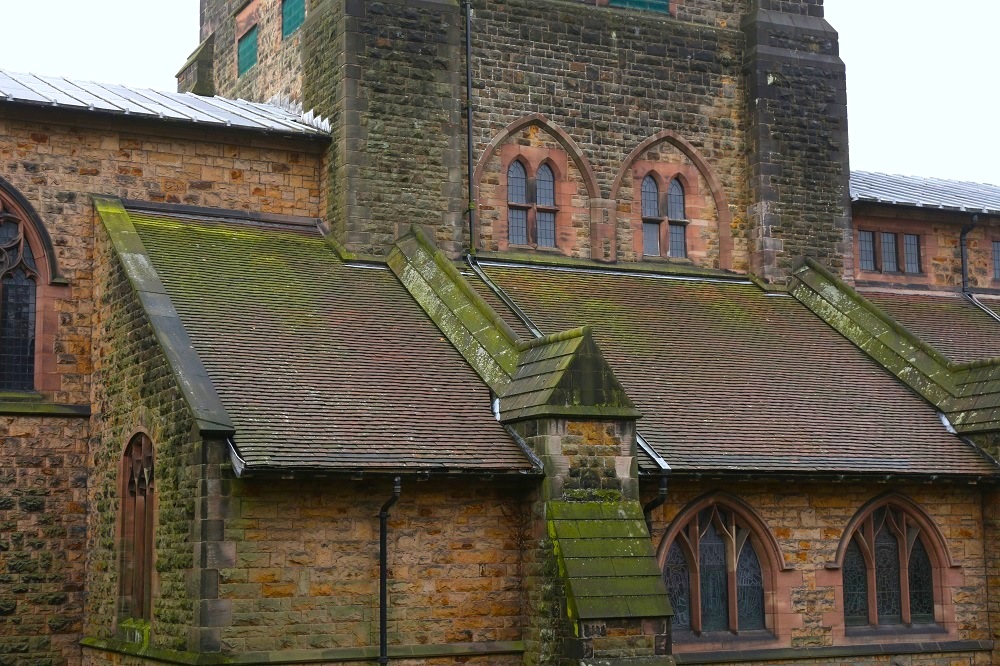 Left: The north porch. Right: The north crossing with the central tower.
Shaw's comment to J. D. Sedding, "You know I am not a Church man, I am a house man," is widely quoted (for example in Allinson 191), but he was a High Church Anglican, and in fact designed sixteen churches, of which this is one of the most distinctive. "Vigorous and personal," All Saints is also, according to Nikolaus Pevsner, "strikingly original" (169, 42). As both Pevsner and the listing text point out, the windows vary in style: even the two great nine-light windows of the west front and east end are in different styles, Decorated and Perpendicular respectively. There has been no striving for period authenticity here.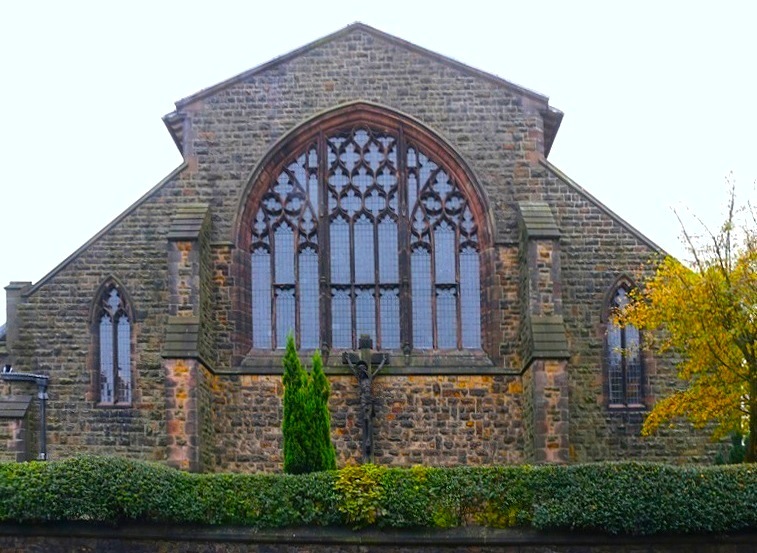 The west front, with its nine-light "Dec" window with reticulated tracery looking massive, immovable and powerful.
The church does have Gothic windows, even if of different styles, and it also has buttresses, and even a suggestion of battlements at the tower, with its single central indentation on each side. But is otherwise plain, with no gargoyles, crocketing, or carving on the head-stops of the hood moulds or around the entrance arch. The subtle polychromy derives only from the variation in materials — that is, the shades and texture of the differently faced stone, and the tiling. It is so subtle as to pass largely unnoticed. All this is a far cry both from the early days of the Gothic Revival and equally from High Victorianism, bringing the church closer to Romanesque in its solidity and heaviness, as well as in the rounded arches of the porch and larger windows.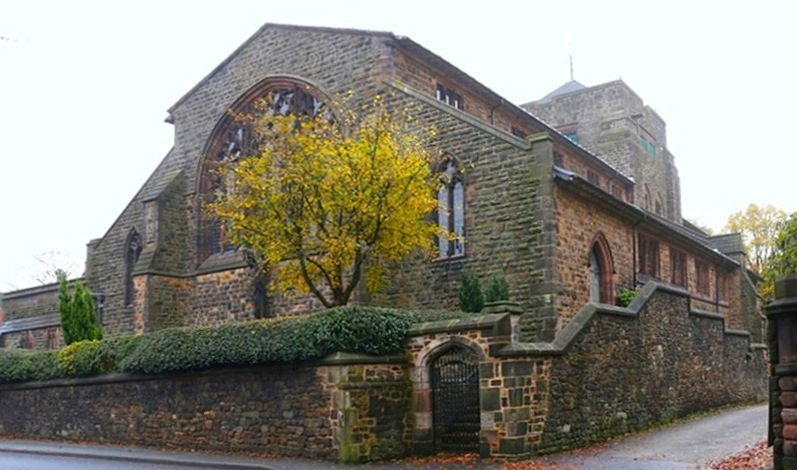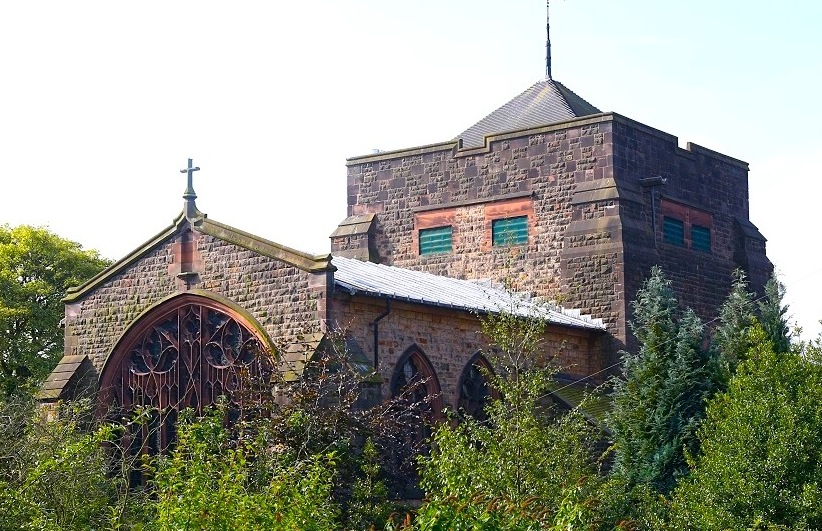 Left: Three-quarter view of the church from the west front, showing the south elevation. Right: Three-quarter view from the east end.
The east end is surmounted by a cross, and this angle gives a full sight of the tower's low pyramidal roof and weathervane. Looking generally at "The Late Victorian Church," Andrew Saint numbers Shaw not among the "continuators" of earlier movements, but among "a loose group of architects who ... in some of their churches seemed to anticipate the changing temper of their times" (19); and although he does not discuss this church in the essay, he does discuss it elsewhere, including it among his finest ("Shaw, Richard Norman..."). In its robustness it seems, as Pevsner hinted, to make a strong personal statement, which surely derived from the architect's own faith. This faith is expressed inside the church as well, in its proportions no less than in its decoration and furnishings.
Related Material
Sources
Allinson, Kenneth. Architects and Architecture of London. Oxford: Elsevier, 2006.
"Parish Church of All Saints, Leek." British Listed Buildings. Web. 10 November 2015.
Pevsner, Nikolaus. The Buildings of England: Staffordshire. New Haven and London: Yale University Press, 2002.
Saint, Andrew. "The Late Victorian Church." The Victorian Society Studies in Architecture and Design, Volume Three: Churches 1870-1914. Ed. Teresa Sladen and Andrew Saint. London 2011. 7-25.
____. "Shaw, Richard Norman (1831–1912), architect." Oxford Dictionary of National Biography. Online ed. Web. 10 November 2015.
---
Last modified 11 November 2015