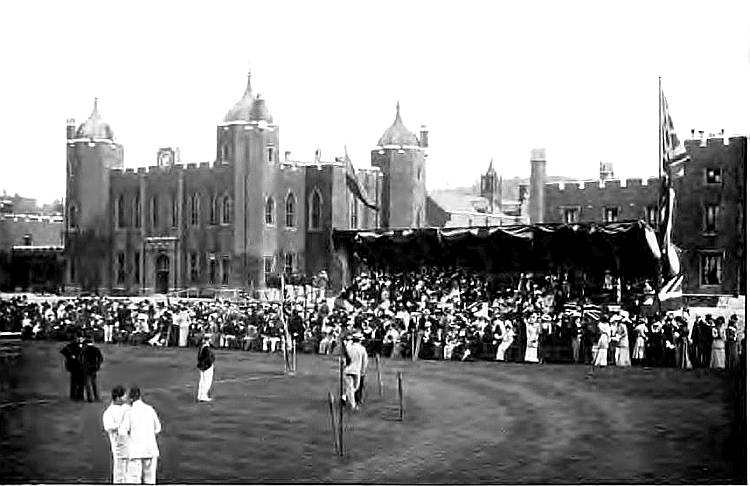 Royal Military Academy. Listed Building. Designed by James Wyatt (1737-1807) of the great Wyatt dynasty of architects. 1794-96. Woolwich, London (though then in Kent). Photograph from Guggisberg, facing p.213. Caption, text and formatting by Jacqueline Banerjee. [Click on the image to enlarge them.]
James Wyatt designed the impressive Royal Military Academy at Woolwich (1805), originally for gunnery cadets from the Woolwich Arsenal, now a Grade II* listed building converted to residential use. At the time it was seen as "a handsome and commodious structure" (Grant 41); more recently, Nikolaus Pevsner has called it "one of the most important pieces of military architecture in the country" (qtd. in "Woolwich Common"). It can also be seen as a good example of the "Gothick" — the more fanciful version of Gothic that preceded its serious revival in the Victorian period.
The Royal Military Academy was the training school for many famous military figures, including General Gordon, who entered as a Gentleman Cadet in 1848 (Weinreb et al. 602).
References
Grant, John, ed. A Guide to Woolwich. Woolwich: John Grant. 1841. Google Books (free book). Web. 13 February 2013.
Guggisberg, Captain F. G. "The Shop": The Story of the Royal Military Academy. London: Cassell, 1900. Internet Archive. Web. 13 February 2013.
Weinreb, Ben, et al. The London Encyclopaedia. 3rd ed. London: Macmillan, 2008.
"Woolwich Common Conservation Area Appraisal." June 2011. Web. 13 February 2013.
---
Last modified 13 February 2013