Photographs by the author. [You may use these images without prior permission for any scholarly or educational purpose as long as you (1) credit the photographer or source, and (2) link your document to this URL in a web document or cite the Victorian Web in a print one. Click on the images for larger pictures, to see the details discussed.]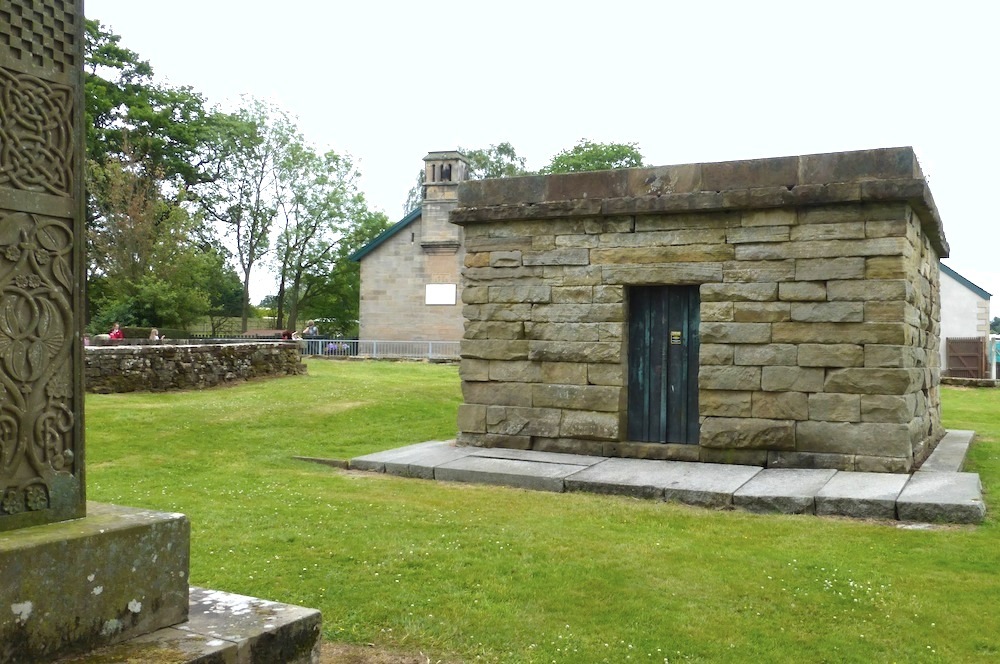 Mausoleum by Sarah Losh, for her beloved younger sister Katherine. The Grade II rectangular structure of large blocks of sandstone — "stone laid casually in a 'cyclopean' style" (Jenkins 119) — it contains a white marble seated statue of Katherine by Carlyle sculptor David Dunbar in the middle, and marble reliefs of the parents and uncle George in three of the corners; "the haphazardly placed portraits make the whole mausoleum feel provisional, despite its solidity, as though its maker could not bear to go on (Uglow 253). The small windows at each end are protected by bars. It is situated in the churchyard of St Mary's Church, Wreay, Cumbria, near the Losh family graves enclosure (shown below), and the Losh version of the Bewcastle Cross, the edge of which can be seen on the left here.
The family plot near the mausoleum. (a) The cross can be seen here too. (b) The whole enclosure, where Sarah Losh too was laid to rest.
As well as building the mausoleum, Sarah enclosed the graves outside with "a low balustrade with round arches." The graves themselves were curious. They were
some of the oddest, heftiest, most strangely carved gravestones in England, laid out in an irregular pattern. It seems likely that she tackled the carving herself, and if not, she gave firm instructions. Her models were the weighty medieval grave slabs found in many Cumbrian churches, reinterpreted in a highly individual style. She began with her parents, placing a massive lump of sandstone, heavy enough to deter a vampire, on the grave that they shared with their infant son John. She left the surface rough, unshaped, uncarved, deprived of images of consolation.... [253]
In what seems a bleak end to the story of a loving, gifted, philanthropic woman, Sarah Losh herself was buried here next to her sister at the beginning of April 1853. However, this gravestone does at least have two carved scallop shells, and what Jenny Uglow describes as "primitive plants" on it (272), recalling Sarah's interest in such forms of life. The two scallop shells have another meaning too, as they are associated with pilgrimage to the shrine of St. James at Compostela, and thence with pilgrimage more generally.
Related Material
Bibliography
Jenkins, Simon. England's Thousand Best Churches. London: Penguin, 2009.
"The Losh Mausoleum." The Mausolea and Monuments Trust. Web. 11 October 2015.
Uglow, Jenny. The Pinecone: The Story of Sarah Losh, Forgotten Romantic Heroine — Antiquarian, Architect and Visionary. London: Faber, 2012.
---
Last modified 11 October 2015