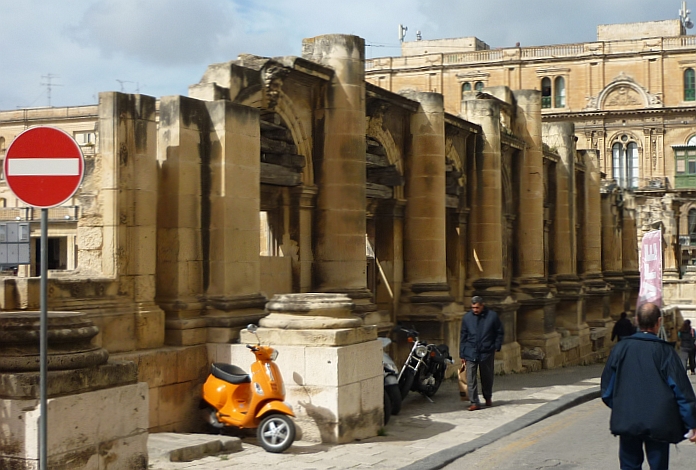 Ruins of the Royal Opera House, Valletta, Malta. E. M. Barry. 1862-66; rebuilt after a fire, 1873-77 (Ellul 13); bombed on 7 April 1942 (Praefcke). Photograph, caption, and commentary by Jacqueline Banerjee, 2010. [You may use the recent images without prior permission for any scholarly or educational purpose as long as you (1) credit the photographer and (2) link your document to this URL.]
After his success with the Royal Opera House in Covent Garden, London, Barry was asked to design a similarly grand opera house for the capital of Malta, Valletta. Rightly numbered among his "distinguished works" (Burnet and Blissett), the building had over a thousand seats and was in a very prominent position just inside the city gate at the top of Republic Street: it must have been extraordinarily impressive. Jesmond Grech writes that "it gave an invaluable boost to the artistic and cultural lives of the Maltese" (41). So far, proposals to rebuild it have been unsuccessful; fortunately, so has the proposal to turn the area into a multi-storey car park. There is every hope of its resurrection. The latest idea is for an open-air theatre, but there is also a plan to raise funds for a fine state-of-the-art 800-seat theatre with a roof (Johnston). Many people would like to see it rebuilt on the same lines as the original.
Other Views
References
Burnet, G. W., rev. David G. Blissett. "Barry, Edward Middleton (1830-1880)." Oxford Dictionary of National Biography. Online ed. Viewed 5 March 2010.
Grech, Jesmond. British Heritage in Malta. Sesto Florentino (Fi): Centro Stampa Editoriale (Plurigraf), 2003.
Johnston, Waylon. "33c a day to get opera house back." Times of Malta, 25 February 2010.
---
Last modified 5 March 2010