George Edward Wade was the youngest son among the fourteen children of a Soho rector (later Canon of Bristol). He was educated at Charterhouse and in Switzerland, and destined for the Bar until his health broke down and he was sent to Italy to recover (see "Wade, George"). Here he took up painting, later turning to sculpture. He began to exhibit his work and soon established himself with a terracotta statuette of a Grenadier Guardsman, a copy of which in bronze was purchased by the Queen. He then took over Boehm's old studio in the mews behind Onslow Square, where Baron Marrochetti had once had his workshop. Wade and his family are recorded in the 1901 and 1911 censuses as living at Stubbings Farm near Maidenhead (see "George Edward Wade"), but he continued to operate professionally from his London studio for about thirty years, from 1891 until at least 1920, moving up from studio No. 2 to No.1.
Wade achieved popular success with his portrait busts. For example, 500 copies of his likeness of the pianist Paderewski went out to America alone. But he also executed some huge monuments: his statues stand in Hong Kong, Bombay, Madras, Montreal and elsewhere. Eventually he acquired a Hyde Park address, and one of his two daughters married into the peerage. He was evidently very much part of the artistic circle of his day.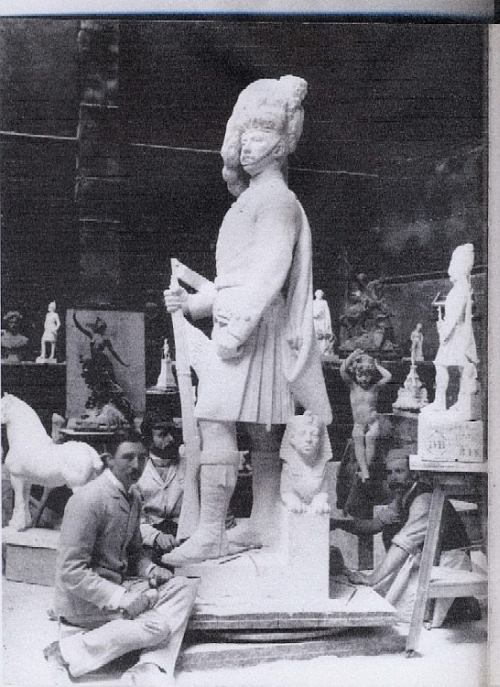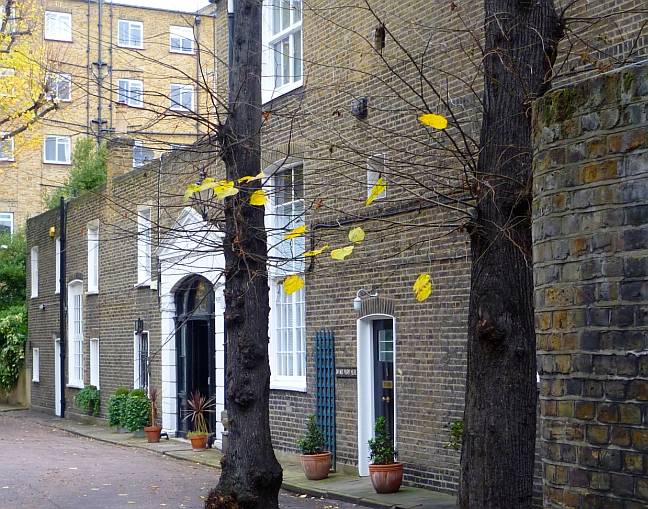 Left: The mews block, once Baron Marochetti's workshop, where Wade and others had their studios. [Click on this and the following thumbnail for larger images.]
Right: Wade in his studio in 1893, looking very debonair and quite unsuitably dressed for the job, with two of his masons (one possibly an Indian). Note the tiny model of the Cameron War Memorial in the background, perhaps the very model that won him that particular commission. With thanks to the Inverness Field Club and Alison E. Tanner of the Inverness City Heritage Trust, especially to Alison for picking out that detail.
However, Wade was rather a traditional sculptor in an age of innovation. M. H. Spielmann writes dismissively of him in 1901 that "[i]t cannot be said that there is any striking or marked individuality in the work of Mr Wade, or that the modelling calls for special comment. But it must surely be accounted to the credit of the sculptor that in his portrait busts and statues his gentlemen look like gentlemen, and his ladies lady-like — a virtue which cannot be claimed by some sculptors who are cleverer modellers and greater artists" (143). This sounds like damning with faint praise, and indeed Wade is not much remembered now. His sculptures are liable to be noted as if they were anonymous (e.g. Margaret Baker does not identify him as the sculptor of the Temperance fountain in the Embankment Gardens in London, even though she includes a picture of it in her book, 95-96). Yet, as Hutchison points out, his work was popular for good reason:
The popularity of Wade's sculpture was probably due not only to the fact that that it was always comprehensible but that it was both ennobling and restrained in equal measure. In portraiture he obtained at the same time a good likeness, much appreciated by the sitters and their families, and, in these works and in his more fanciful subjects, he engendered feelings of respect and admiration. It might be argued by some that his approach was too prosaic, but it would perhaps be more true to say that he cloaked classical ideals in the trappings of his own environment.
The appealing young girl of the Embankment fountain (a replica of one for the Women's World Temperance Association), and the defiant-looking Cameron Highlander atop his war memorial in Inverness, certainly look like individuals rather than types, and are both much admired: they have both been repaired/renovated in recent times. Until recently, Wade's equestrain statue of Earl Haig was a familiar landmark on Castle Hill, Edinburgh, and is also now been restored prior to relocation within the castle grounds. — Jacqueline Banerjee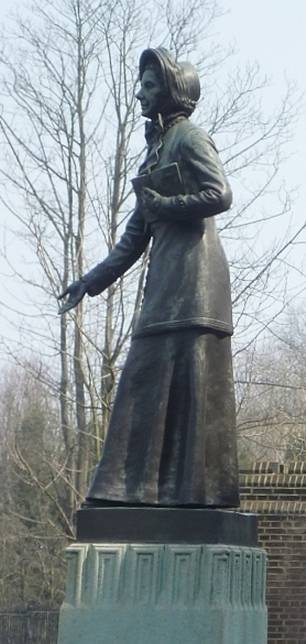 Works
Bibliography
Baker, Margaret. London Statues and Monuments. 4th ed. London: Shire, 1995.
Bullus, Claire, and Ronald Asprey. The Statues of London. London & New York, Merrell, 2009.
"George Edward Wade 1853-1933." Maidenhead Heritage Centre. Web. 21 April 2020. [This interesting piece even shows two census returns for the Wade family.]
Hutchison, S. C., rev. "Wade, George Edward (1853-1933)." Oxford Dictionary of National Biography. Online ed. Web. 10 Dec. 2010.
John Singer Sargent's Fulham Road Studio (part of the JSS Gallery site). 10 December 2010.
the peerage.com. Web. 10 December 2010
Spielmann, M. H. British Sculptors and Sculptors of Today. London: Cassell, 1901. Internet Archive. Web. Viewed 10 December 2010
"Wade, George." Draw Paint Sculpt (London Atelier of Representational Art site). Web. 10 December 2010
Weinreb, Ben, et al. The London Encyclopaedia. 3rd ed. London: Macmillan, 2008.
---
Last modified 21 April 2020