Biographical Introduction
William Theed, Jr (or William Theed II, or William Theed the Younger) was the son of the artist, designer and sculptor, William Theed the Elder. He was born in Staffordshire, where his father was working for Wedgwood. Like so many other young sculptors who rose to fame, including Musgrave Lewthwaite Watson, William Calder Marshall and Joseph Durham, William Theed, Jr trained with Edward Hodges Baily. Then in 1826, as his father had done before him, Theed went out to Rome, studying under several sculptors including R.J. Wyatt, and staying in Italy for over twenty years. His study of An Unknown Young Woman was executed in Rome.
In the mid-1840s Theed was asked to submit some designs for sculptures at Osborne House. Two designs were accepted: Narcissus at the Fountain, and Psyche Lamenting the Loss of Cupid. This "marked a turning point in his career" (Greenwood). From then on he was greatly favoured by Prince Albert and the royal family. He was asked to take the Prince's death-mask, and his bust of the Prince is part of the Royal Collection at Osborne House. By this time he was settled in Campden Lodge, now 82 Campden Hill Road, Kensington, where he lived for thirty-six years, from 1855 until his death.
Amongst Theed's later works was the wonderful Africa group for the Albert Memorial, perhaps the most impressive and eye-catching of all the corner groups. Martin Greenwood describes Theed as becoming "a versatile and eclectic sculptor who was equally at ease with classicizing ideal works, historical realism, and modern life portraits." The Unknown Young Woman at the Fitzwilliam Museum is a delightful example of a modern life portrait bust, though one can understand why Bob Speel says that Theed's ideal girls are sometimes "rather on the coy side." — Jacqueline Banerjee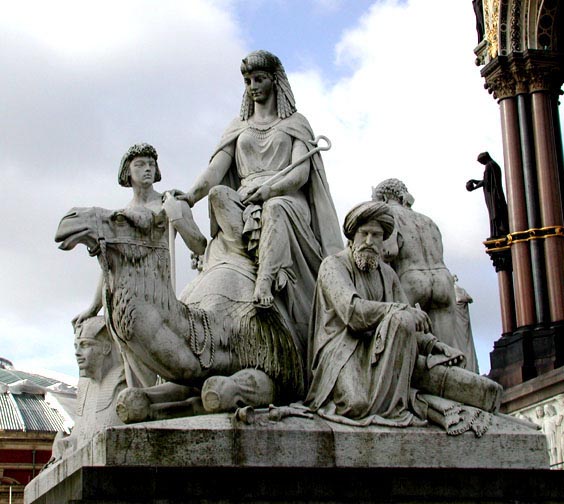 Works by William Theed, Jr.
Work by William Theed the Elder
Bibliography
Beattie, Susan. The New Sculpture. New Haven: Yale University Press, 1983.
British Sculpture 1850-1914. A loan exhibition of sculpture and medals sponsored by The Victorian Society. London: Fine Art Society, 1968.
Greenwood, Martin."Theed, William, the younger (1804-1891)." The Oxford Dictionary of National Biography. Online ed. Viewed 4 July 2008.
Speel, Bob. "William Theed the Younger (1804-91)." Link updated 31 August 2022.
---
Last modified 1 September 2022