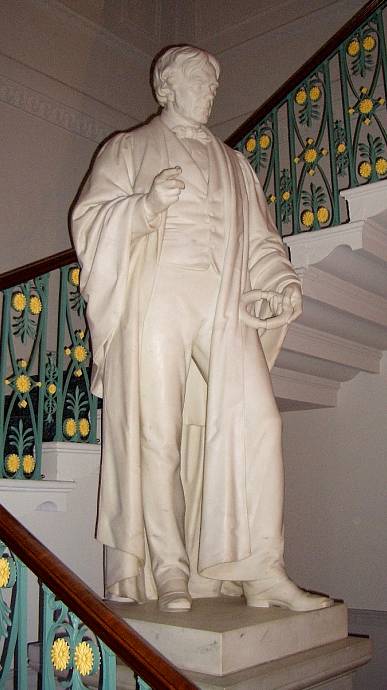 Michael Faraday
John Henry Foley (1818-1874), R. A.
1877
Marble
Royal Institution of Great Britain
Albemarle Street, London W1
Related material
Faraday was very closely associated with the Royal Institution. He was first appointed as laboratory assistant there in 1813, became director of the laboratory in 1825, and Fullerian Professor of Chemistry there from 1833 to 1867. It was here that he conducted his electricity experiments; as superintendent of the institution, he also lived in a flat there with his wife Sarah, until the couple were given a house near Hampton Court in 1858. Although under no obligation to lecture, he was in fact "a gifted lecturer," who, for example, delivered his friend Charles Wheatstone's lectures for him because Wheatstone himself was too shy.
Foley shows Faraday with his famous electro-magnetic induction ring in one hand, while his other hand is raised as if he is in the midst of explaining it. The statue stands imposingly at the foot of the institution's main staircase (with its splendid ironwork), as if to welcome visitors.
Photograph, caption, and commentary by Jacqueline Banerjee