Bacchanal by Aimé-Jules Dalou (1897-1902). Signed and dated 1879. Painted plaster. Victoria & Albert Museum, London (no. 434-1896).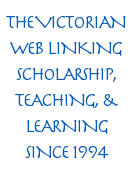 Photograph by George P. Landow. The V&A chat label reads: "This skilfully composed relief is one of several versions showing the worshipers of Bacchus, the God of wine in classical mythology. Dalou made it in London, but returned to Paris later in the same year and reworked the composition in marble as a decoration for a fountain."
Bibliography
Beattie, Susan. The New Sculpture. New Haven: Yale University Press, 1983.
Bowman, Robert.Craft and Creation — 2005. London: Robert Bowman Gallery, 2005, pp. 33-34.
---
Last modified 7 September 2009