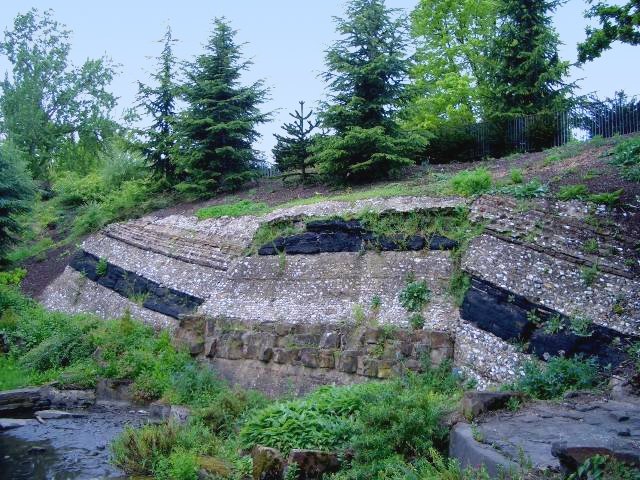 Geological Strata, Crystal Palace Park. Penge (Sydenham Hill), south-east London. Sir Joseph Paxton, in collaboration with David Thomas Ansted, and with Edward Milner as his Superintendent of Works and Landscape Gardener, along with George Eyles. 1854; restored 2001-3. Photograph and text by Jacqueline Banerjee, 2009. [You may use this image without prior permission for any scholarly or educational purpose as long as you (1) credit the photographer and (2) link your document to this URL.]
The geological islands of the Dinosaur Court in Crystal Palace Park were a part of the larger project there that also included artificial cliffs beside the lake: "In the SE corner lies a remnant of Paxton's original English landscape garden, a fragment populated by 'antediluvian monsters' and geological cliffs," notes Peter Doyle. He continues: "This remnant is arguably the world's first attempt at recreating, in a systematic, scientific and ordered way, the geology of the United Kingdom" (197). The cliffs were constructed to display rock strata and formations, revealing "mountain limestone, millstone grit, ironstone and new sandstone"; there was even a model of a lead-mine, with "pipe veins, rake veins, and stalactites and with life-size models of Irish Elks above the entrance" ("Crystal Palace Park") — the less surprising, perhaps, in view of the fact that Ansted, Professor of Geology at King's College, London, and the source of the scientific knowledge here, was also geological consultant to various mining companies (see Thackray).>
According to the explanatory signboard in the park, the idea of this part was to illustrate the natural resources that had enabled the industrial revolution to take place. This project has also been interpreted in a more twenty-first century light, as a "monument to the relevance of promoting awareness of the science as a foundation to effective geoconservation" (Doyle 197). Whichever view one takes, nowhere is one more keenly aware of the role of the re-sited Crystal Palace and its Park as "an illustrated encyclopaedia."
Related Material
Bibliography
"Crystal Palace Park, Penge, South London." Viewed 13 May 2009.
Doyle, P. "A Vision of Deep Time": The "Geological Illustrations" of Crystal Palace, London. A History of Geoconservation. Ed. Cynthia V. Burek and C. D. Prosser. Geological Society Publishing House, No. 300 (Special Publication), 2008.
Thackray, John C. "Ansted, David Thomas (1814-1880)." Oxford Dictionary of National Biography. Online ed. Viewed 13 May 2009.
---
Last modified 13 May 2009