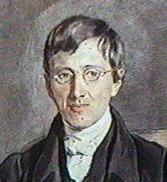 From 1828 to 1843, John Henry Newman (1801-1890) was vicar of St. Mary's Church in Oxford. He was not what we would call a "charismatic" preacher; he kept his eyes fixed upon his manuscript, never moving, looking at his congregation, or varying the tone or inflection of his voice.
This lack of a "pulpit presence" did not keep Newman from gaining a reputation as perhaps the most intellectually and spiritually gifted preacher of his day. Several hundred worshipers crowded into St. Mary's each week, attracted by Newman's eloquence and earnestness, his "piercing yet tender" voice, and his ability to not only "enter into the very minds of his hearers," but to lay "bare the inmost fibres of the heart" and soul as well (DeLaura 91, 95).
Publication secured Newman's place in the first rank of Victorian preachers. In 1843, Rivington's issued sermons Bearing on Subjects of the Day, which H.W. Wilberforce regarded as "some of the most striking and beautiful sermons ever published" (330). Another reviewer saw the volume as a literary and religious masterpiece; he called attention to its "eminently English" style and "calm, dignified" tone and declared that its publication marked the beginning of "a new era in our English theology" (Review of sermons 103-106).
In 1868, nearly 25 years after Newman's conversion to Rome, Rivington's published a new edition of Parochial and Plain sermons, reviving memories among those who had heard him preach and making his Anglican discourses available to a new generation of readers. This series was also very well received: E.T. Vaughan, for example, saw the collection as a model of "deep thought," "poetic imagination," and "practical Christian teaching" (41, 51). R.W. Church was even more lavish in his praise; he cited Newman's "intense conviction," "directness of purpose," and "perfection" of language as evidence that the sermons "stand by themselves in modern English literature; it might be said, in English literature generally" (151-153).
Bibliography
[Adapted from Chapter 5 of The Victorian Pulpit: Spoken and Written sermons in Nineteenth-Century Britain.]
Additional adaptations of the
Victorian Pulpit

available on the

Victorian Web
---
Last modified 1998

Last modified 11 April 2018