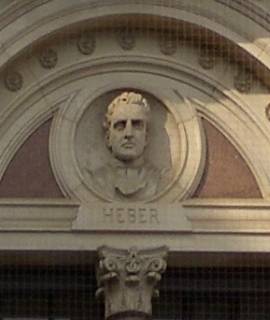 Portrait of Heber on the inner courtyard of the India Office by Farmer and Brindley, who did much of the sculpture on Sir George Gilbert Scott and Sir Matthew Digby Wyatt's building. Photograph by Jacqueline Banerjee. [Click on thumbnail for a larger image.]
Articles written after the
1857 Mutiny
often cite or quote Bishop Reginald Heber (1783-1826) as an observer of Indian life and custom. For example "
The Company's Raj,
" which appeared in
Blackwoods Edinburgh Magazine
in response to the Sepoy rebellion mentions Heber's two-volume
Journal through the Upper Provinces of India
for descibing the palace at Delhi as "as only second to Windsor Castle" in size and splendor, and a note observes that the conservative
High Churchmen
had no objection to caste: "Caste is still observed in the Lutheran missions in the south of India, and has only within these few years been abandoned — if it be yet abandoned — in the
Church of England
missions at Tanjore and Vepery. It was tolerated under Bishop Middleton, viewed as a social distinction by Bishop Heber, and not condemned as inconsistent with Christianity till the arrival of the present Metropolitan of Calcutta."
As one might expect, periodical writers draw upon Heber's views of religion and religious conflict in India. Thus, citing Heber (along with Macaulay), the Quarterly Review describes the religions in Delhi:
The descriptions of the city by Heber and Macaulay yet hold true. The sacred bulls and devout beggars still crowd up the narrow overhanging streets; and the divine monkeys leap from pinnacle to pinnacle of the temples, round which are posted the hideous faquirs and other ascetics of revolting character, 'offering every conceivable deformity which chalk, cow-dung, disease, matted locks, distorted limbs, and disgusting and hideous attitudes of penance can show.' In Benares Brahminism is seen in all its completeness. Here suttee and self-immolation made their last stand.
Blackwood's also cites Heber in "The Religions of India" when writing about Benares:
Formerly this sacred city was a favourite place for the performance of suttee, or the burning of widows; and at the time of Heber's visit, self-immolation by drowning in the Ganges was likewise not infrequent. On many of the house-fronts, besides fantastic paintings of men, women, bulls, elephants, &c., gods and goddesses appear in gaudy colours. Here, as elsewhere, the multitude take great delight in the religious festivals; the chief of them being the Ram Lila, which represents the triumph of Rama over the gigantic demon Ravan, who is personated by a huge ogre-like figure, filled with explosive combustibles, and blown up at the close of the performance.
Related Material
Bibliography
Heber, Reginald. Narrative of a Journey through the Upper Provinces of India: selections from Heber's Journal. Ed. M. A. Laird. London: Cambridge U.P., 1971.
Heber, Reginald. The Poetical Works. Boston: Little, Brown, 1853. [available at Internet Archive/Google.]
Jones, Aled. Forty Favourite Hymns. London: Preface (a Random Houise imprint), 2009.
---
Last modified 28 May 2011