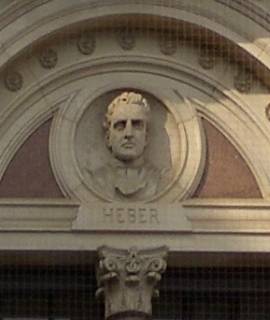 Portrait of Heber on the inner courtyard of the India Office by Farmer and Brindley, who did much of the sculpture on Sir George Gilbert Scott and Sir Matthew Digby Wyatt's building. Photograph by the author.
Monument to Bishop Reginald Heber by Sir Francis Chantrey. Marble. St. Paul's Cathedral, Calcutta, India. Photograph and caption by Robert Freidus.
[Click on thumbnails for larger images.]
Reginald Heber, the second Bishop of Calcutta, is best known today for his famous hymns, including "Holy, holy, holy, Lord God Almighty," "From Greenland's icy mountains," "Brightest and best of the sons of the morning" and "Lord of mercy and of might." Heber, a rector's son from Malpas, Cheshire, is said to have been an exceptionally gifted child, so much so that he had not only read the bible by the age of five, but had understood it too.
He went on to prove himself as a scholar and poet at Brasenose College, Oxford, becoming a fellow of All Souls in 1804, and then taking Holy Orders in 1807. From being the Rector of Hodnet in Shropshire, he rose through the church to become, in Aled Jones's words, "one of the first great migration of clergymen dispatched by Britain in the early nineteenth century to live dangerously, spreading the gospel through the world" (159). As well as becoming the second Bishop of Calcutta (today's Kolkata) he travelled widely throughout the East on his missionary work, setting up schools and consecrating churches — something of his zeal having been already apparent in the hymn, "From Greenland's Icy Mountains," written, like most of his hymns, while he was still at Hodnet.
Jones suggests that Heber was "an innovator in the history of hymnology" (159), quoting John Betjeman, who considered him "the first specifically liturgical hymn-writer of the Church of England" (161).
Heber's unremitting labours took a terrible toll, and he died in India when he was just forty-three. Thanks to his own "High Church scruples against using them in public" (qtd. in Jones 160), his hymns were only published posthumously. Chantrey, as usual, has caught the personality of the man — intense, spiritually refined, restrained, devotional. It is a beautiful monument. His importance to the British Empire, and colonial India in particular, is suggested by his appearance on one of the India Office façades in sculpture by Farmer and Brindley.
Related Material
Bibliography
Guppy, Henry. The John Rylands Library, Manchester. A Brief Historical Description of the Library and Its Contents. Manchester: Sherratt and Hughes, 1914. Uploaded to the Internet Archive. by Cornell University Library. Illus. 25. Web. 3 August 2012.
Heber, Reginald. The Poetical Works. Boston: Little, Brown, 1853. [available at Internet Archive/Google.]
Jones, Aled. Forty Favourite Hymns. London: Preface (a Random Houise imprint), 2009.
---
Last modified 28 May 2011