This series of articles derives much of its fact and inspiration from Hugh Murray's book A Directory of York Pubs, 1455-2003. References to the book, as given below, have two numbers, the first indicating the text, and the second its accompanying historical photograph. The article itself is illustrated by the author's own photogrpahs. You may reproduce these without prior permission for any scholarly or educational purpose as long as you (1) credit the photographer and (2) link your document to this URL in a web document or to the Victorian Web in a print document. [Click on the images to enlarge them.] — Rita Wood
The Temperance Movement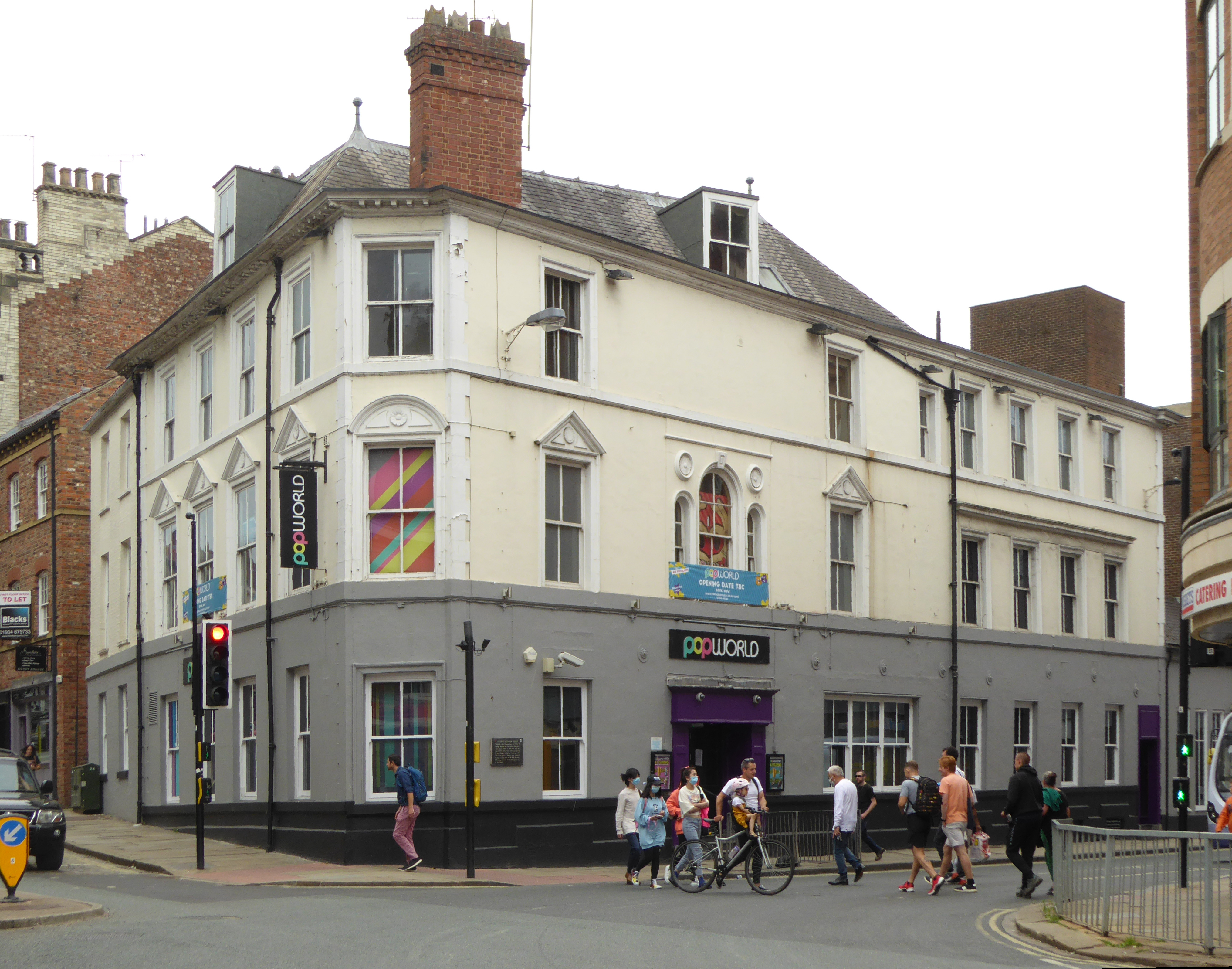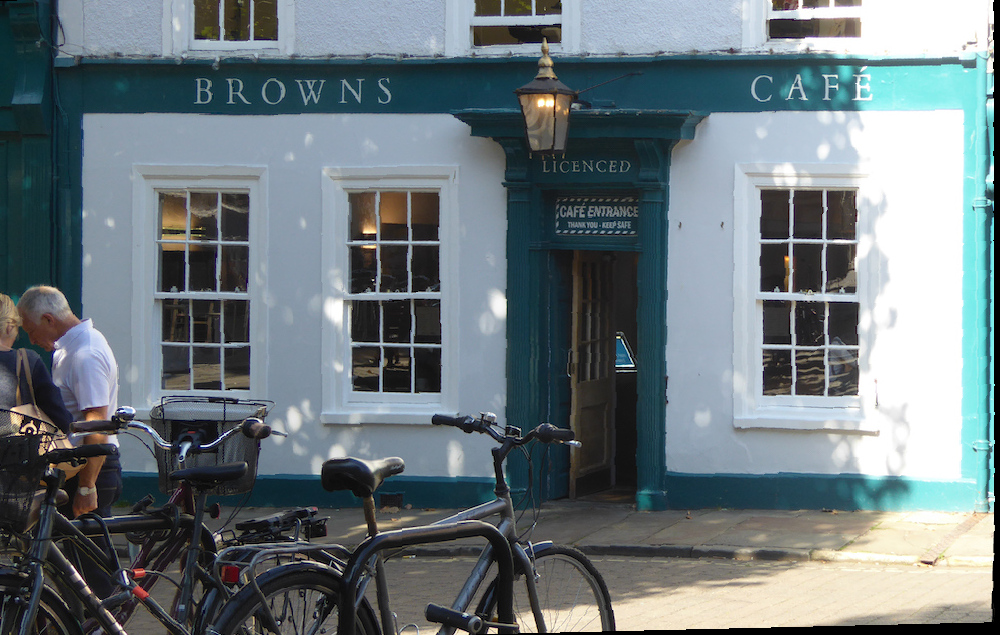 Left: The Adelphi, now a night-club, corner of George Hudson Street and Micklegate. Right: The Golden Lion, now Brown's Tea Room, St Samson's Square.
The only example of a pub converted to a Temperance Hotel in Hugh Murray's A Directory of York Pubs, 1455-2003 is the Adelphi, George Hudson Street (Murray 1, 19). A temperance hotel in 1851, it was built on the site of a former public house. The abstinence did not last, and it had a licence soon after 1880, when it was rated a good commercial hotel. Renamed The Railway King in 1971, it has lately accommodated night-clubs. Another relevant photograph in Murray is of the Golden Lion, St Sampson's Square, with a big mass meeting gathered outside in "1881 when the Salvation Army held its first meeting in York" (Murray 86, 87, 109-110). The speakers are ranged with the pub behind them – thus symbolically advocating tee-totalism. In the 1970s the Golden Lion closed and reopened as the café of W. P. Brown's department store; it is licensed.
Other examples of change of use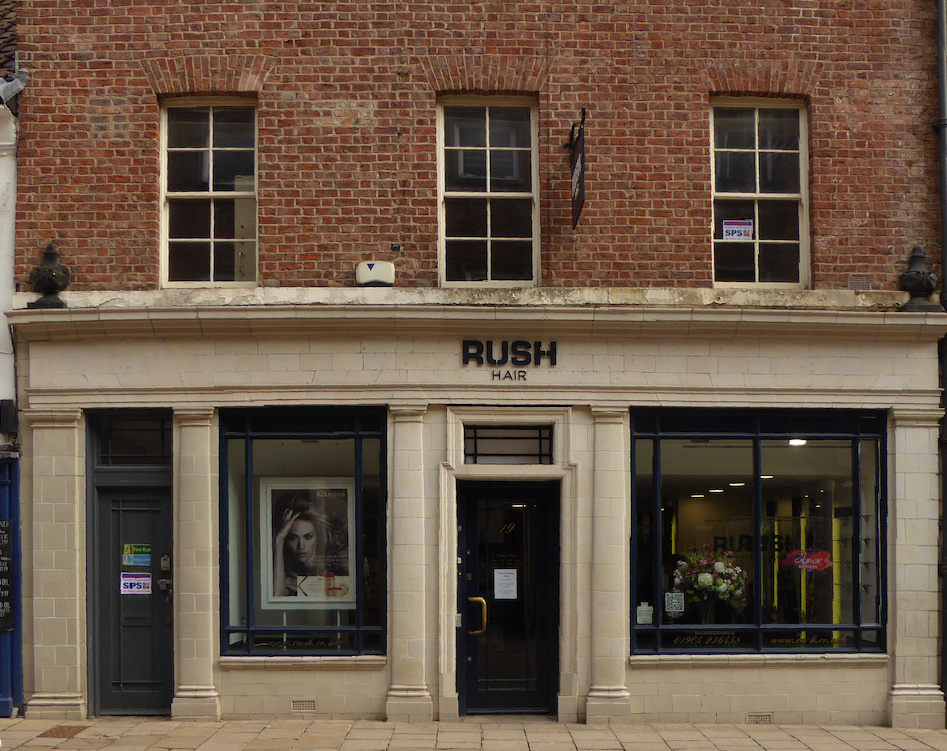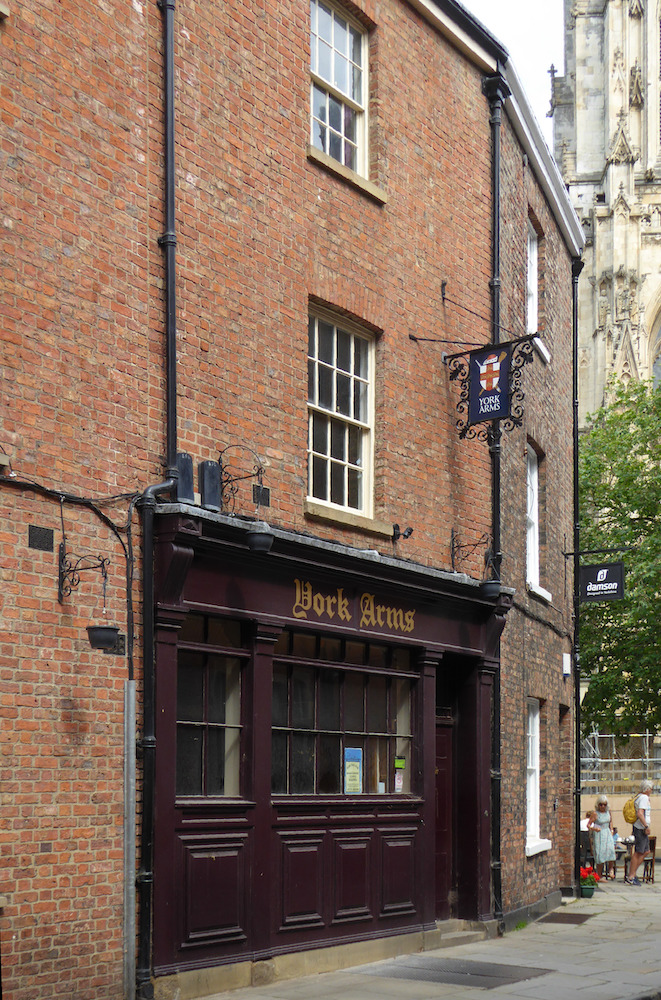 Left: The Tiger, former pub in Jubbergate, the upper part of Market Street. Right: The York Arms Hotel, High Petergate.
Many pubs illustrated by Murray look as though they had been domestic properties that might have taken advantage of the Beerhouse Act of 1830, but it is unlikely that any of those survive: most pubs were small anyway. The Tiger, in Jubbergate is a pub in the 1885 directory, and in the 1906 photo had a domestic-looking frontage and only a projecting sign to differentiate it from a house; the pub closed in 1988 (Murray 179, 224). The present building has a faience ground floor, architectural in form and colour, which must have been the face of a pub at one time. It has been a building society office and is now a beauty salon, but the upper floors look much the same as in Murray's illustration. The Saracen's Head or Turk's Head, St Andrewgate was mentioned before the 1830 act so was not a domestic "pub" though it had a continuous frontage with a brick terrace of housing. Murray's 1906 photo shows a frontage four bays wide, with larger windows on the ground floor and a wooden sign flat against the wall over the central doorway. The poor housing between this pub and Goodramgate was once full of Irish agricultural labourers who, among other employment, walked miles out into the country to harvest asparagus (see Seebohm Rowntree's Poverty). The pub closed in 1928; in the mid-twentieth century following the Esher Report the area was cleared and replaced by small-scale city-centre housing (Murray 179, 227). The York Arms Hotel, at 24, 26 High Petergate was previously known as the Chapter Coffee House, presumably at one time it had served a sober clientele from the Minster. A photo dated 1933 shows the ground floor with two doorways and a paned-window between, with eight customers lined up outside, depressed but stylish like extras in an old movie (Murray 194, 238).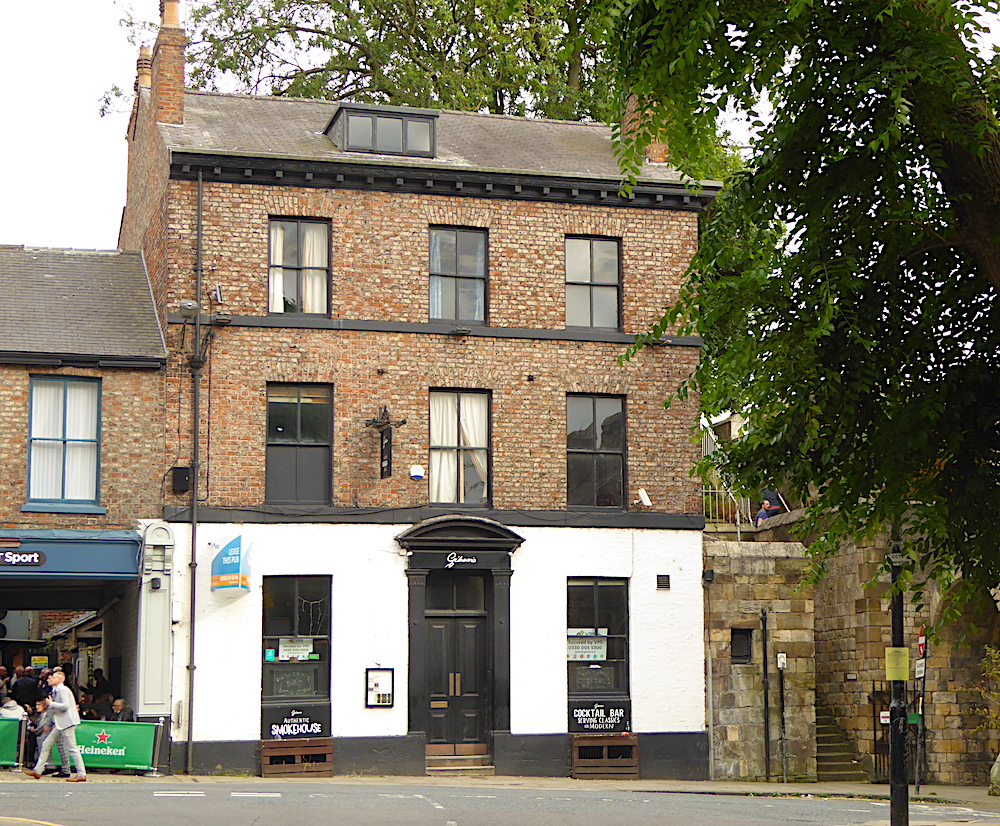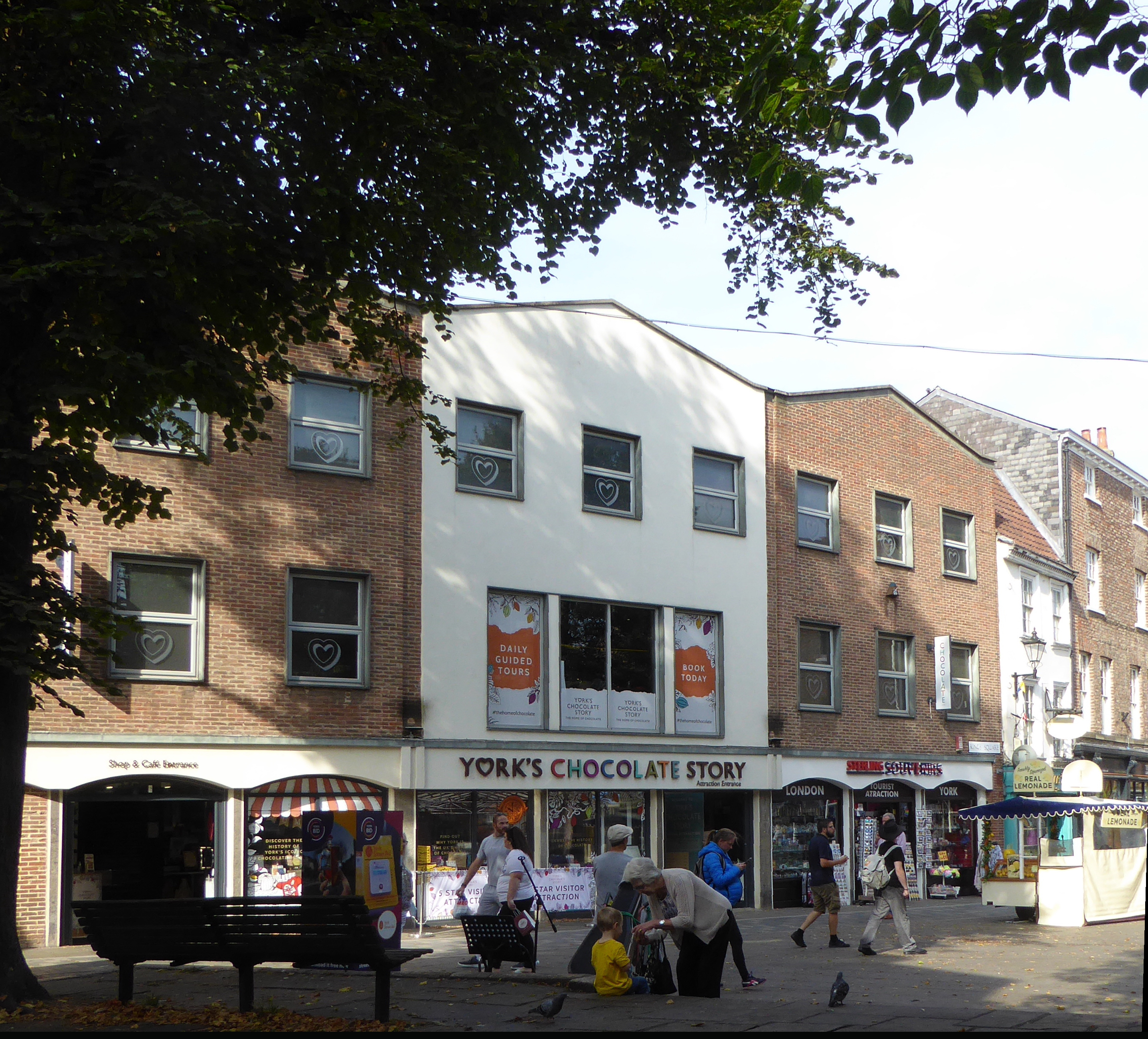 Left: The former Bar Hotel, Micklegate. Right: King's Square in 2021, the location of the Old Turk's Head, King's Court.
The Bar Hotel, Micklegate, was bought as a house in 1861, but five years later opened as a hotel (Murray 4, 21); it is now for sale. The Old Turk's Head, King's Court in a photo dating from 1890 (Murray 126, 177) shows a very house-like frontage across the street from the railings of a church. The Old Turk's Head is long gone, replaced now by "Chocolate," a tourist experience. It is planning laws, no doubt, that have meant that the new brick frontage has kept the old number of windows, and each property is still distinguishable. The church, known as Holy Trinity or Christ Church, has gone too, leaving the open triangular "King's Square," with a raised area with grave-slabs on the south-east side which is now used as a platform by street entertainers. York is famous for its history of chocolate manufacturing in the nineteenth century. One factor encouraging the promotion of drinking chocolate by the temperate Quaker manufacturers (for example, Rowntree and Fry in York and Cadbury in Bourneville, Birmingham) was that its use could reduce dependence on alcohol. Here in King's Square, at least, chocolate has won over the pub.
Links to related material
Bibliography
1885 Directory, Leicester University archive.
Chief Constable's report, 1902, York City Archives 258. Details of accommodation are given in these reports and often quoted by Murray 1988.
An Inventory of the Historical Monuments in City of York, Volume 5, Central. HMSO, London, 1981.
Murray, Hugh. A Directory of York Pubs, 1455-2003.York: Voyager Publications, 2003.
Pevsner, Nikolaus, and David Neave. Yorkshire: York and the East Riding. New Haven and London: Yale University Press, 2002.
---
Created 10 May 2022