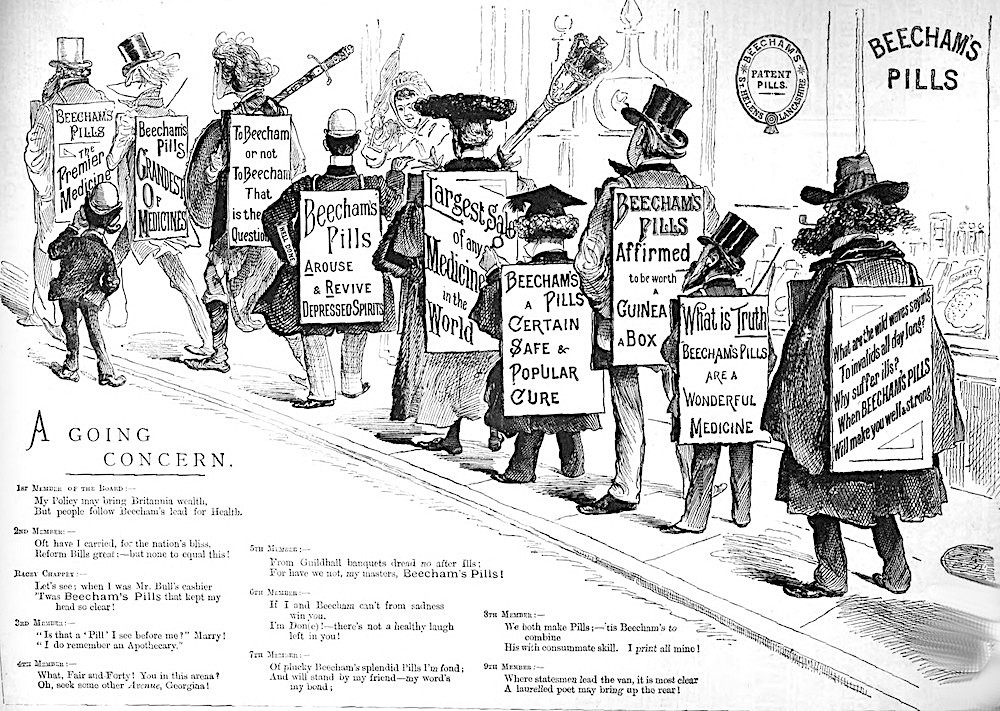 A Going Concern (Sandwich-men advertising Beecham's Pills). Source: Illustrated London News, 24 August 1889. Not signed, but probably the work of Harry Furniss, in view of his early association with the periodical as a free-lancer, as well as the style, and humorous content. This is indeed an unusual kind of advert, in that, although it does shows the sandwich-men advertising a product, and is among the advertisements at the end of the issue, it also seems to make fun of the pills, or at least of the claims made for them. In making the sandwich-men celebrities of the time, the artist has also taken the opportunity to reduce to caricature some well-known personalities of the day. After all, sandwich-men were the lowest of the low among those who attempted to earn a livelihood on the streets. The verse accompanying the drawing reads:
A GOING CONCERN
1st MEMBER OF THE BOARD:—
My Policy may bring Britannia wealth,
But people follow Beecham's lead for Health.
2nd MEMBER:-
Oft have I carried, for the nation's bliss,
Reform Bills great, but none to equal this!
RACEY CHAPPEY:-
Let's see: when I was Mr Bull's cashier
'Twas Beecham's Pills that kept my head so clear!
3rd MEMBER:—
"Is that a 'Pill' I see before me?" Marry!
I do remember an Apothecary."
4th MEMBER:—
What, Fair and Forty! You in this arena?
Oh, seek some other Avenue, Georgina!"
5th MEMBER:—
From Guildhall banquets dread no after ills;
For have we not my masters, Beecham/s Pills!
6th MEMBER:—
If I and Beecham can't from sadness win you,
I'm Don(e)! There's not a healthy laugh left in you!
7th MEMBER:—
Of plucky Beecham's splendid pills I'm fond
And will stand by my friend — my word's my bond!
8th MEMBER:—
We both make Pills; — 'tis Beecham's to combine
His with consummate skill. I print all mine!
9th MEMBER:—
Where statesmen lead the van, it is most clear
A laurelled poet may bring up the rear!
Most of the figures are easily identified, with a little help from their verses and costumes. At their head is the then Prime Minister, the Marquess of Salisbury, with Gladstone hot on his heels, with his high collar (depictions of which would become Furniss's trademark). The "Racey Chappey" might possibly represent Randolph Churchill, who had been chancellor of the Exchequer (John Bull's cashier), but who had resigned from that post at the end of 1886, and was often depicted as short and comical. He, of course, is no longer "a member of the board," but watches them, twirling his familiar moustache. The figure in Shakespearean garb carrying a sword as well as the board, "To Beecham or not to Beecham That is the Question," is surely the actor Henry Irving. The fourth figure, being threatened by a woman with a rolled-up umbrella, looks like a music hall character: the Avenue might refer to the Avenue or Royal Avenue Theatre at Charing Cross, opened in 1882 (now the Playhouse). Next comes, most likely, Sir James Whitehead, Lord Mayor of London in 1889, who was also a merchant and philanthropist. The fifth member is almost certainly the small but dynamic actor-manager Dion or Don Boucicault — this would account for the brackets round the "e" in "Done" in this member's lines. The sixth, a tall figure with swept-back hair, is none other than Oscar Wilde, the reference to "A guinea a box" possibly coming either from the fee he offered per page to contributors to Woman's World, or from guinea stalls at the theatre. Then comes (again, probably) the natty American William James, who had twice been president of the British Society for Psychical Research and sometimes sported a natty, pointed beard. Bringing up the rear in his cloak and floppy wide-brimmed hat, is, quite unmistakably, the Poet Laureate Tennyson, puffing on his pipe as usual. Quite a parade of late-Victorian notables!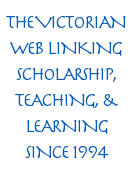 Scanned image and text by Jacqueline Banerjee. [You may use this image without prior permission for any scholarly or educational purpose as long as you (1) credit the photographer and (2) link your document to this URL.]
Bibliography
Illustrated London News. 24 August 1889: 257. Internet Archive. Digitised by the Kahle/Austin Foundation. Web. 8 January 2022.
---
Created 8 January 2022