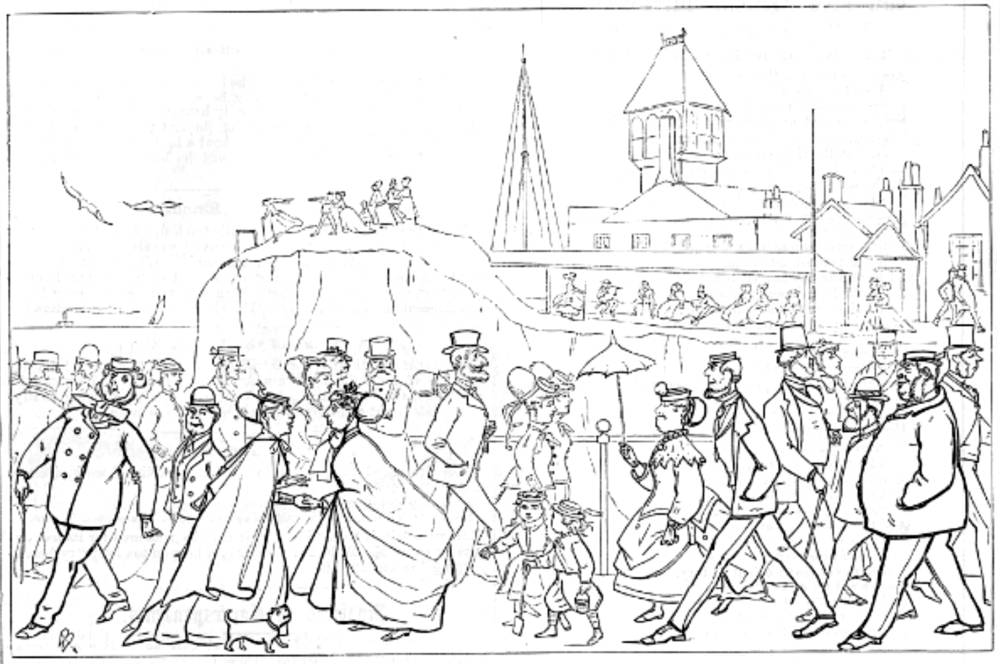 A Day at Margate. (By Our Own Complete Angler.). William S. Brunton (fl. 1859-71), artist. Fun (13 July 1867): 194. Courtesy of the Suzy Covey Comic Book Collection in the George A. Smathers Libraries, University of Florida. Click on image to enlarge it.]
Accompanying Text
For our part we never cared much for Brighton, with its salt-water Serpentine. But with Margate it is quite another thing. There we can wander by the brink of the ocean and "gather shells," as the poet remarks, "from youth to hage"— we always say hage at Margate — and are reminded pleasantly of the Cockayne of our birth. Undiluted Nature — the seaside with the chill on — would be too unusual a diet. We must have it mixed with a cockney flavour. A grog, composed of briny water, the spirit of cockneydom, and the sweets of a holiday, is a refreshing beverage.
Well, we admit that we have heard fastidious people call Margate vulgar. But as Popkins most justly suggests (he has just run up to town from Margate on business), "What do we care for 'ideous fast people!" They are welcome to their opinion, and we shall stick to ours. Liberty of thought is the palladium of British liberty. Why did our ancestors mjet at Runnymede? Why did our forefathers fight on Bosworth Plain? Why? In order that we might be free to have any opinions we choose as to whether Margate is vulgar or not. Hang the vulgarity! — (that is Popkins again) — Margate is a very jolly, a very healthy, and a very pleasant place. We were once travelling in a first-class railway carriage, in which there were two persons who evidently knew each other tolerably well. Said A to B, "I hope goin' to Margate did your hankie good!" Said B to A, "I'm persona who evidently knew each other tolerably well. Said A to B, " I hope goin' to Margate did your hankie good!" Said B to A, " I'm much obliged to you for advising me to go there—I was well in a week." Said A, apologetically, " Ah, it's a 'ealthy place, is Margate, only it's so 'orrid vulgar!" To which responded B. " Well, now, Hi didn't hobserve that!" And B was in the right, and A was like the man spoken of by the bard,—
"He, who, in search of silence, "silence!" hoots,
Is apt to make the hubbub he imputes."
A was guilty af vulgarity in condemning Margate as vulgar.
We— [Note to Ed. Look here, you know, — I can't go on "we"ing in this way'. If you can't let me speak in the first person, you may write the rest of the article yourself. There!]
Yes, I did go to Margate the other day, and enjoyed myself very much; and if the absurd scruples of an editorial personage—to whom I will not further allude—would allow, I would interest the public and witch the world with a description of my wanderings. I'm sure some people would be more interested in that tnan in disquisitions ana generalities about what "we" think.
A youth of middle stature and pleasing exterior, in a light-brown coat, blue tie, sprigged Test, and mauve unmentionables, might have been observed about the latter half of the nineteenth century and near the end of the Margate pier. He attracted the attention of the old and young—particularly of the fair sex. His manners were easy and engaging. He took the air until it was time to dine. And then he dined — frugally, but tastefully — wisely, but not too well. The post-prandial Pickwick (it was a Havannah, but alliteration is the thing nowadays) graced his manly brow. (It is possible that "mouth" would be more correct, but it would not be so elegant as "brow" in that connection.) In the evening he went to the opening of the Hall by the Sea, and listened with evident delight to tho concert. He was heard to express an opinion that Mr. Hall is an admirable chef-d'orchestre ; that Mademoisell Liebhart, if she wishes to cultivate an engaging and attractive manner of singing, should study Madame Lemmens-Sherrington's style in preference to Mrss Annie Adams; that Mr. Edward Murray sings "Ruddier than the cherry" most charmingly; that Offenbach's music is delightful; and that the Hall this year is even more charmingly decorated than it was last season.
Later in the evening his manly form was seen gliding through the the giddy mazes of the dance. Save that he whirled his partner round once in the Lancers with such celerity that her necklace broke, and the beads, by centrifugal force, were shot in all directions, like shells from tho American Pivot-Continuous-Fire-Cannon, his Terpsichorean career was one brilliant success.
That youth of middle stature, pleasing extorior, and light but not fantastic too — (toes, ten of 'em, to be strictly correct) — that Adonis was Popkins. Popkins is charmed with Margate — and really Popkins is quite right. I agree with him —— and we agree with him.
Related material
[You may use the image above without prior permission for any scholarly or educational purpose as long as you (1) credit the University of Florida library and (2) link your document to this URL in a web document or cite the Victorian Web in a print one. — George P. Landow]
---
Last modified 6 June 2018