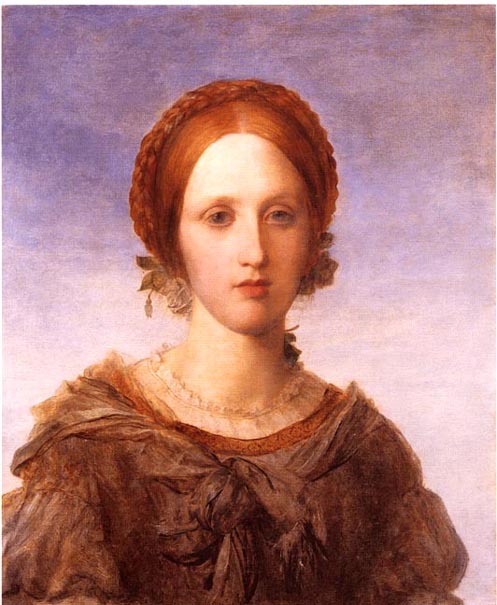 "Isabella" — A Portrait of Miss Arabella Prescott
George Frederic Watts RA (1817-1904)
Signed and dated 1857, lower right
Oil on panel
24 x 19 3/4 inches
Provenance: Miss Arabella Prescott and by descent until 1998
Exhibited: 1859 Royal Academy (438)
[See commentary below]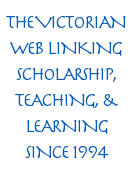 Commentary by Anthea Brooke
Mr G F Watts' "Isabella" (438), a masterpiece of the tenderer harmonies of blonde colouring, in combination with such drawing as is seldom called to the service of portraiture -- drawing by which form is idealized without the sacrifice of truth, till we acknowledge the perfect likeness, accompanied by something which we never saw in the face until the painter revealed its presence. — The Times, London, May 10th 1859
In 1849 the 32 year-old Watts moved to a new studio in Charles Street Mayfair and within a short time had been introduced to the remarkable, almost bohemian hostess Sara Prinsep, then 33, and her 54 year old husband Thoby, who lived close by in Chesterfield Street. The following winter the already frail-looking Watts became quite ill and the motherly Sara ministered to him while her younger and prettier sister, Virginia paid visits that "made his heart beat dangerously fast" The following years Sara Prinsep decided that Chesterfield Street was becoming too small for her enlarging intellectual circle and Watts was instrumental in finding Little Holland House, a dower house for Holland House in Holland Park which the Prinseps took, and where they remained until after Thoby Prinsep's death in 1878.
Watts, now two miles distant rather than around the corner from his nurse, was bereft and as soon as the Prinseps were settled, Sara invited him to stay and she may be forgiven a little exaggeration when, many years on, she reported that ... he came to stay three days and stayed thirty years. By 1856 a visitor would record that "Signor [Watts] was the whole object of adoration and care in that house. He seemed to sanctify Little Holland House" It was whilst living at Little Holland House that Watts met, through mutual friends, the family of the Roehampton banker, William George Prescott, fell under the spell of his daughter Arabella and asked permission to paint her. He treated the image in an idealised manner and certainly not as a commission. Indeed in August 1857 he wrote thus to the model's mother:
Dear Mrs Prescott,
I have been working a great deal on Miss Prescott's picture since you last saw it. It is now finished & I will if you like send it to you, it is in Mrs Cameron' (sic] frame & I should like you to see it if you have time to come to Little Holland House where it hangs.
I have bestowed so much time & labour upon Miss Prescott's portrait that I must name as a price eight guineas. If the picture is in any way not satisfactory to you, or the price more than you would like to give, I will willingly keep it, to say the truth I am sorry to let it go, but if you do wish to have it is now quite ready.
Yours sincerely,
G.F. Watts
August 18th 1857
Little Holland House.
It is likely that the Prescotts did not avail themselves of the opportunity as Watts exhibited the painting a year and a half later at the Royal Academy, using the changed by rhyming title, "Isabella." The painting did however eventually enter the Prescott family collection, where it remained until 1998. [Spring '99]
Bibliography
Spring '99. Catalogue for exhibition April-May 1999. London: Fine Art Society, 1999. No. 4.
The Fine Art Society, London, has most generously given its permission to use information, images, and text from its catalogues in the Victorian Web. This generosity has led to the creation of hundreds and hundreds of the site's most valuable documents on painting, drawing, sculpture, furniture, textiles, ceramics, glass, metalwork, and the people who created them. The copyright on text and images from their catalogues remains, of course, with the Fine Art Society. [GPL
---

Victorian
Web

Artists

G. F.
Watts

Paintings

Next
Last modified 6 January 2005