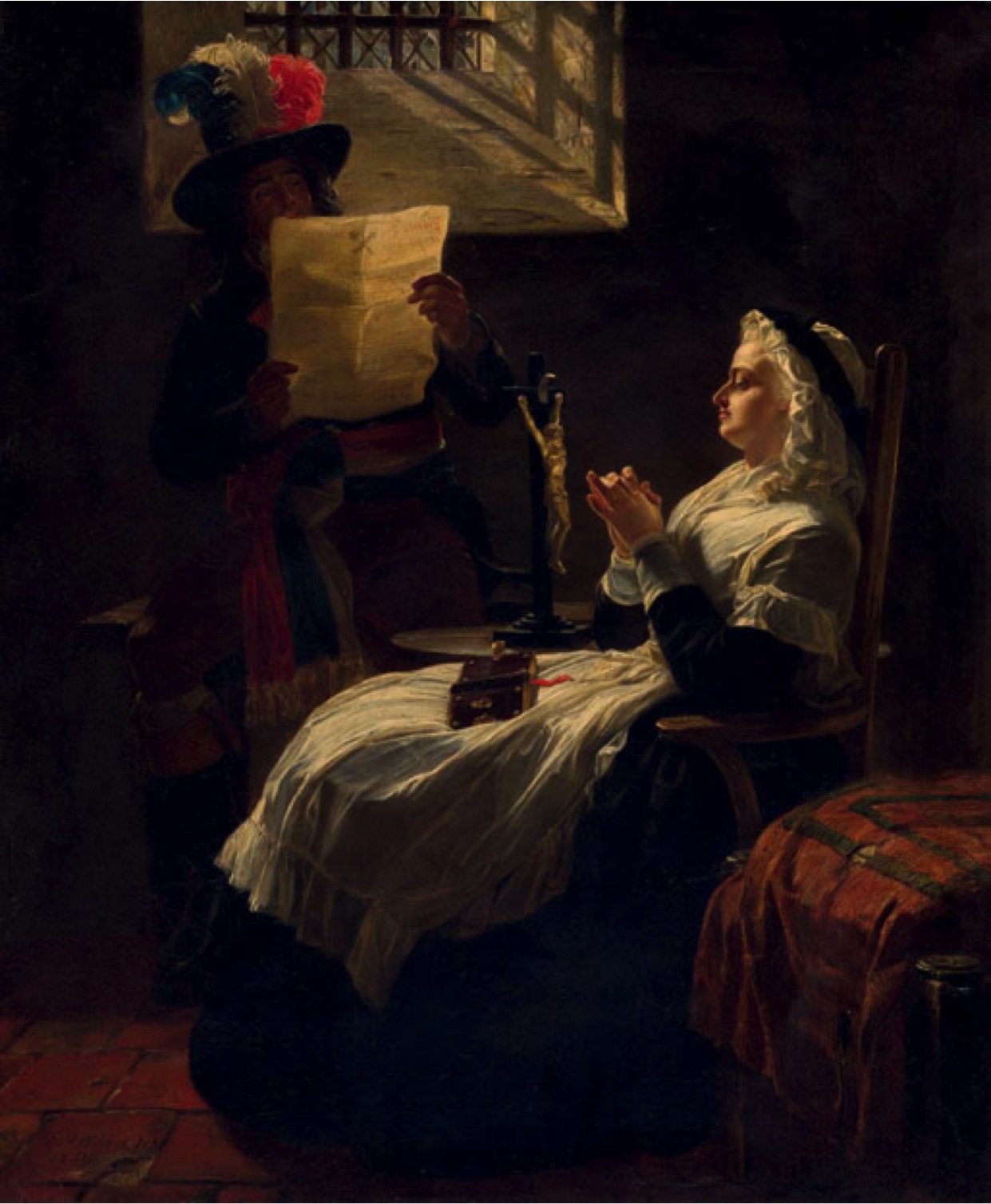 Marie Antoinette Listening to the Act of Accusation the Day Before Her Trial
Edward Matthew Ward (1816−1879)
1859
Oil on canvas
77.5 x 64.5 cm (30 1/2 x 25 3/8 inches)
Provenance: Bought as Lot 556, Simon Chorley, 10th October 2012.
[Click on image to enlarge it.]
You may use this image without prior permission for any scholarly or educational purpose as long as you (1) credit the Crowther-Oblak Collection of Victorian Art and the National Gallery of Slovenia and the Moore Institute, National University of Ireland, Galway (2) and link your document to this URL in a web document or cite the Victorian Web in a print one.
Commentary by Paul Crowther
There are at least two versions of this work by Ward himself. Like so many other Victorian artists, Ward often did several versions of important paintings—as we have just seen in the case of Alice Lisle... His secondary versions were usually done on a smaller scale, and signed "E.M. Ward, R.A." but without being dated. In the present case, the Crowther/Oblak version is dated as well as fully signed, whereas the second version (formerly in the McCormick Collection, and auctioned at Sotheby's New York on 28th February 1990) is undated and slightly smaller. This suggests that the Crowther/Oblak painting is the original work exhibited at the Royal Academy in 1859 (No. 125). A crude copy of it was reproduced as the lead item in the Illustrated London News's review of that exhibition (May 7th, 1859, p. 441). The picture was later engraved by Lumb Stocks R.A. (1812–1892)—an image whose details correspond more to the Crowther/Oblak painting than to the McCormick version. Cruder copies of the work by other hands also exist—a larger one of anonymous authorship in the Philadelphia Museum of Art, and a smaller one by F. A. Philip was auctioned at Bonhams, Chester in 2012.
The Marie-Antoinette picture exhibited at the R.A. in 1859 was accompanied by the following quotation: "On the 13th of October, Fouquier Tinville came to notify to her his Act of Accusation. She listened to it as a form of death, which was not worth the honour of discussion. Her crime was being a Queen, the consort and mother of a King, and the having abhorred a revolution which deprived her of a crown, her husband, her children, and her life" (Graves 132).
No source for the quotation was given. However, we can identify it as an extract from vol. 3 of Alphonse de Lamartine's History of the Girondists or, Personal Memoirs of the Patriots of the French Revolution from Unpublished Sources, trans. H. T. Ryde, London: Henry G. Bohn, 1848, pp. 148−149.
The 1859 R.A. exhibition was not well-received by some critics. The Art Journal describes it as "below average" and grumbles that some distinguished Academicians—including Ward—have been devoting their main creative endeavours to works in the Houses of Parliament (June 1859, no. 54, p. 161). However, when addressing Ward's painting, the tone is much more positive. After mentioning that it seems to conclude the artist's series on the French royal family (and having given a detailed description of the picture) the writer asserts that "As a picture, it is a worthy conclusion to the valuable series, and, like its predecessors, will be placed amongst his best productions" (162). The Illustrated London News took a similar approach. They were not impressed by the exhibition overall, but Ward's painting received a very positive assessment. As well as reproducing it as the headline image for the review as a whole, it is later described as a "grand historical picture" (May 7th, 1859, p. 442). The reviewer goes on to say that "There is something which approaches sublimity in the expression of the unhappy Queen, beautiful still in her sorrow, haughty in her humiliation, and strongly confiding in a Supreme will, as with her hands devoutly crossed, and looks fixed upon the crucifix before her, she listens to the savage demand for her blood... The finish of this picture is higher, and the colour more clear and harmonious, than we have observed in some of the artist's former productions" (442).
Blackwood's Edinburgh Magazine makes some similar points to the Art Journal's worries about the distractions caused by working on the Houses of Parliament frescoes. However, it too praises Ward's "small yet faultless" Marie-Antoinette (vol. 86, August 1859, p. 128; see also p. 13). A rather more important critical recognition of the painting is found in the very first survey book (based on an approach that goes beyond the Vasarian) to be written on the history of British art—Samuel and Richard Redgrave's A Century of British Painters (originally published in 1866). Here Ward is dealt with as a major artist. In relation to the Marie-Antoinette, we are told that "Ward is very happy in his treatment, the sitting figure of the Queen is full of dignity, the hands are meekly folded together, she has just laid down her livre d'heures, and listens to what she knows to be her death warrant, not only with pious resignation, but with the bearing of one who is a queen still in spite of outrage and contempt."1
Ward was extremely fond of themes from revolutionary France. As well as the present work, he exhibited five other paintings at the R.A. featuring Marie-Antoinette—in 1851, 1856, 1862, 1872, and 1874; and at least one work featuring Marie-Antoinette's daughter Marie-Therese in 1875. He also exhibited two works there based on the build-up to Charlotte Corday's execution (1852, and 1863).
Notes
1. Samuel and Richard Redgrave, A Century of British Painters, London: Phaidon Press, 1957, p. 474. This version omits two chapters included in the 1890 second edition, and changes the title from the original A Century of the English School of Painters.
Bibliography
Crowther, Paul. Awakening Beauty: The Crowther-Oblak Collection of Victorian Art. Exhibition catalogue. Ljubljana: National Gallery of Slovenia; Galway: Moore Institute, National University of Ireland, 2014. No. 128.
Graves, Algernon. The Royal Academy of Arts. A Complete Dictionary of Contributors and Their Work from its Foundation in 1769 to 1904. London: Henry Graves and Co., and George Bell and Sons, 1906. Vol. 8.
---

Victorian
Web

Artists

Edward M.
Ward

Crowther-Oblak
Collection

Next
Created 9 January 2015