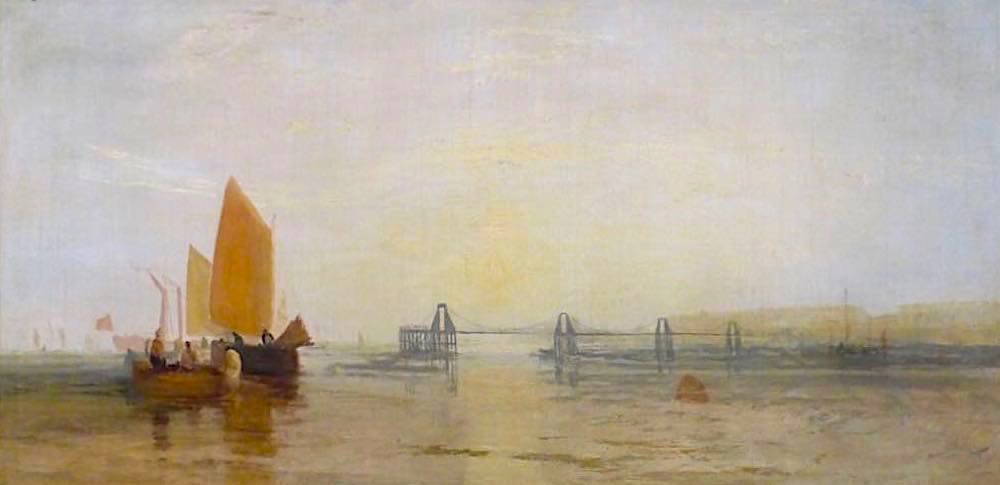 The Chain Pier, Brighton by J. M. W. Turner. c.1828. Support: 711 1365 mm; frame: 1001 1662 124 mm. Collection: Tate, accepted by the nation as part of the Turner Bequest, in 1856. Reference N02064. Photographs taken at the "Turner's Modern World" exhibition (28 October 2020 - 7 March 2021), and text, by Jacqueline Banerjee.
The Chain Pier was only opened in 1823, so it was relatively new when Turner painted it, and a good symbol of Brighton's status as a tourist attraction. Although the pier was mainly for steamers to and from Dieppe, it was also used as a promenade and had a few amusements. As a novel feature on the seaside scene, Constable had painted it too.
As the Tate's exhibition label points out, this was the sort of up-to-the-minute enterprise that interested contemporary art collectors, such as Turner's discerning patron, Lord Egremont at Petworth. Indeed, Egremont himself had given the pier financial backing. According to the display caption below this painting on the Tate's website, dated August 2004, the long, narrow dimensions were dictated by the need to fit artwork under the full-length portraits in Egremont's "Carved Room" at Petworth. That worked beautifully for such a subject. Another example is Turner's Chichester Canal, also for Lord Egremont.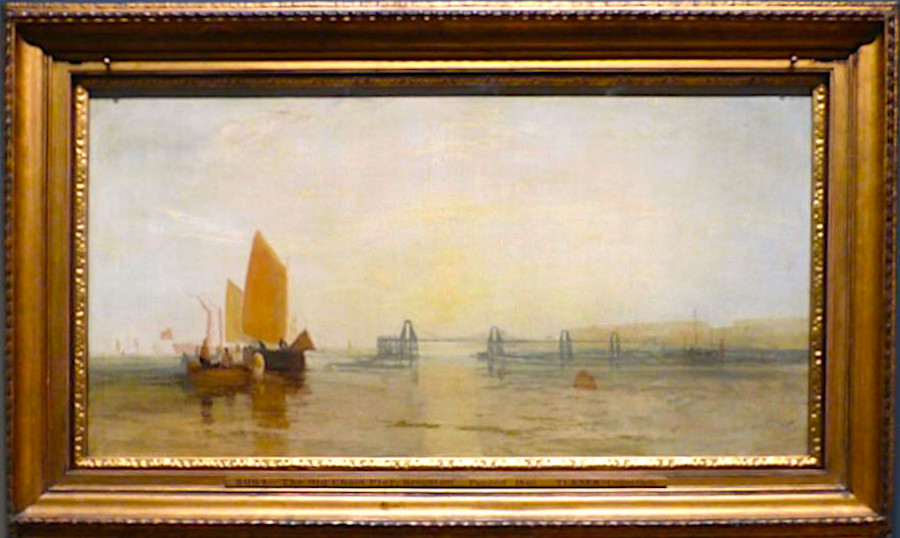 Here, the seafront in Brighton is just a glimmer of white in the background, and the emphasis is on the vessels, especially the one sporting a umber-coloured sail. This is approaching the long silvery pier as it reaches out far from the land, a delicate apparition almost, past a buoy which matches the colour of the larger sail. It is so uniquely Turner's just as Constable's painting of the pier, with much more emphasis on the landward side, and people's activities on the beach, not to mention its busy sky of rolling clouds, is so uniquely his. Most beautiful of all here is the subtlety of tone in sea and sky, the luminosity of the latter and the light's effect on the water. As it shines through the pier it almost breaks the line of the horizon, and makes a smooth path through the ripples.
---
Created 26 October 2020