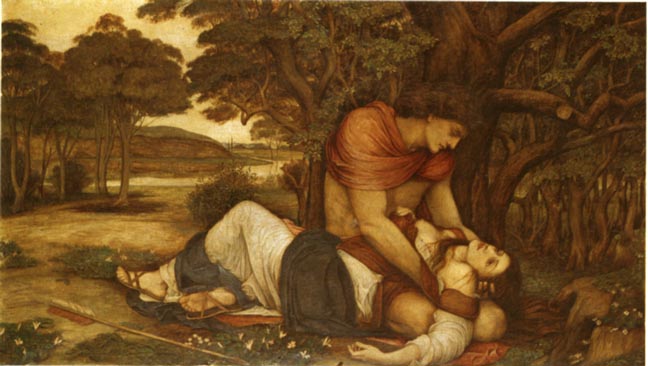 Procris and Cephalus by John Roddam Spencer Stanhope (1829-1908). Exhibited R. A. 1872. 37 1/2 x 66 inche (94.5 x 167.5 cm). Private collection.
This painting is based on the Greek myth of Cephalus and Procris. Cephalus was an Aelian prince married to Procris, the daughter of Erechtheus, one of the founding figures of Athens. Eos, the goddess of the dawn, fell in love with Cephalus and kidnapped him when he was hunting. Eventually they became lovers but Cephalus was still in love with Procris and eventully the two were reunited. Procris gave her husband two magical gifts, including a javelin that never missed its mark. Procris, however, continued to harbour doubts about her husband's fidelity and decided to follow and spy upon him when he was hunting. Cephalus hearing a noise in the brush thought it came from an animal and threw his never-erring javelin. Procris was impaled and died in his arms.
In his treatment of this work Stanhope was influenced by Florentine Renaissance artists who had earlier adapted classical themes and forms. In the 1860s such classicism had began to influence British artists associated with the early Aesthetic Movement. A reviewer for The Saturday Review in 1872, the year Stanhope's painting was exhibited, observed that: "the classic, like the mediaeval, revivals in the English school are little else than eclectic; persons familiar with the history of art have no difficulty in telling the sources whence ideas are taken" ((673). Certainly an educated Victorian art going public would have had no difficulty in identifying the source of this painting – a painting by Piero di Cosimo that was acquired by the National Gallery in 1862, traditionally known as The Death of Procris but now more correctly called A Sayr Mourning over a Nymph.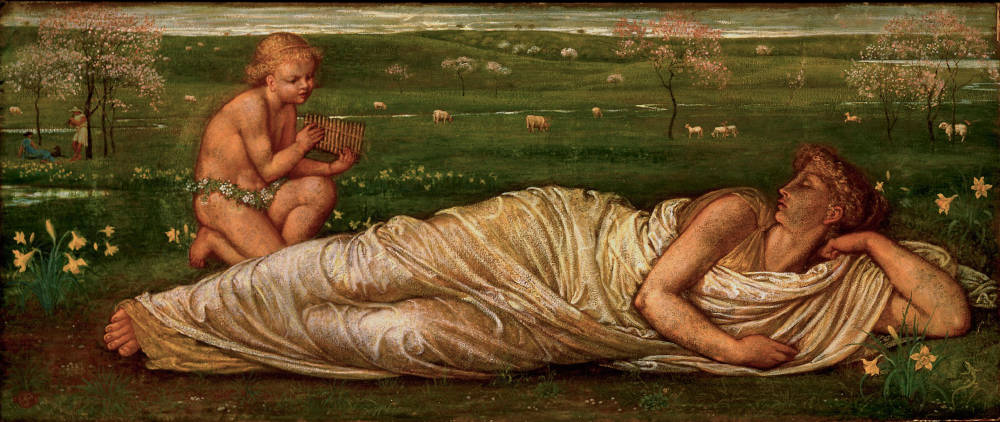 The Earth and Spring by Walter Crane, 1875. Gouache on paper, laid down on linen, signed with monogram, and dated 75, lower left; 121/2 x 29 inches (31.5 x 74 cm). Collection of National Gallery of Canada.
Stanhope was not the only prominent Victorian artist to be influenced by this early Renaissance masterpiece because Edward Burne-Jones's Pan and Psyche of 1872-74 and Walter Crane's The Earth and Spring of 1875 are both also based on this painting. Stanhope's painting shows Cephalus cradling his dying wife in his lap. Trippi has commented about this painting:pointed out that the "twisting trunks and branches communicate more anguish than do these awkwardly posed Phedian figures, who remain self-consciously statuesque, seemingly unaware of the tragedy befallen them…Stanhope replaces Piero's shore with a gloomy forest opening onto a winding river, reminiscent of classical landscape in its stability and lifelessness. In contrast to Piero's luminosity, this palette is as muted as that of Jones [Burne-Jones] around this time".
This painting was not widely commented upon by reviewers when it was shown at the Royal Academy in 1872, perhaps because where it was hung made an adequate assessment of its merits difficult. The critic of The Saturday Review commented that
the hangers here have once more denied a favourable position to the student work of Mr. Stanhope, and we cannot altogether blame them. The theme here chosen, 'Cephalus and Procris' (270), was comparatively early in entering Italian art; Piero di Cosimo in the fifteenth century was much given to mythology, of which we have pleasing illustration in an eccentric but fascinating composition, 'The Death of Procris', in our National Gallery. We take it to be the misfortune of Mr. Stanhope that his style is neither ancient nor modern; he aims at incompatibilities; his landscape is large, and yet his figures are too large for his landscape; then his figures are at once graceful and awkward; again, as we have indicated in certain passages the old masters are present, and then suddenly intrudes some anomalous trait of the nineteenth century. Our classic revivalists tread hazardous paths, and unless they take heed to their steps, instead of gaining the hill-top, they may find themselves in the ditch beneath; so true is it that there is but one step between the sublime and the ridiculous. [633]
The critic of The Illustrated London News also commented on the placing of Stanhope's painting " 'Cephalus and Procris' (270), by Mr. Stanhope, appears to have some fine, if mannered, colouring; but it is placed too high for adequate inspection" (502).
Bibliography
Highly Important Victorian Paintings and Drawings. Catalogue for sale of 18 April 1978. London: Sotheby's Belgravia, 1979. Catalogue number 52.
Poë, Simon: "Roddy, Maria, and Ned (And Georgie, Topsy, Janey, and Gabriel): An Entanglement." The Journal of Pre-Raphaelite Studies New Series 9 (Fall 2000) 69-87.
Trippi, Peter B. 'John Roddam Spencer-Stanhope. The Early Years of a Second Generation Pre-Raphaelite 1858-73.' M.A. Thesis. Courtauld Institute of Art, University of London, 1993.
"The Royal Academy Exhibition." The Illustrated London News 60 (May 25, 1872): 502-03.
"The Royal Academy." The Saturday Review 33 (May 18, 1872): 632-33.
---
Created 2 November 2004

Last modified 6 May 2022