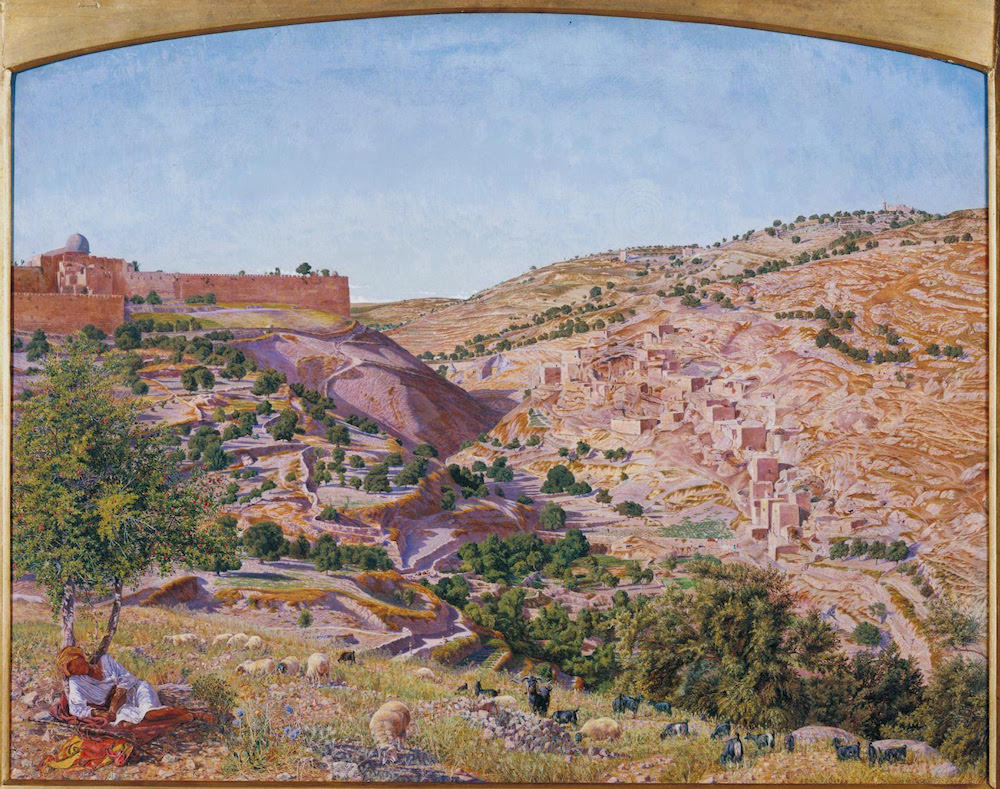 Thomas Seddon, Jerusalem and the Valley of Jehoshaphat from the Hill of Evil Counsel. Frame: 870 x 1030 x 100 mm; support: 673 x 832 mm. Oil on canvas. Tate Gallery, London, reference N00563, presented by subscribers in 1857. Image released under Creative Commons CC-BY-NC-ND (3.0 Unported).
According to the gallery's display caption, this was painted when Seddon and William Holman Hunt were in the Holy Land together in 1854, with the aim of bringing "greater authenticity, spiritual and topographical, to their religious works." Here, Seddon shows the the Mount of Olives and the Garden of Gethsemane; the valley itself was believed to be the setting of the Last Judgement would take place. The gallery caption adds, "Unlike John Martin's apocalyptic visions, displayed nearby, Seddon represents the site in painstaking, sun-lit detail, paralleling the art critic John Ruskin's remarks that 'in following the steps of nature,' artists were 'tracing the finger of God.'" In fact Christopher Wood sees Seddon's landscapes as "the only pure Pre-Raphaelite landscapes of the East, mostly without narrative content" (85). — Jacqueline Banerjee
Bibliography
Display Caption, Tate Britain, March 2010. Web. 24 July 2017.
Landow, George P. Thomas Seddon's "Moriah" (a poem intended to accompany the painting)
Wood, Christopher. The Pre-Raphaelites. London: Seven Dials, 1981.
---
Last modified 24 July 2017