Biography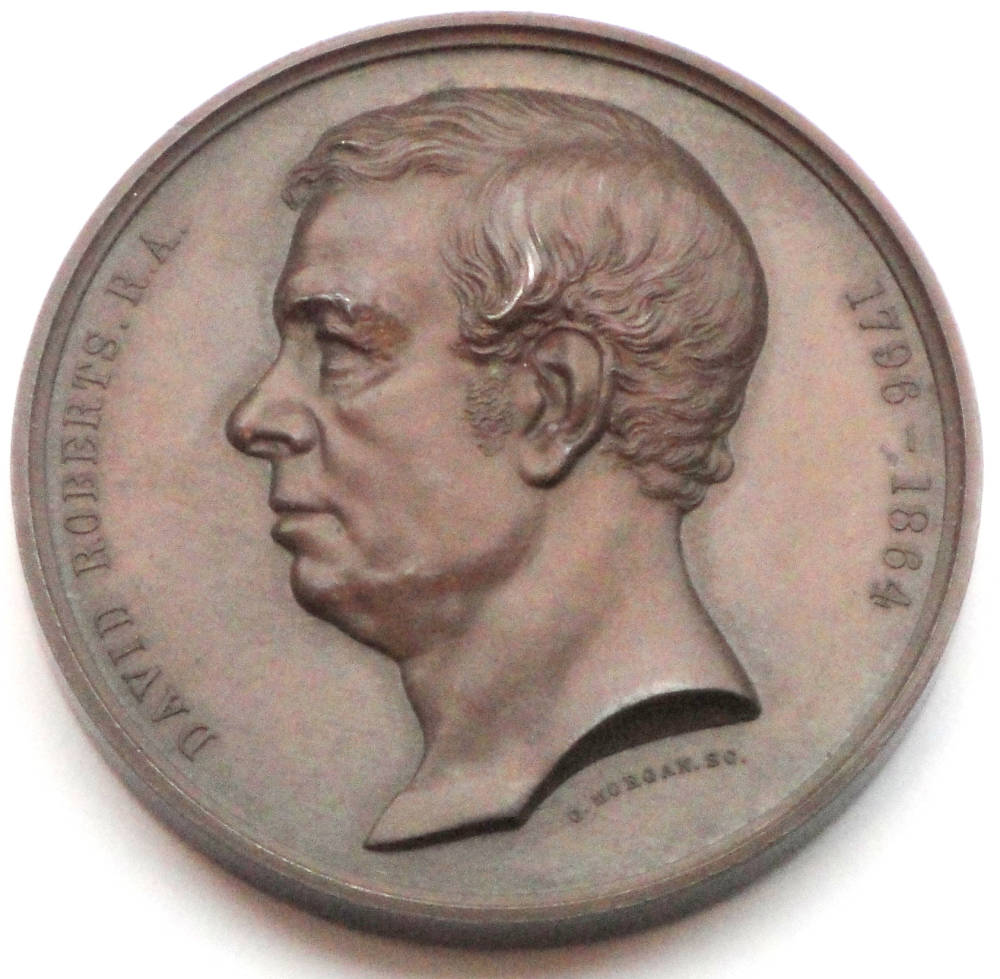 Roberts was one of the great Victorian artist travellers and topographical painters. He was also a topographical illustrator. He travelled in Spain and Egypt before this was common or easy.
Roberts was born in Edinburgh and began his career as a house painter and scene painter in Scotland. He first exhibited easel paintings in the Fine Arts Institution in Edinburgh in 1822, the year that he moved to London to further his scene painting career. His first exhibition in that town was at the Society of British Artists in 1824 of which he became a member and, in 1831, President. He first exhibited at the Royal Academy and British Institution in 1826. He resigned from the Society of British Artists in 1835 to become an Associate of the Royal Academy in 1838 and a Member in 1841, gradually abandoning his work as a scene painter in favour of easel painting.
He began to travel in 1824, visiting France. Between 1832 and 1833 he travelled extensively in Spain and Algeria. During the years 1838 and 1839 he visited Egypt and the Holy Land, and in 1851 and 1853 he toured Italy. These visits provided the raw material for many magnificent books illustrated in the newly developed chromo-lithography, including Picturesque Sketches in Spain during the Years 1832 and 1833 (1837) and Views in the Holy Land (six volumes 1842-1849). They also provided a rich source for his paintings until the end of his life. Unlike the artists of the Pre-Raphaelite Brotherhood, Roberts did not produce his finished paintings on the spot, but brought back sketches and studies which he used as the basis for studio work in the traditional manner. An exhibition of his work, organised by Helen Guiterman and Briony Llewellyn, was held at the Barbican Art Gallery, London in 1986. — Hilary Morgan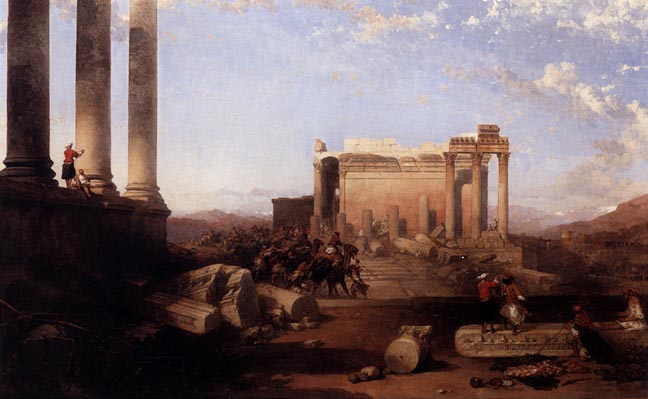 Works
Bibliography
Ballantine, J. The Life of David Roberts, RA. Edinburgh, 1866.
A Century of Master Drawings, Watercolours, and Works in Egg Tempera. London: Peter Nahum, nd.
Morgan, Hilary and Nahum, Peter. Burne-Jones, The Pre-Raphaelites and Their Century. London: Peter Nahum, 1989.
David Roberts. Exhibition Catalogue. London: Barbican Art Gallery 1986.
The Orientalists, Delacroix to Matisse. Exhibition Catalogue. London: Royal Academy, 1984.
Spring '99. London: The Fine Art Society, 1999.
---
Last modified 19 April 2013