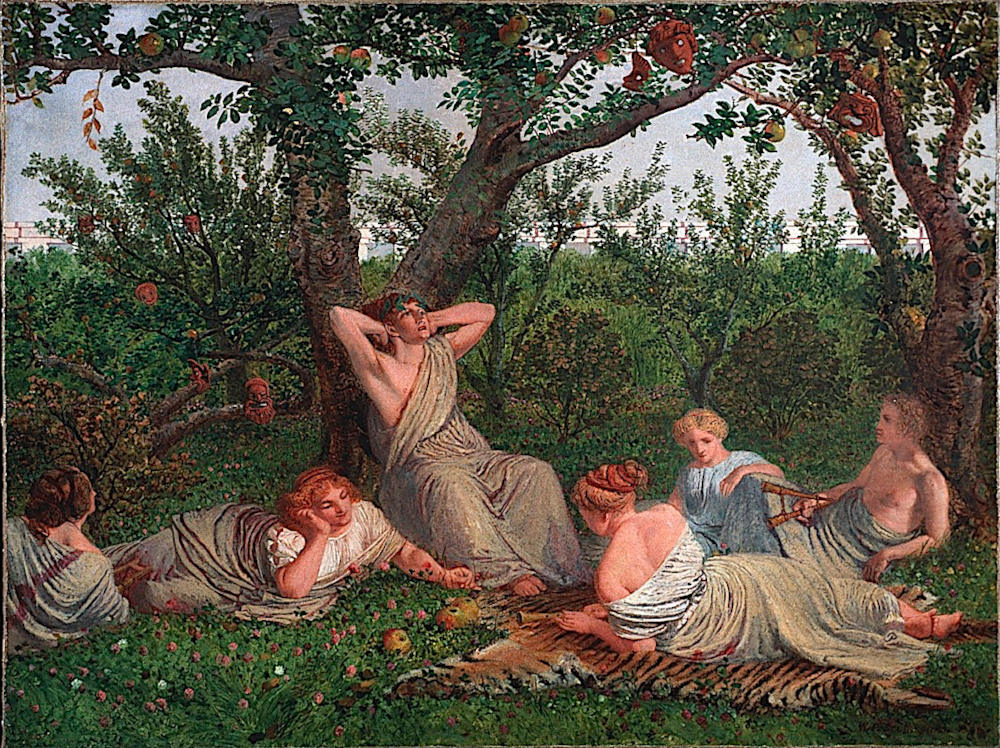 The Poet in Arcadia by William Bell Scott, 1811-90. 1860. Oil on canvas, 18 X 24 inches (45.8 X 61 cm). Signed "W. B. Scott" and dated 1866, lower right. Private Collection. Click on image to enlarge it.
William Bell Scott's The Poet in Arcadia is unusual in his ouevre because he is not an artist usually thought of as being in the vanguard of the Aesthetic Movement. Although he had previously responded to the influence of the first phase of Pre-Raphaelitism, it is somewhat surprising to see this work from 1866, which was obviously in response to the avant-garde influences of the early 1860s. It was not until Scott left Newcastle and moved back to London in 1864, and came in close contact with members of the Rossetti circle, that he began to introduce current ideas regarding the subjectless, purely aesthetic purpose of painting into his own work. Scott's advanced views on painting are evident from a letter he wrote to Algernon Swinburne on December 29, 1867 following publication of Swinburne's book on William Blake: "your warning that Art is the highest thing, and therefore utterly self sufficient... appears to me about the best thing that could be said on that matter." Scott was therefore obviously in agreement with Swinburne's adoption of the concept of l'art pour l'art that he had learned from the writings of Théophile Gautier and Charles Baudelaire in France. Scott painted very few works of an "Aesthetic" nature but, even when he was Master of the School of Design at Newcastle, he had encouraged local collectors such as James Leathart, Jacob Burnett, Issac Lowthian Bell, and Walter and Pauline Trevelyan to buy works by the Pre-Raphaelites and other painters associated with the early Aesthetic Movement.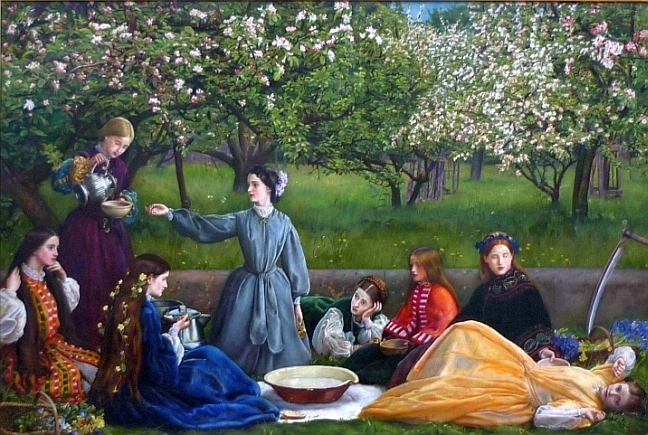 Apple Blossoms or Spring. 1858-59. Sir John Everett Millais Bt PRA (1829-96). Oil on canvas. Courtesy of the Lady Lever Art Gallery, Port Sunlight, Wirral.
Scott's The Poet in Arcadia was influenced by such important early Aesthetic Movement paintings as Millais's Spring (Apple Blossoms) of 1856-59 and Edward Burne-Jones' Green Summer of 1864. Even if Scott had not seen Millais's Apple Blossoms when it was exhibited at the Royal Academy in 1859, he would have been familiar with it since the first collector to own it was Jacob Burnett of Newcastle. Scott undoubtedly would also have seen Burne-Jones's Green Summer at the Old Water-Colour Society exhibition of 1865. In Scott's painting he not only adopts classical motifs, like many English avant-garde painters of the 1860s, but the figures, some of which hold musical instruments, exhibit the listlessness and languor that evoke a mood of poetic reverie similar to that in the works by Millais and Burne-Jones.
When The Poet in Arcadia was shown at the Exhibition of Pictures by British Artists at Ernest Gambart's French Gallery in 1866 the critic for The Era noted the influence of Millais's Spring on this composition: "Under the title of The Poet in Arcadia, Mr. W. B. Scott contributes a picture somewhat recalling Mr. Millais' celebrated party of red-haired young ladies sprawling about in an orchard"(6). The reviewer for The Daily News commented on the painting's resemblance to works by other artists associated with the nascent Aesthetic Movement:
Mr. W. B. Scott whose pictures must be classed with these, [Simeon Solomon and Albert Moore] paints such subjects as 'The Poet in Arcadia' [192] and 'Water Babies' [191]. There is the same vain attempt at trivial detail to be observed in the work, and the same affectation of classic or far-fetched subject. The Arcadia is an apple orchard, and the poet reclines on the grass in an attitude of studied carelessness, surrounded by several Sapphos in very short tunics (2).
An image of The Poet in Arcadia was reproduced as a small etching vignette on the title page of E. W. Gosse's On Viol and Flute published in 1873. The volume was dedicated "To My Friend William B. Scott Painter and Poet."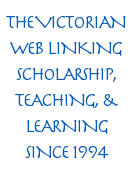 Bibliography
Morely, Catherine W. "Swinburne's 'Notes on the Royal Academy Exhibition, 1868'." Journal of Pre-Raphaelite Studies 2 (1982): 49-56.
The Era, issue 1468 (November 11, 1866).
The Daily News (December 7, 1866).
Gosse, Edmund William. On Viol and Flute. London: Henry S. King & Co., 1873.
---
Last modified 8 June 2021