Biographical Material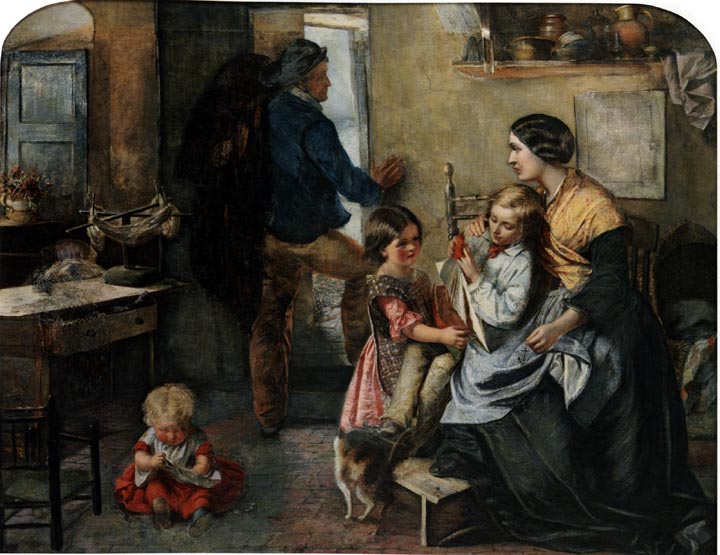 Emily Mary Osborn was one of the most important artists associated with the campaign for women's rights in the nineteenth century. The daughter of a clergyman, she was brought up in Kent and Essex until 1842 when the family moved back to London. It was here that she trained as an artist at Dickinson's academy in Maddox Street and then at Leigh's in Newman Street. During the 1850s Osborn established a reputation as a genre painter specialising in figurative subjects of 'unpretending character' – the most significant of which were pictures of modern women in pathetic situations, similar to works by Richard Redgrave and Rebecca Solomon.
Osborn was closely associated with the feminist and artist Barbara Bodichon's Langham Place circle and their campaign for women's rights. She was also a member of the Society of Female Artists established in 1857 (the year the picture was first exhibited) to help overcome the difficulties experienced by female artists in exhibiting and selling their work. In 1859 Osborn was one of the signatories of the women's petition to the Royal Academy of Arts to open its schools to female students, and in 1889 to the Declaration in Favour of Woman's Suffrage. In 1885 Osborn's large portrait of Bodichon was presented to Girton, the first Cambridge residential college to admit women.
As a student Osborn had been encouraged by her family and was later able to finance her own studio through the sale of a group portrait. She had the support of wealthy female patrons including Queen Victoria who purchased Osborn's My Cottage Door and The Governess. Nameless and Friendless sold for the substantial sum of £250 to Lady Chetwynd, following whose death it was lent by her husband to the 1862 International Exhibition in London. That year it was reproduced as a wood engraving by Edward Skill and published as a full-page print in the Illustrated London News. — Alison Smith (on the Tate Britain site)
Paintings illustrated on this site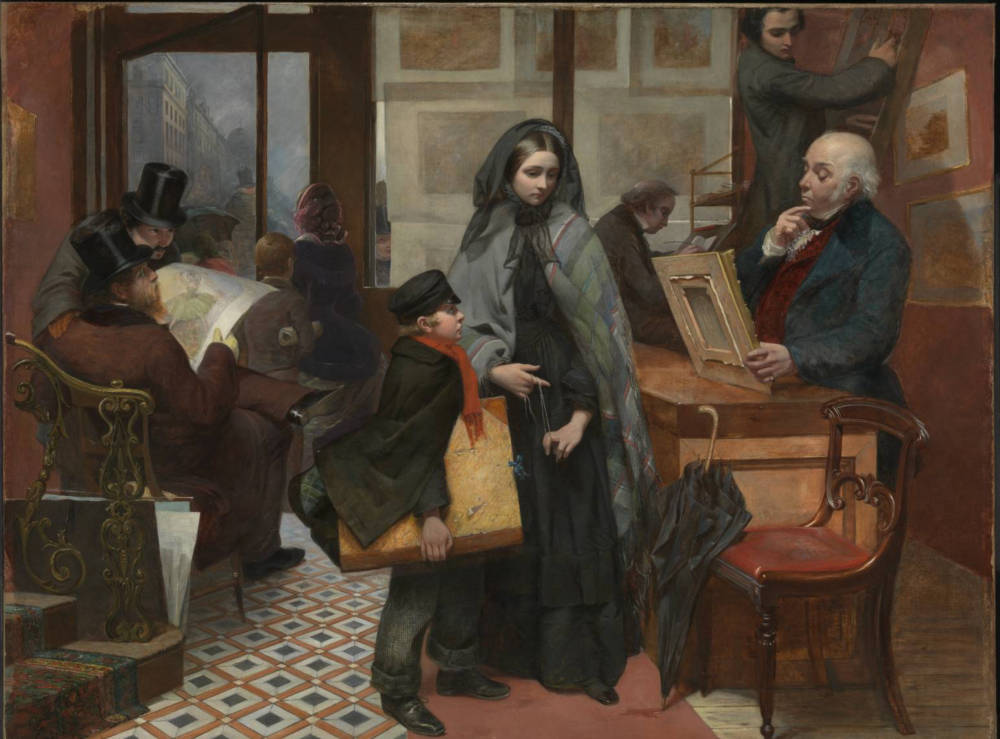 Paintings without illustrations on this site
My Cottage Door

The Governness

Home Thoughts,
Bibliography
Cherry, Deborah. Beyond the Frame: Feminism and Visual Culture in Britain, 1850–1900. Routledge, London 2000.
Dafforne, James. 'British Artists: Their Style and Character. No. LXXV – Emily Mary Osborn', Art Journal. (1864): 261–63.
Maas, Rupert. British Pictures. London: The Maas Gallery. 2006. Catalogue number 61.
Nunn, Pamela Gerrish. "Gone but not Forgotten. "Australasian Journal of Victorian Studies. 21 no. 1 (2016): 58-71.
---
Last modified 5 July 2018