Tess. James McLachlan Nairn (1859-1904). 1893, Wellington. Oil on canvas. Image: 1518mm (width), 1220mm (height). Gift of John Newton and Son, Kaiwharawhara, 1939. Museum of New Zealand Te Papa (1939-0001-1). No known copyright restrictions. [Click on the images to enlarge them.]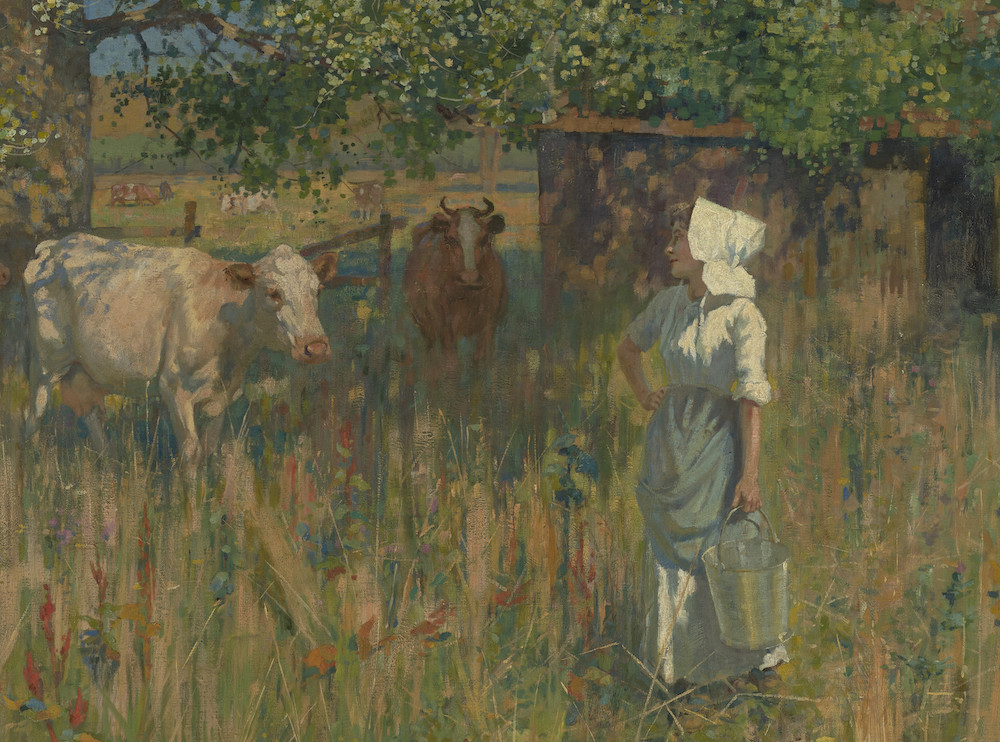 Tess, the dairymaid with her bucket, in the lush dappled setting of English pasturage.
This is a painting inspired by a recently published and controversial novel: the Tess of the title is, of course, the heroine of Thomas Hardy's Tess of the d'Urbervilles, of 1892. Working as a milkmaid at Talbothay's Dairy, Tess has attracted the attention of the well-bred young man there, Angel Clare, who has defied his parents to come for six months and learn about farming and cattle breeding. He finds in her "something that was familiar, something which carried him back into a joyous and unforeseeing past, before the necessity of taking thought had made the Heavens gray" (136). This perhaps is what Nairn evokes here.
Rebecca Rice writes that Nairn shows her at her "most contented," standing "in a field laden with wheat and poppies, picked out in Japanese-inspired strokes and dashes. The overall effect evokes, as one newspaper reviewer noted, the 'languor of an English summer afternoon imperceptibly stealing over you.'" But Tess, with one hand on her hip, and her head slightly inclined to that side, is instinct with life, and the cows (so fully realised, not rendered in detail but with absolute conviction) seem to be wondering at her happy reverie. Light and shadow play variously on the living creatures, particularly on Tess's white dress. This is all the more poignant in view of the tragic ending which (to pick up Hardy's own word) neither she nor Angel can foresee. — Jacqueline Banerjee
Links to related material
Bibliography
Hardy. Thomas. Tess of the Durbervilles. Oxford World's Classics. Edited by Juliet Grindle and Simon Gatrell. Oxford: Oxford University Press, 2005.
"Tess: Overview." Museum of New Zealand Te Papa Tongarewa. Web. 11 August 2022.
---
Created 11 August 2022