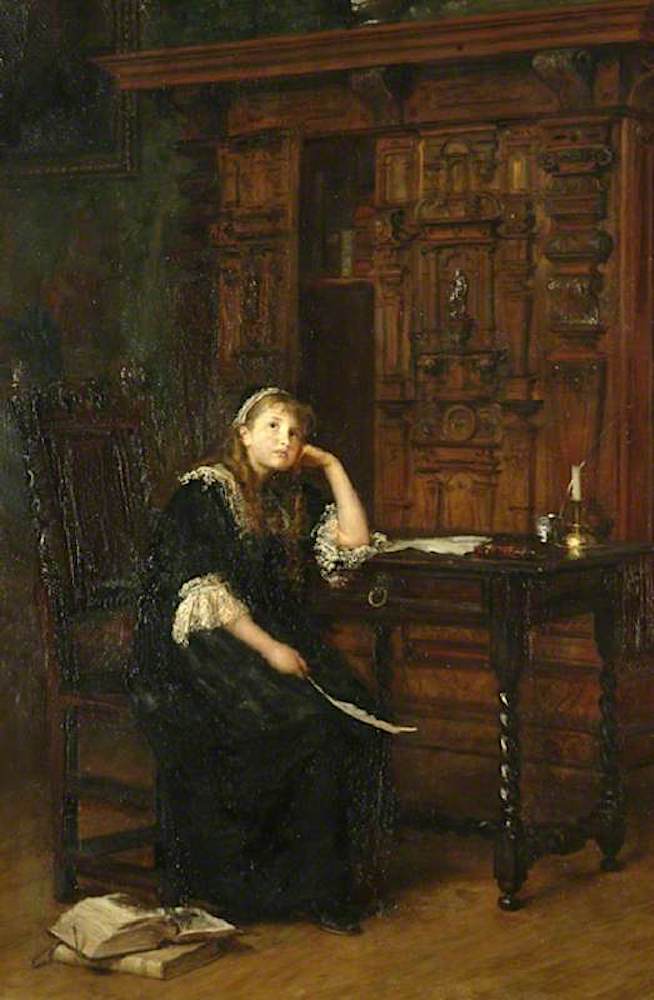 Princess Elizabeth in Prison at St James's
Sir John Everett Millais Bt PRA (1829-96)
1879
Oil on canvas
H 144.7 x W 101.5 cm
Royal Holloway Picture Gallery, University of London
What does the viewer see? A pale and slender young girl is seated at a desk. Her gown is long and sable with lace at its sleeves and collar (a "piccadill" collar apparently, such as you can see in several portraits of John Milton). [Commentary continues below. Click on the image to enlarge it, and mouse over the text for links.]
Image reproduced by kind permission of the Picture Gallery; formatting by Jacqueline Banerjee.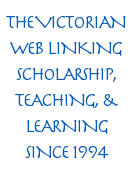 What does the viewer see? A pale and slender young girl is seated at a desk. Her gown is long and sable with lace at its sleeves and collar (a "piccadill" collar apparently, such as you can see in several portraits of John Milton). Her left arm rests against her cheek, and her right arm carries a quill pen lowered onto her left knee, having just finished inscribing a letter that rests on top of the desk beside a wax candle in a simple brass holder. On the floor to her right lie two tomes, one of which lies open, while behind her rises an intricately carved oak cabinet. The room is dark, too dark maybe to read easily, so that, beneath her lace cap, the girl is staring upwards to the lone source of light, which seems to be a window high up to her right. Distress and disappointment are written on her face.
Millais would have wanted us to look into the background. The month is December, 1643, and the girl is eight-year-old Elizabeth Stuart (1635-1650), second daughter of Charles I and Henrietta Maria, who had been detained in Saint James' Palace on the orders of parliament during the continuing Civil War. That month she intrepidly wrote to the House of Lords complaining that her Laudian servants had been replaced by puritans of a parliamentary persuasion. The letter was presented to both Houses on December 16, and rejected by the Commons (Lords Journal, 343; Commons Journal, 341). Millais had read the text of the letter in Lives of the Last Four Princesses of the Royal House of Stewart by the royalist historian Agnes Strickland (1796-1874), who had copied it from the parliamentary proceedings and quotes it on page 163. After Charles's execution the princess was removed to Carisbrooke Castle on the Isle of Wight, where she died of a chill on 8 December, 1650, aged not quite fifteen. Between 1845 and 1851 Victoria and Albert built a summer retreat on the island; when the queen found out that the seventeenth-century princess, a royalist martyr like her dad, had been unceremoniously buried in St Thomas's church, Newport under a simple monogrammed slab, she ordered that it be replaced with a marble effigy by Carlo Marochetti (who also made her own and Albert's likenesses for the Frogmore Mausoleum). The effigy gave rise to a minor cult around the princess, on which Strickland's book, and Millais' painting, evidently draw.
Young as she was, the princess had acquired a formidable reputation for learning (according to the Biblical scholar William Greenhill, she knew at least some Latin, Greek and Hebrew.) Hence the open books lying on the floor. Millais wanted to stress her erudition, but he also wanted to highlight her plight. For profound biographical reasons he possessed quite a lot of empathy with female entrapment. Twenty-five years previously he had saved his wife Effie from a loveless marriage to John Ruskin; she and Millais were to have eight children. But he also needed a credible model for his painting. He chose his second daughter Sophie, then aged twelve, whom he positioned in his Kensington studio in front of the oaken cabinet, which he owned and which was one of his regular props.
Related Material
Bibliography
Journals of the House of Commons (1643), Vol. 3. London: His Majesty's Stationery Office, 1802.
Journals of the House of Lords (1643), Vol. 6. London: His Majesty's Stationery Office, 1767–1830.
Strickland, Agnes. Lives of the Last Four Princesses of the Royal House of Stuart. London: S.I. Bell, 1872.
---

Victorian
Web

Artists

J. E.
Millais

Paintings
Created 10 June 2020