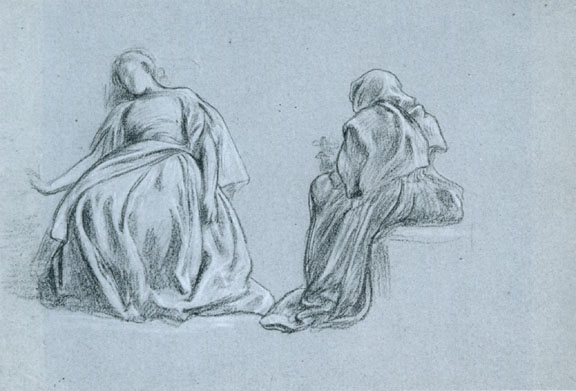 Studies of two women — the right hand figure facing away from the spectator and shrouded in drapery and wearing a shawl over her head and shoulders, the left hand figure looking downward and to her right-hand side and also heavily draped; a study for the illustration 'Tessa at Home' for George Eliot's 'Romala' by Frederic, Lord Leighton, PRA RWS 1830-1896. Black and white chalk on blue paper. 8 x 10 7/8 inches, 20.3 x 27.7 cm.
Commentary by Hilary Morgan
The present drawing is a study for the 'Romola' illustrations, representing Tessa with her child and her old nurse Monna Lisa after Tito has tricked her into a mock marriage. although the story is set in Renaissance Florence, Leighton has dressed Tessa in garments resembling the fashionable crinoline of his own day. The illustration appeared between pages 568 and 569 of volume 7 of the Cornhill Magazine, 1863.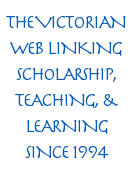 References
Morgan, Hilary, and Peter Nahum. Burne-Jones, the Pre-Raphaelites, and Their Century. London: Peter Nahum, 1989. Catalogue number 99.
Peter Nahum Ltd, London has most generously given its permission to use in the Victorian Web information, images, and text from its catalogues, and this generosity has led to the creation of hundreds of the site's most valuable documents on painting, drawing, and sculpture. The copyright on text and images from their catalogues remains, of course, with Peter Nahum Ltd.
Readers should consult the website of Peter Nahum at the Leicester Galleries to obtain information about recent exhibitions and to order their catalogues. [GPL]
---
Last modified 2001