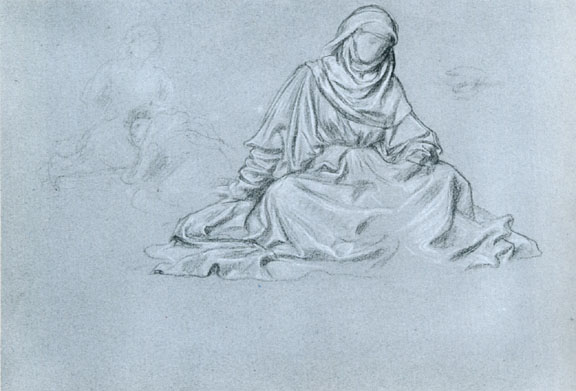 Study of a young woman seated on the ground (wearing a shawl round her shoulders and head, with a subsidiary study of the same figure with a youth resting his head in her lap; for the illustration 'Under the Plane Tree' for George Eliot's Romola by Frederic, Lord Leighton, PRA RWS 1830-1896. Black and white chalk on blue paper. 11 1/4 x 17 1/4 inches, 28.6 x 43.9 cm
Commentary by Hilary Morgan
Frederic Leighton was commissioned to illustrate George Eliot's Romola by the Cornhill Magazine in 1862. It appeared in monthly installments from July 1862 to August 1863. Leighton made twenty five large scale designs and fourteen decorated initial letters which were engraved by W. J. Linton. His work was a significant contribution to the revival of illustration in the 1860s. Romola is an historical romance set in Renaissance Florence at the time of Savonarola. Leighton shared his knowledge of the period with the author, and the Ormonds have shown how he influenced the writing of the book. The present drawing relates to the tenth chapter of the novel, in which Tito, the main male character, is distracted from a more important mission when he rescues the child Tessa from a carnival crowd and falls asleep while keeping her company. The illustration appeared between pages 184 and 185 of the Cornhill Magazine, volume 6, 1862.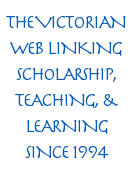 References
Morgan, Hilary, and Peter Nahum. Burne-Jones, the Pre-Raphaelites, and Their Century. London: Peter Nahum, 1989. Catalogue number 100.
Peter Nahum Ltd, London has most generously given its permission to use in the Victorian Web information, images, and text from its catalogues, and this generosity has led to the creation of hundreds of the site's most valuable documents on painting, drawing, and sculpture. The copyright on text and images from their catalogues remains, of course, with Peter Nahum Ltd.
Readers should consult the website of Peter Nahum at the Leicester Galleries to obtain information about recent exhibitions and to order their catalogues. [GPL]
---
Last modified 2001