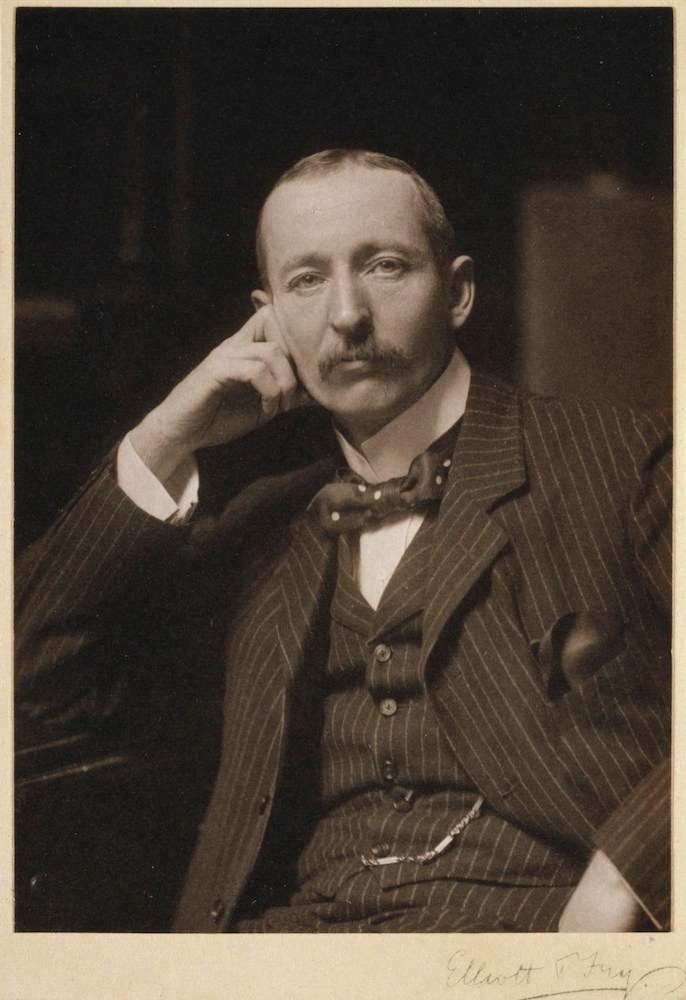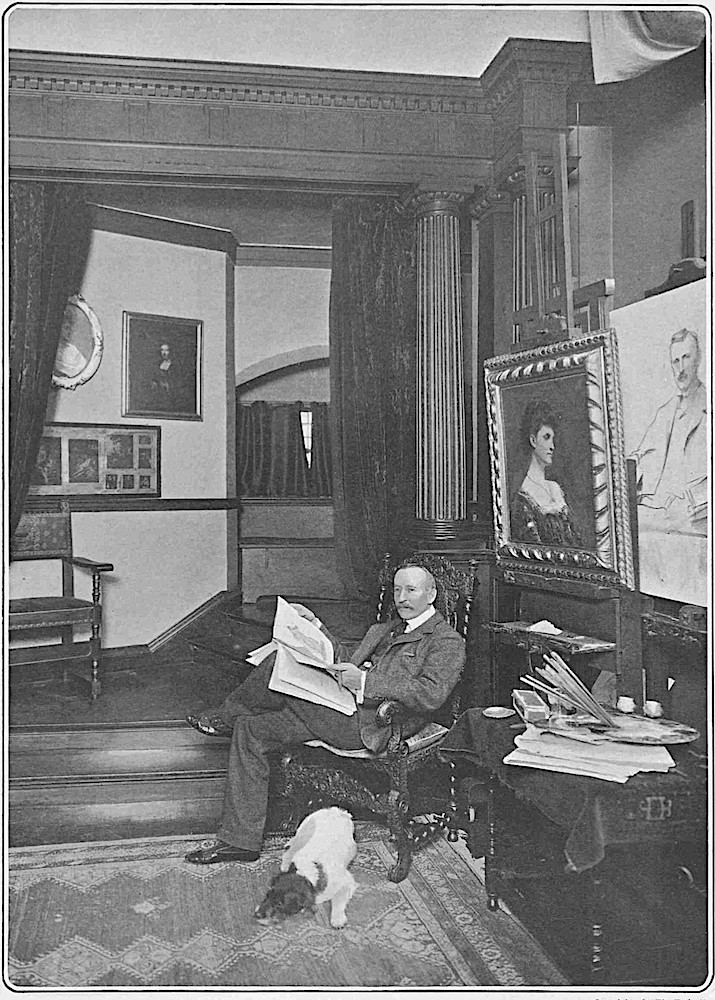 Left: Image © Royal Academy of Arts (click on the image for more details). Right: "A Well-Known Portrait-painter — Mr. A. S. Cope, A.R.A. (taken in the Studio at Little Campden House." The Tatler No. 114, 24 June 1903: 477 (kindly provided by John Hilary and Shirley Nicholson; click on the image to enlarge it).
Biography
Arthur Stockdale Cope was the third son of the artist Charles West Cope, and his wife Charlotte Benning. After attending Norwich Grammar School he embarked on training to be an artist like his father, first at Carey's Art School, then, from 1874, at the Royal Academy Schools. He was only nineteen when he first exhibited at the Royal Academy, and about twelve years later, in 1888, he teamed up with his close friend Herbert Harrington Roberts (1837-c.1920) to open a new art school in Kensington. By now he was a sought-after portraitist, first specialising in the artists of the artistic community in Kensington. He and his family lived in Little Campden House in Kensington from 1893.
Later he painted many portraits of public and also royal figures. Among the latter were Princess Beatrice, Edward VII, George V and Edward VIII. In all, according to the National Portrait Gallery, he exhibited "288 works at the Royal Academy and the Royal Society of Portrait Painters between 1876 and 1935."
Roberts, who for some time lived opposite him on Campden Hill, has much to say in his memoir about Sir Arthur and their lifelong friendship. He remembers posing as Kaiser Willhelm II for him (although the Kaiser's "overalls were rather too short, and one of the sleeves was shorter than the other" because of the Kaiser's withered arm) and describes him as enjoying a wide range of other activities besides painting. The younger Cope was, he says, a good shot, a skilled fencer, a "born musician," an "excellent" yachtsman and a great talker. While pointing out his many good and congenial qualities, Roberts also reminds us that his friend painted landscapes as well as a portraits. Cope became a prominent figure in the art world: a fellow of the Royal Society of Portrait Painters from 1900, a Royal Academician from 1910, and a knight of the realm in 1917. — Jacqueline Banerjee
Link to related material
Works
Bibliography
Brimacombe, Ruth (12 September 2019). "Cope, Sir Arthur Stockdale (1857–1940)". Oxford Dictionary of National Biography. Web. 30 August 2022.
Roberts, Colonel Herbert Harrington. Memories of four-score years. London: John Lane at the Bodley Head, 1920. Full text on the Victorian Web.
"Sir Arthur Stockdale Cope." National Portrait Gallery. Web. 30 August 2022.
---
Created 30 August 2022