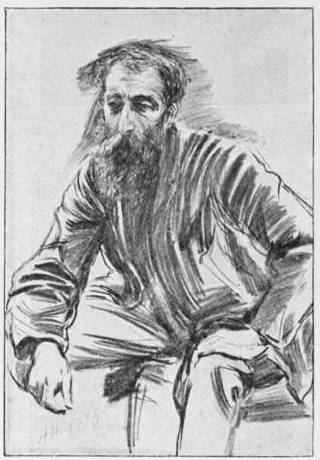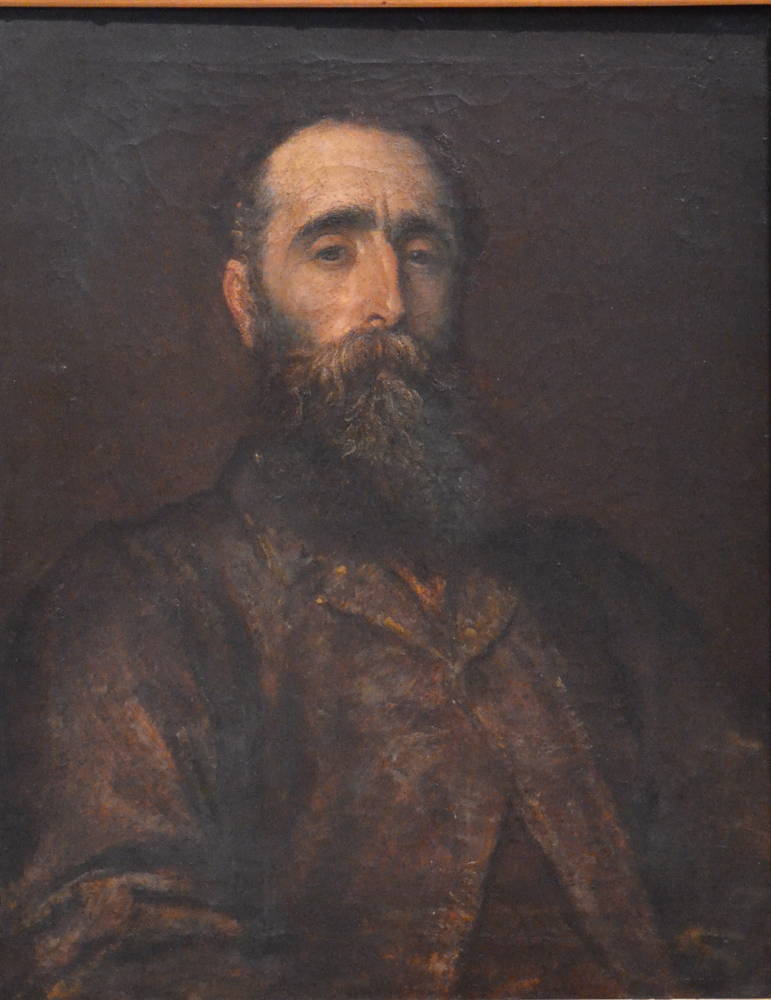 Portraits of Calderon by G. F. Watts and Hubert von Herkomer. Click on images to enlarge them.
"Calderon . . . studied engineering, and the opportunities afforded by the continual presence of drawing materials led him to devote more of his time to art than science. . . . Calderon went to Leigh's School of Art in Newman Street, where he met Henry Stacy Marks, Walter Thornbury — who afterwards became the well-known author — and several others who have since made their names. From Leigh's he went to Paris with his friend Marks, where he studied, for a year, under M. Picot. He then returned to London, having finished his schooling, but not his education in art. He and Marks were welcomed back by a little band of young artists, Fred Walker amongst them, who had formed themselves into a brotherhood called "The Clique," and which somehow looked upon Calderon as their chief, for he had a personality that persuaded and even commanded. He was tall and good-looking — was, as it were, a Spanish gentleman translated into English; very witty, he had an uncompromising spirit and withal a most fascinating manner; in fact, he could be severe and unflinching, and yet as tender as a child. . . .
"There was great excitement in those days among the young artists, for a change was coming over the school through the influence of Millais, Holman Hunt, and others of the Pre-Raphaelite Brotherhood. The love of Nature was ousting the love of conventionalism, and this was shown in the careful delineation of the minutest detail of leaf and flower, rock and stone, and sunlight and sun-shadows. Broken Vows was not only a subject likely to be popular, since it represented a young lady who accidentally discovers her lover to be faithless, but was painted in the new spirit; and without doubt the heart of the painter was in his work, for he not only depicted the ivy leaves, the old wall, and the grey palings with loving care, but it may be supposed that he was still more interested in his fair sitter. The picture was finished, was well received by the Academy and the public, was sold, and was engraved.
He was elected A.R.A. in 1864 — the same year, and at the same time, as Frederick Leighton. . . . .Calderon's more decorative works, such as The Olive and The Vine, The Flowers of the Earth, . . . show the painter to the greatest advantage. They fulfil one of the missions of art, which is to be decorative and enjoyable without insisting too much on raising our minds or teachiug us moral lessons, and are entirely devoid of allectation and eccentricity. They are frank, bold, strong, healthy pictures such as Paul Veronese might have delighted in, but without being in the least imitative or inspired by anything but the artist's own feeling and view of nature. They were painted in his house in Grove End. . . . He moved from there to occupy the rooms in Burlington House, set apart for the keeper of the Academy, whith responsible office he undertook in 1887. Devoting himself with energy to his new labour, he yet had time to produce some of his best pictures, such as Aphrodite, Andromeda, Ariadne, and St. Elizabeth of Hungary." — G. A. Storey
Works
Bibliography
Storey, G. A., A. R. A. "Philip Hermogenes Calderon, A. R. A. (1833-98)." Magazine of Art. 22 (November 1897-October 1898): 446-52. Internet Archive version of a copy in the University of Toronto Library. Web. 28 October 2014. [Complete text in the Victorian Web.]
---
Last modified 28 October 2014