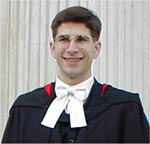 John van Wyhe is a historian of science, specializing on Charles Darwin, at the University of Cambridge. He is founder and Director of The Complete Work of Charles Darwin Online, Bye-Fellow of Christ's College, affiliate of the Department of History & Philosophy of Science, Member of Council for the British Society for the History of Science and Director of its (in progress) online Wheeler Library.
While researching his PhD at Cambridge, van Wyhe created a website on the general history of phrenology, , a subject which still excites some popular interest and led to invitations to speak in Britain, France and Germany in addition to numerous television and radio appearances.
In 2001 van Wyhe accepted a Senior Research Fellowship at the National University of Singapore where he edited the Science section of the Victorian Web and founded the Darwin Online project.
He recently created a page on Darwin on the Christ's College website: Darwin and Christ's College.
John van Wyhe may be contacted via information provided at Darwin Online.
---
Last modified 8 February 2007