Photographs by the present author, except for the first, which was taken by Ipshita Banerji, who has kindly allowed us to reproduce it here. You may use the images without prior permission for any scholarly or educational purpose as long as you (1) credit the photographer or source and (2) link your document to this URL in a web document or cite the Victorian Web in a print one. [Click on the images for larger pictures.]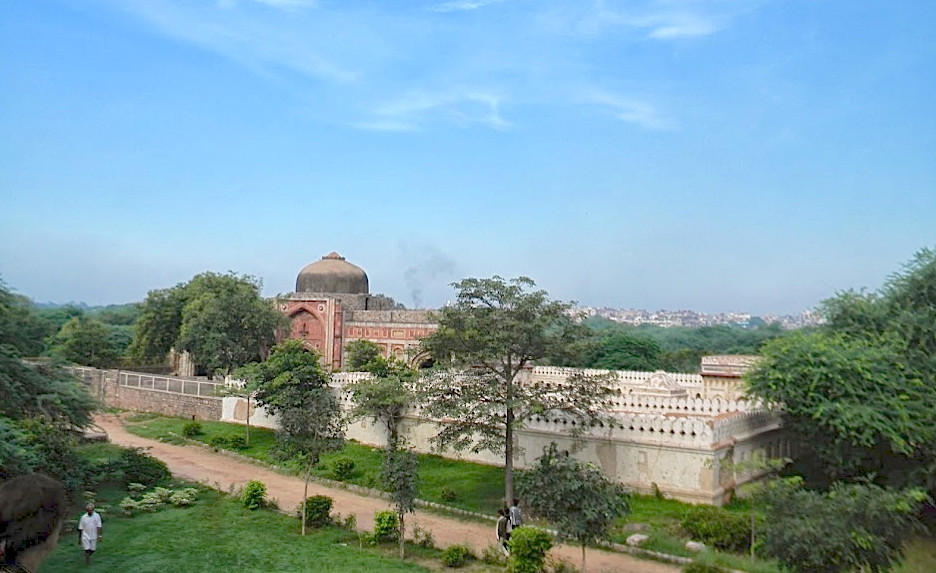 The view from Dilkusha (or "Heart's Delight"), Sir Thomas Metcalfe's summer retreat, over Jamali-Kamali's Mosque and flat-roofed Tomb, from the early sixteenth-century. In the distance now is Delhi's high-tech satellite city, Gurgaon.
The early seventeenth-century tomb of Muhammad Quli Khan, which Sir Thomas Metcalfe converted into an exotic country retreat christened Dilkusha or "Heart's Delight," has a spectacular setting. It stands among the ruins of what is now the Mehrauli Archaeological Park, in south west Delhi. The structure is shown against impressive backgrounds in Metcalfe's album of 1844, Reminiscences of Imperial Dehlie, but the view shown above, from Dilkusha itself, is even more attractive: it is of the Jamali-Kamali complex, an early sixteenth-century mosque and tomb. Splendid as all this is, Metcalfe wished to make his country house's surroundings even more "interesting," and added some structures of his own. His eldest daughter Emily was not surprised: "Father's favourite amusement was bricks and mortar," she noted in her own reminiscences (Bayley 148).
External Structures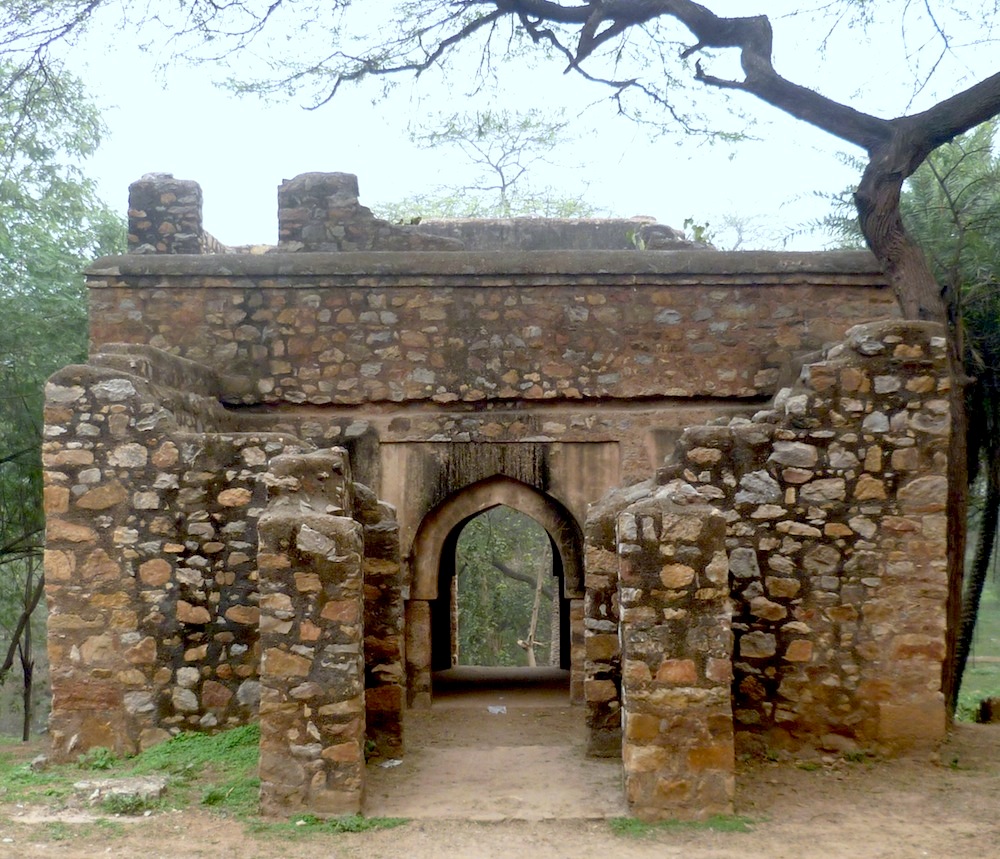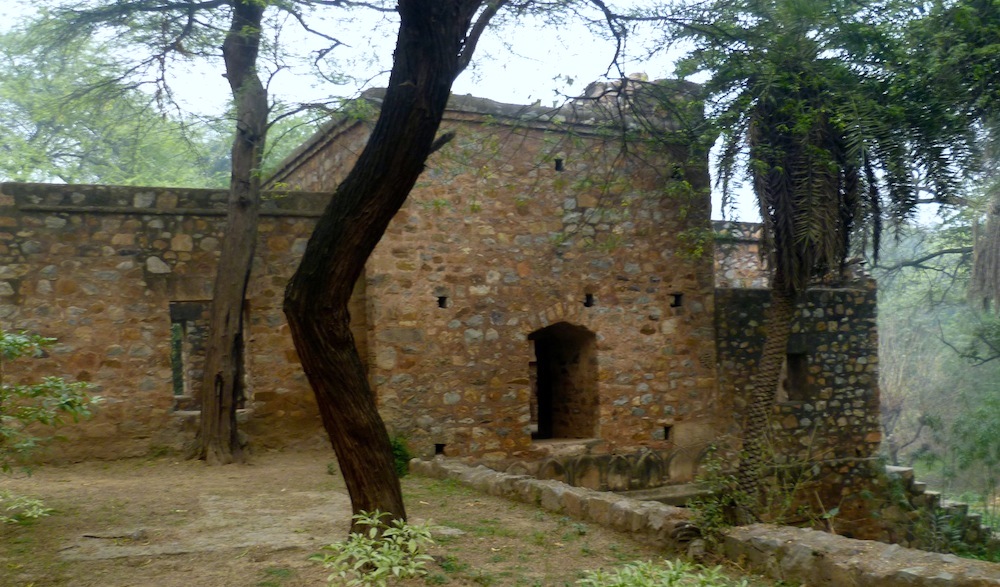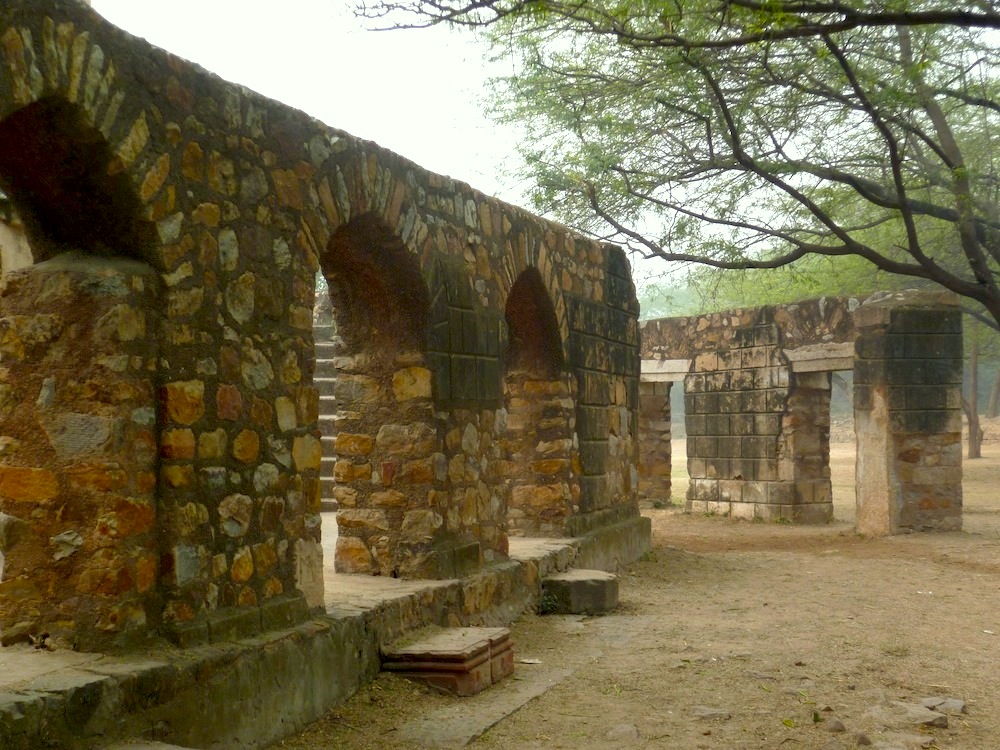 Left two: Metcalfe's boathouse. Right: Ruins close by, possibly of a guest annexe.
Metcalfe duly set to work landscaping the area surrounding Dilkusha, laying it out with terraces, a boating house, lake and lighthouse, cooling water-courses, and fashionable but distinctly eastern follies to enhance its views still more. Note that the boating house has tiny openings in it: it did double duty, as a pigeon house too. Emily recalls that "after the heat of the day," her father would sit on the terrace, and there below it was "a building full of pigeons which used to be let loose of evening and amused us all by their fantastic pranks" (Bayley 148).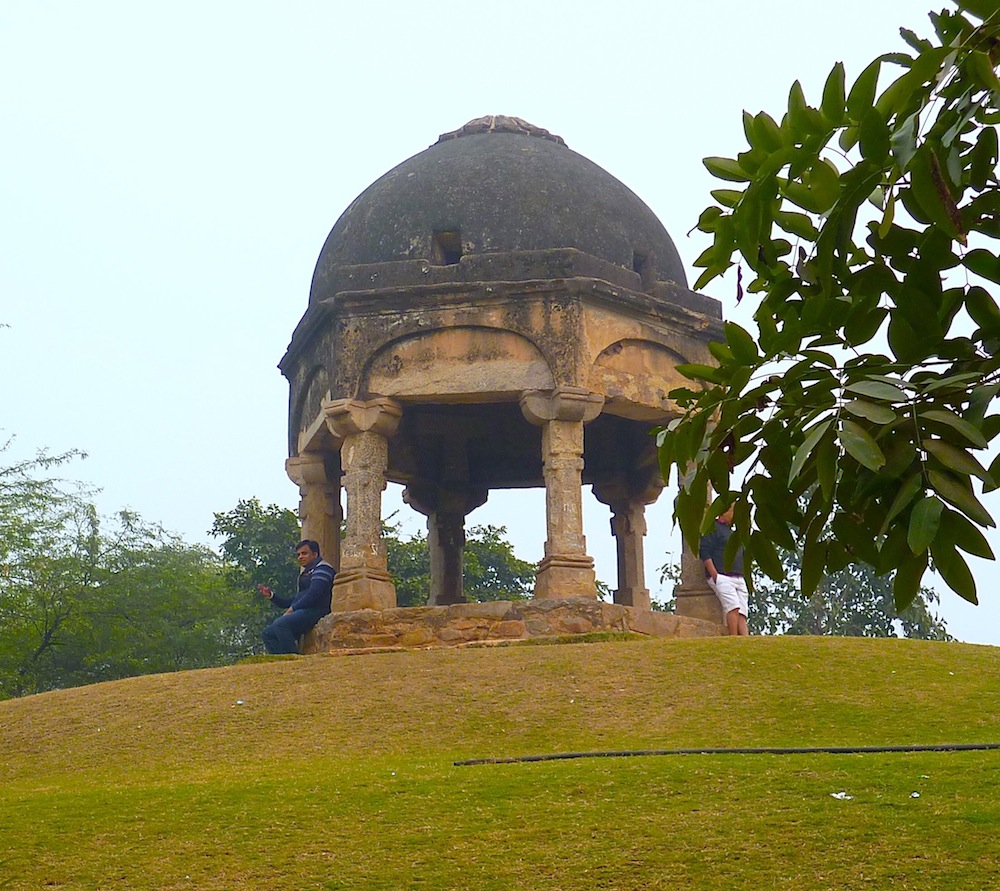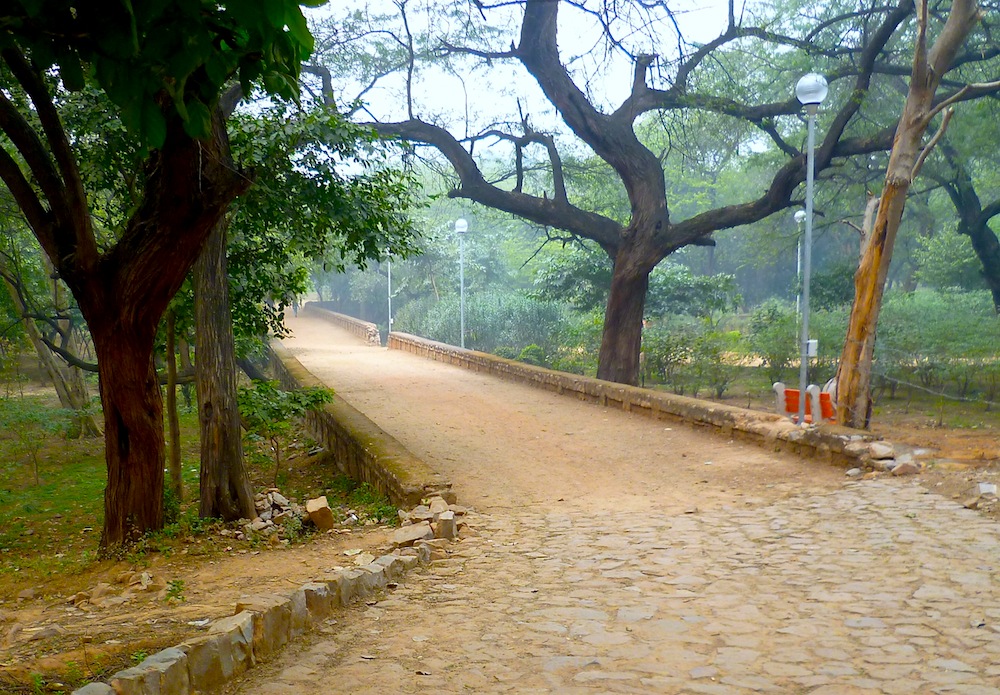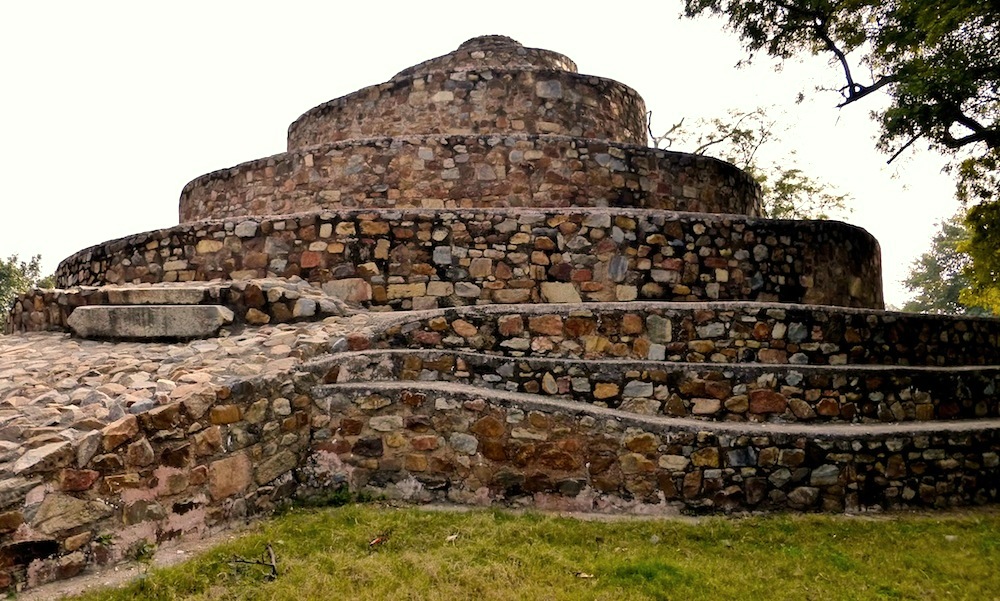 Left to right: (a) One of Metcalfe's follies, a kind of belvedere commanding a fine view all around from its eminence. (b) A piece of straight raised path, once a bridge over Metcalfe's boating lake. (c) Close to the Qtub Minar, another of Metcalfe's follies, a ancient pyramidal structure called a ziggurat.
A cultured man who was well-versed in the history and architecture of his adopted country, and had founded a Delhi Archaeological Society (see Dalrymple 52), Metcalfe added structures that harmonised well with their surroundings. As for the lake, there had been a water tank here before, and water features of one kind or another were popular ways for the wealthy to combat the Delhi heat — though the inclusion of a lighthouse suggests that he had a sense of humour! The canopied folly is like a chatri, or Indian pavilion, and the ziggurat is a type of ancient pyramid: the heritage signboard next to it explains that it was constructed of "rubble masonry, similar to that having been used in Delhi since the 11th century," and that it was "built to provide ruins in the north view."
Towards the end of the summer of 1853 Metcalfe began to suspect that he was being poisoned, and there was much speculation that Zinat Mahal Begam, the Emperor's wife, was the culprit. He had infuriated her by blocking the succession of her son, and these were dangerous times. But there is no hard proof that he died from unnatural causes (see Dalrymple 114-18). A close friend of James Skinner of the famous cavalry regiment, Skinner's Horse, he was buried in the grounds of St James', the church that Skinner built near the Kashmiri gate, and that the family could see from Metcalfe House. Perhaps it is just as well that he did not live to see that much-loved residence "totally gutted" and looted during the Sepoy Rebellion (Dalrymple 275), with the loss of his extensive and irreplaceable library and artworks. Jan Morris illustrates the present Metcalfe House in her book, saying that the original has been "lovingly restored" for government purposes (47), and it does give an idea of what the old building was like. Somewhat less consoling is the fact that the ruins around Dilkusha blend in well with their setting in the Mehrauli Archaeological Park, even though they are so much more recent than the others.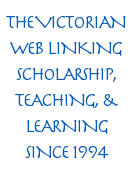 Related Material
Bibliography
Bayley, Lady Emily. The Golden Calm: An English Lady's Life in Moghul Delhi. Exeter: Webb & Bower, 1980.
Dalrymple, William. The Last Mughal:The Fall of Delhi, 1857. London: Bloomsbury, 2006.
Davies, Philip. Splendours of the Raj: British Architecture in India 1660-1947. London: Penguin, 1987.
"Houses in Delhi in the 1840s." British Library. Web. 8 October 2014.
Metcalf, Thomas R. "Metcalfe, Sir Thomas Theophilus, fourth baronet (1795–1853)." Oxford Dictionary of National Biography. Online ed. Web. 8 October 2014.
Morris, Jan, with Simon Winchester. Stones of Empire: The buildings of the Raj. Oxford: Oxford University Press, 1983.
"Reminiscences of Imperial Dehlie." the-south-asian.com. Web. 8 October 2014.
---
Last modified 15 October 2014