[Revised and adapted from the author's article of the same title from Women's Studies Forum No. 8 (March 1994), Kobe College Institute for Women's Studies, Japan. Click on the illustrations to enlarge them and usually for more information about them.]
ady Glencora in Anthony Trollope's Can You Forgive Her? is treated with exaggerated care during the early stages of pregnancy by her proud husband — so much so, that she longs to be a milkmaid, whose health might be trusted to nature. As "her troubles" approach, the high risks attendant on child-birth in the Victorian age hardly bother this spirited woman. Yet she still lies awake trembling at night. What bothers her is the prospect of "disgrace if one of the vile weaker sex should come to disturb the hopes" of her lord and master (826, 827-28). The bitterness of her thoughts suggests that she has more in mind than the simple matter of inheritance: she recognizes the superior value her husband would attach to a male child, and the problems that would ensue if she bore a girl.
Fortunately for her, Lady Glencora is spared the shame of producing an infant of the "wrong" sex, and the challenge of raising a daughter. Others, of course, are not. As a result, when reading Victorian fiction, we often find ourselves involved in the strenuous efforts of young female characters to resist the vituperation poured on them, and to reconcile the demands of self and society. Their individual struggles tend to fall into certain patterns.
"Plain Janes"
By the many Victorians who believed in original sin, all children might be considered the devil's progeny: "Naterally vicious," snaps Charles Dickens's Mr Hubble, putting down Pip in Great Expectations, much as Mr Murdstone puts down the young David Copperfield (57). Though the devil does seem to whisper in Pip's ear, there is little doubt that this child's nature is fundamentally good: his own uneasiness on that score is best explained by the disapproval of others, and the vulnerability of the young to feelings of guilt (Klein 7). But to be spared such calumny as Mr Hubble's, a child of this era would need to be both compliant and winning; in Emily Brontë's Wuthering Heights, Mrs Earnshaw cannot accept Heathcliff as "a gift of God" because he is neither (Wuthering Heights 77). As for a girl, the need for her to possess such qualities was even greater: girl characters who lack them are apt to be viewed as particularly loathsome and repugnant.
Mrs Reed introduces Jane to Mr Brocklehurst, who questions her on her Bible reading and agrees to admit her to Lowood School. [Click on the image for more details.]
Looks are crucially important. The ideal of girlhood is represented by many juvenile portraits — both paintings and photographs — later in the period. A sweet, regularly-featured face, soft curls emerging from an old-fashioned mob cap, with its promise of mingled meekness and domesticity, are common features, as is an idyllic rural setting. Kate Greenaway's illustrations encouraged and exemplified the vogue, and were hugely popular from the late '70s onwards. Girls who departed from the traditional ideal of beauty were at a distinct disadvantage. Plain Jane (Eyre) is one of the best-known examples of such girls in Victorian fiction. Charlotte Brontë's heroine is seen, in her childhood, as a "thing" and a "creature" by her aunt (260), a "rat" by her cousin John Reed (43) and, most telling of all, a "toad" by Abbot: "if she were a nice, pretty child, one might compassionate her forlornness; but one really cannot care for such a little toad as that" (58). The difficult behaviour which irks her relatives may be as much cause as effect of this girl's unappealing appearance; constant criticism is bound to induce sullenness : "All said I was wicked, and perhaps I might be so" (48), says the browbeaten Jane to herself.
The author's resentment of such treatment is as plain as her heroine's face: it is Charlotte Brontë's secret and vengeful purpose to demonstrate that the self-satisfied members of the close little family circle which excludes and denigrates Jane are the ones who truly deserve the cruel epithets, not her heroine. Peaches-and-cream Georgiana turns out to be a "vain and absurd animal ... a fat, weak, puffy, useless thing," and her sister Eliza "the most selfish, heartless creature in existence" (264, emphases added), while her bullying cousin is already seen (by Jane, of course) to have inherited such toad~like characteristics as his dingy skin, large features and heavy jowls from his mother: our final picture of him is Mrs Reed's nightmare vision of John "with a swollen and blackened face" (261). Jane's last contact with her aunt is when she touches her unpleasantly cold and clammy hand on her death-bed.
But this is later. Charlotte Brontë shows that as an unprepossessing girl, Jane is powerless to assert her innate superiority. When she tries, she is trapped in the stifling Red Room — less by the menarchal confirmation of her gender (she is only ten, and so under-developed that the apothecary thinks her younger), than by the conventions it already imposes. "This violence is almost repulsive," cries the infuriated Mrs Reed (49); Jane cannot come out of this confinement, she is told, until she has become perfectly submissive and still. In other words, until she has internalized it. Olive Schreiner puts it like this: "They begin to shape us to their cursed end ... when we are tiny things in shoes and socks" (The Story of an African Farm 189). Nature betrays Jane: she is brought out in a faint. One of those who cannot bear such suffocating of the self, she must now submit to being compared unfavourably not only to her unworthy cousins, but also to the child (a boy) who tells Mr Brocklehurst that he would rather be given a verse of a Psalm to learn than a ginger-bread-nut to eat. Accused of deceit by the deceitful, she must be sent away. But after all, she has not been cowed down: before she goes, she finds the strength and courage to denounce Mrs Reed as passionately as she had previously denounced her tyrannical son.
Another "small mistake of nature" is driven to dip her dark, unruly hair in a basin of water, and even hack it off, in response to constant complaints by her mother about her looks and manner (The Mill on the Floss 61). This is George Eliot's Maggie Tulliver, no less than Jane lacking in feminine graces, an alien, a changeling in comparison with a particularly appealing "pink-and-white" cousin (164). She too will be revenged, for Philip Wakem with his artist's eye proves only too prescient when he says to her that "your fair little cousin will be quite quenched in your beams" (433); though this revenge, unintended as it is, will rebound horribly upon her.
The ugly duckling topos is fascinating. Many a young girl in the male writers' work is unimpressive, too, like George Meredith's hearty, frowning, quarrelsome Janet in The Adventures of Harry Richmond: "she was not maidenly," complains the young hero (260). But then Janet blossoms into a beauty of her own, literally comes into herself, later on. Nevertheless, the apparently ill-endowed, awkward and resentful girl is a type into which the Victorian women novelists, in particular, pour their dissatisfactions.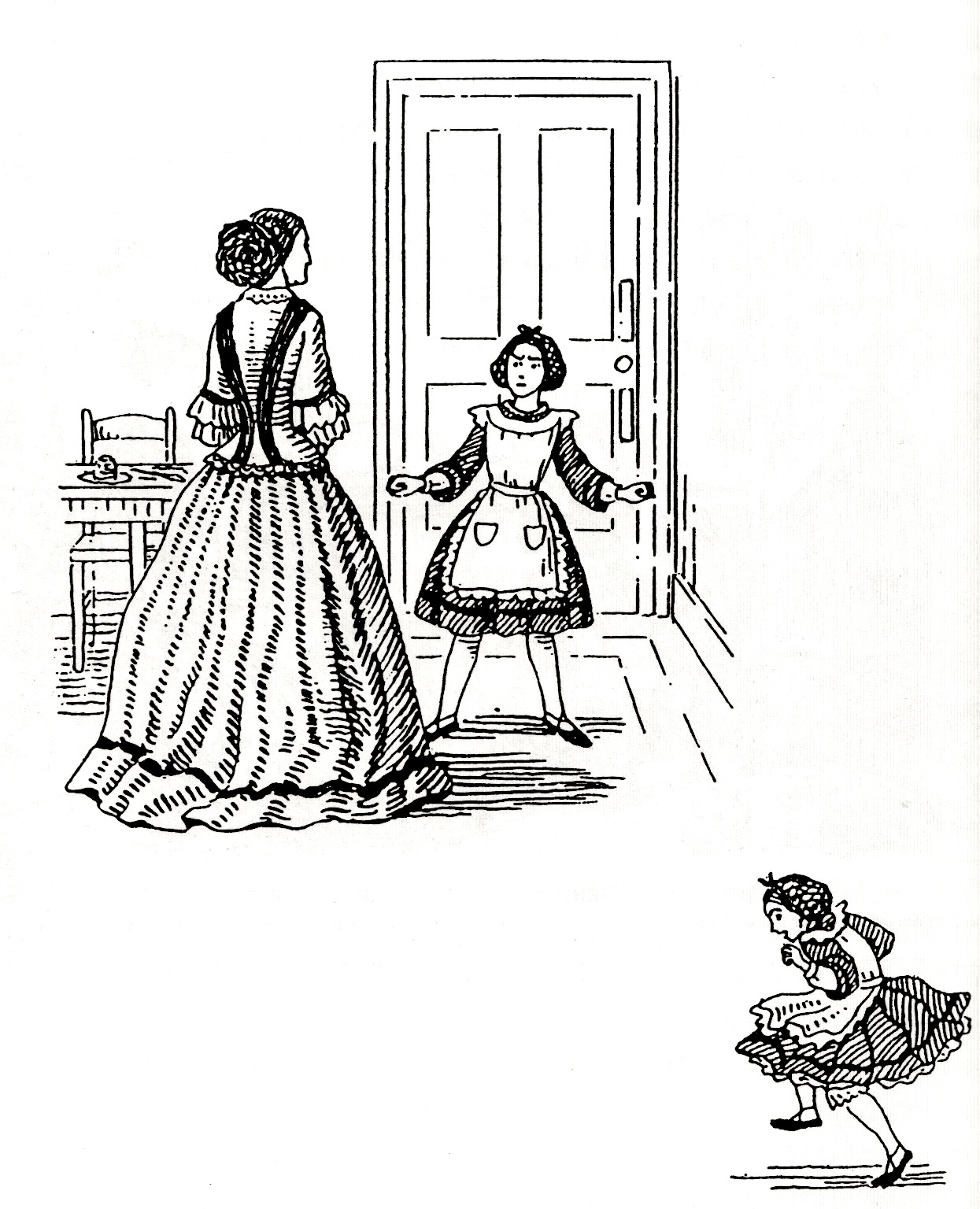 Charlotte Yonge's "Countess Kathleen" objects strongly to declining an invitation, and especially to the polite lie her aunt wants her to tell. Lady Barbara's calm decisiveness makes her niece "jump and dance around with passion" (151). Gwen Raverat's illustrations set Kate poles apart from Kate Greenaway's demure misses. (Reproduced by kind permission of Mrs Sophie Gurney and Mrs Elisabeth Hambro).
The range is from the quite neat and competent Jane Eyre, to the incorrigibly clumsy, short-sighted Ethel May in Yonge's The Daisy Chain, or the same author's awkward little "Countess Kate" — gloriously illustrated for Faber by Gwen Raverat, as she slumps in her chair in front of her formidable Aunt Barbara. Mrs Oliphant's gawky Janey May in Phoebe Junior is a cheerfully unintellectual version of Ethel May (the allusion and challenge to Yonge's more famous family were intentional) but the eponymous heroine of Mrs Ward's Marcella is very much in the tradition of troubled and troublesome, clever, dark-haired, rebellious youth. Such girls need all their courage to make their way to the front of the stage, without the assurance lent by feminine graces. Yet those who have nothing to cushion them from criticism, nothing to redeem them from belonging to the "vile weaker sex," often struggle hardest to fulfil their own needs: these are often the very ones to emerge as heroines.
Related Material
Bibliography
Brontë, Charlotte. Jane Eyre. Ed. Q. D. Leavis. Harmondsworth: Penguin, 1966.
Brontë, Emily. Wuthering Heights. Ed. David Daiches. Harmondsworth: Penguin, 1965.
Dickens, Charles. David Copperfield. Ed. David Blount. Harmondsworth: Penguin, 1985.
_____. Great Expectations. Ed. Angus Calder. Harmondsworth: Penguin, 1985.
Eliot, George. The Mill on the Floss. Ed. A. S. Byatt. Harmondsworth: Penguin, 1979.
Klein, Melanie. The Psycho-Analysis of Children. Trans. Alix Strachey. London: The Hogarth Press, 1975.
Meredith, George. The Adventures of Harry Richmond. London: Constable, 1924.
Oliphant, Margaret. The Chronicles of Carlingford: Phoebe Junior. London: Virago, 1989.
Schreiner, Olive. The Story of an African Farm. Harmondsworth: Penguin, 1971.
Trollope, Anthony. Can You Forgive Her? Harmondsworth: Penguin, 1986.
Ward, Mary Augusta. Marcella. London: Thomas Nelson and Sons, 1919.
Yonge, Charlotte. Countess Kate. London: Faber, 1948.
---
Created 8 July 2018