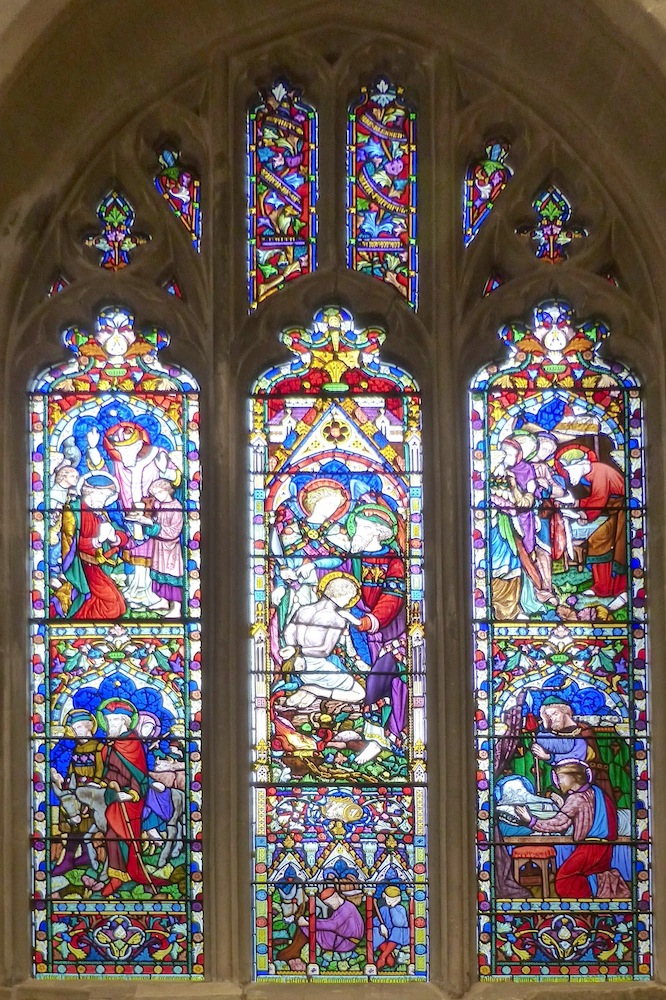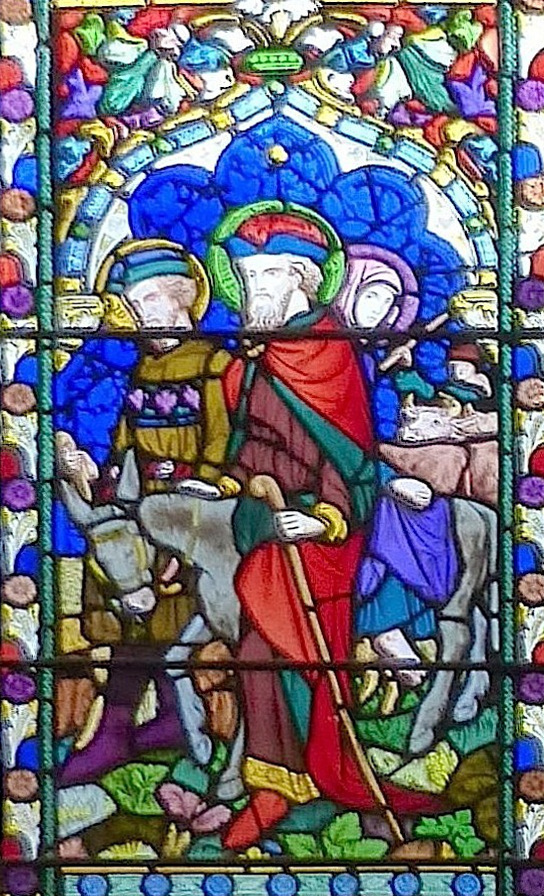 The Life of Abraham by Lavers & Barraud, designed by Nathaniel Westlake (1833-1921). Installed in the south-east chapel of All Saints Church, Kingston-upon-Thames, Surrey, in 1861 according to the local newspaper, the Surrey Comet of 2 November 1861 (see Eberhard). Westlake had been designing for Lavers & Barraud since 1858, and would later (in 1868) become a partner. This beautiful window shows scenes from the life of Abraham told in Genesis. The scene on the right above shows an already aged Abraham, accompanied by his wife Sarah, riding on the donkey with his nephew Lot walking beside him, travelling to Canaan in obedience to God's instructions, with a cattle herder and one of his herd coming along in their wake: "And I will make of thee a great nation, and I will bless thee, and make thy name great; and thou shalt be a blessing" (Genesis 12, 2).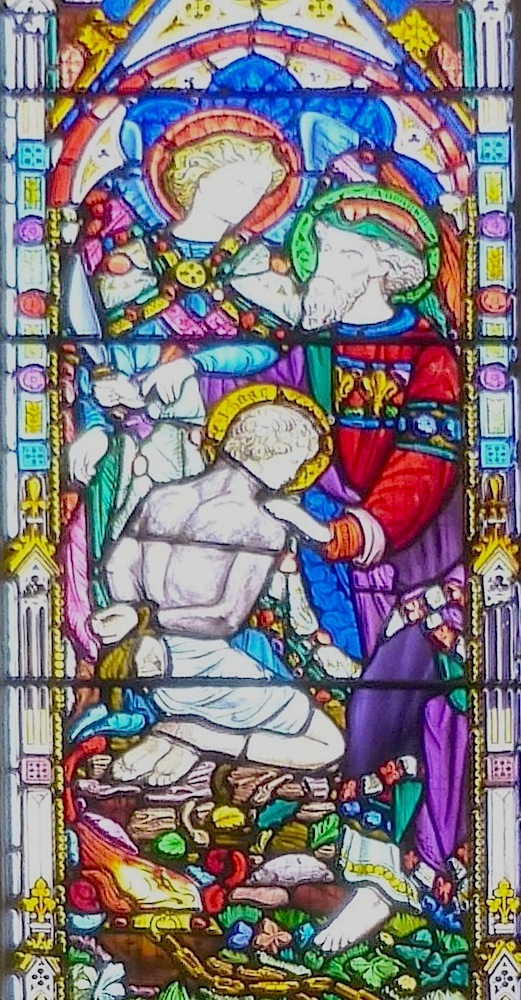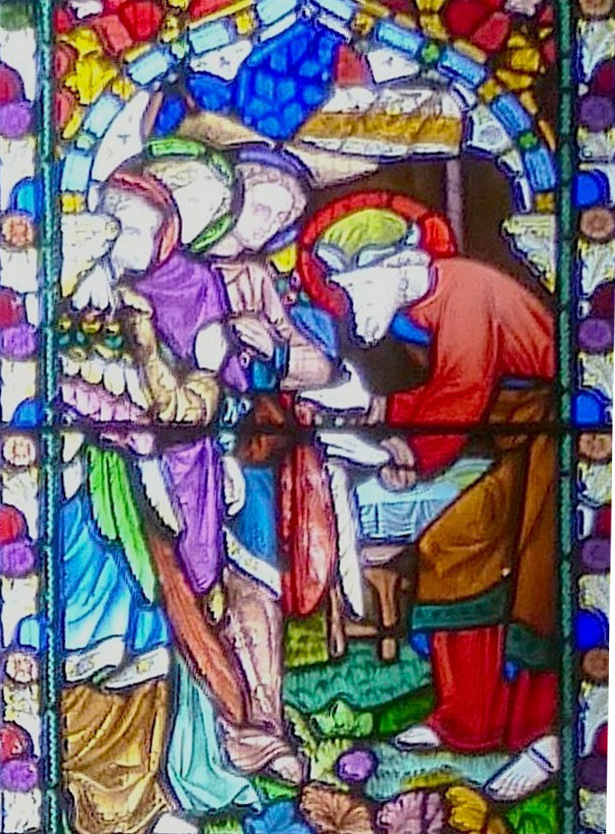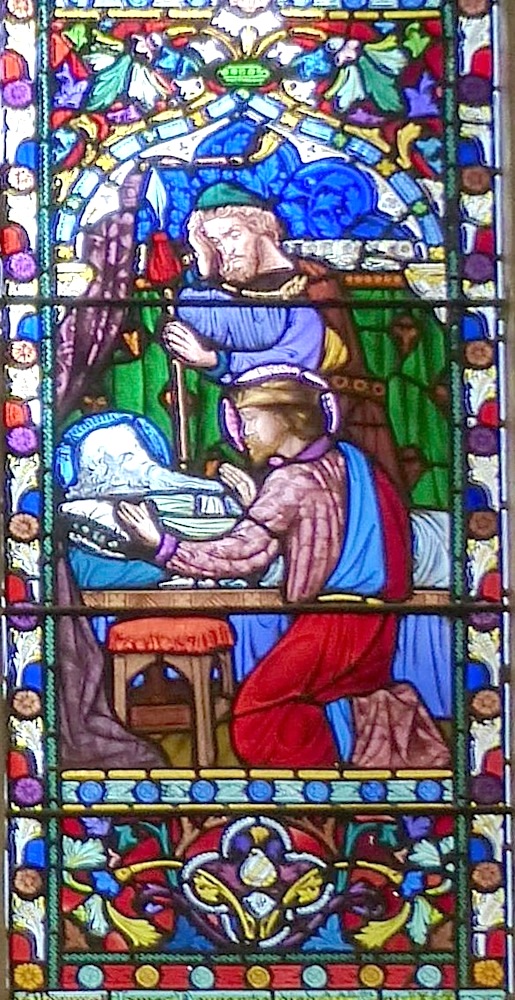 Left to right: (a) The angel intervenes as Abraham prepares to sacrifice his son Isaac. (b) Abraham admits the three angels. (c) The death of Abraham.
The panel on the left above, the central one in the window, illustrates the best-known episode of Abraham's life, in which he proves his obedience to God by overcoming even the love he feels for his only child. The angel appears to him at the crucial moment, saying, "Lay not thy hand upon the lad" (Genesis 22, 12), and the tremendous sacrifice is averted. In the scene shown in the middle above, on the upper part of the right-hand panel, Abraham welcomes the three angels: "and, lo, three men stood by him: and when he saw them, he ran to them from the tent door, and bowed himself toward the ground" (Genesis 18, 2). The death of Abraham is shown below it: "Then Abraham gave up the ghost, and died in a good old age, an old man, and full of years, and was gathered to his people" (Genesis 25, 8). These episodes of Abraham's life are all shown vividly, with intricate geometric and floral adornments in the robes, frames, and tracery lights, which bear scrolls with texts. These lights are particularly beautiful, but of course not easy to appreciate properly at that height.
Photographs and text by Jacqueline Banerjee. You may use these images without prior permission for any scholarly or educational purpose as long as you (1) credit the photographer and (2) link your document to this URL in a web document or cite it in a print one. [Click on the images to enlarge them.]
Related Material
References
Eberhard, Robert. "Stained Glass Windows at All Saints." Church Stained Glass Windows. Web. 13 May 2015.
---
Created 13 May 2015