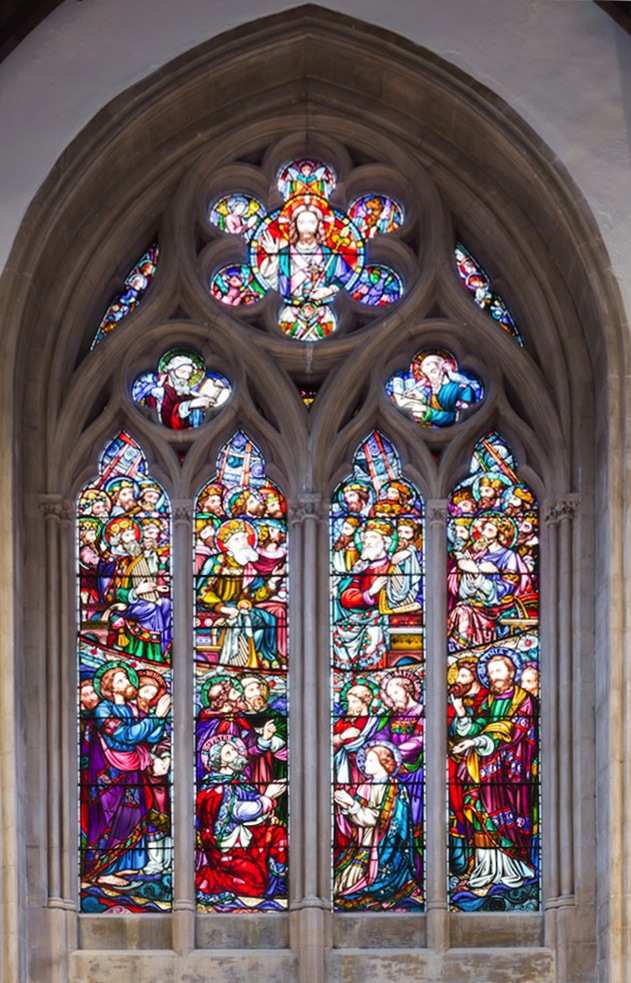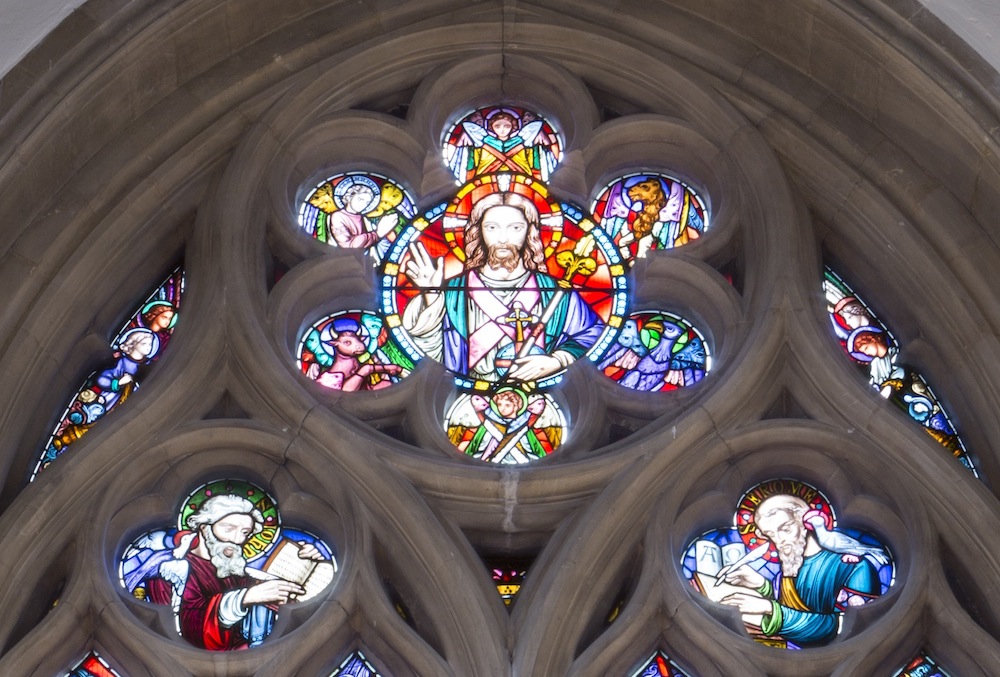 Christ in Majesty by Lavers & Barraud, designed by John Milner Allen (1827-1902) according to the Church Guide (see Eberhard). This is the west window of All Saints Church, Kingston-upon-Thames, Surrey, installed during Raphael Brandon's work on the church from 1862-66. The church's listing text dates it to 1865. Ian Nairn and Nikolaus Pevsner describe it as showing "God the Father in Glory with Apostles and Prophets" (331). But shown at the very top, in the tracery lights, is Christ, his palms displaying the stigmata, with three digits raised to represent the Trinity. Surrounding him are six smaller circles with symbols of the four Evangelists, two on each side with an angel above and below. In the tracery lights beneath, on either side, are St John the Evangelist and the Old Testament St Jerome, engaged in writing the scriptures.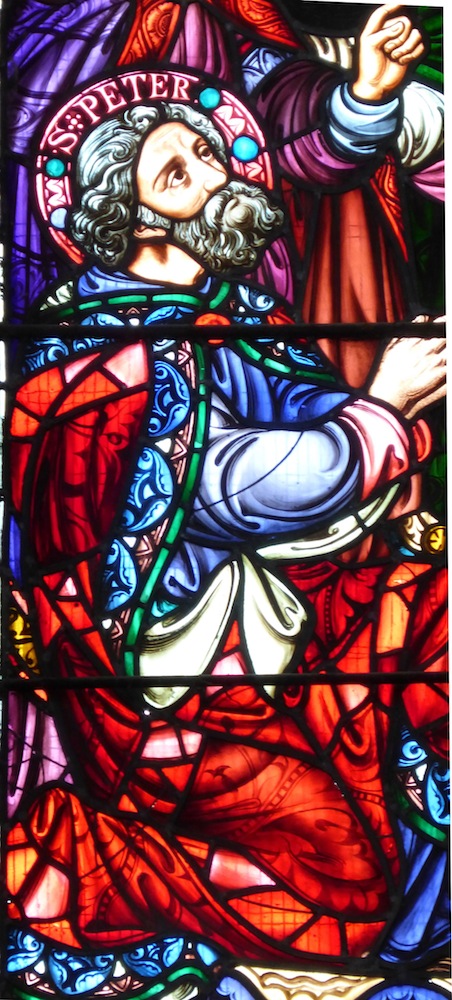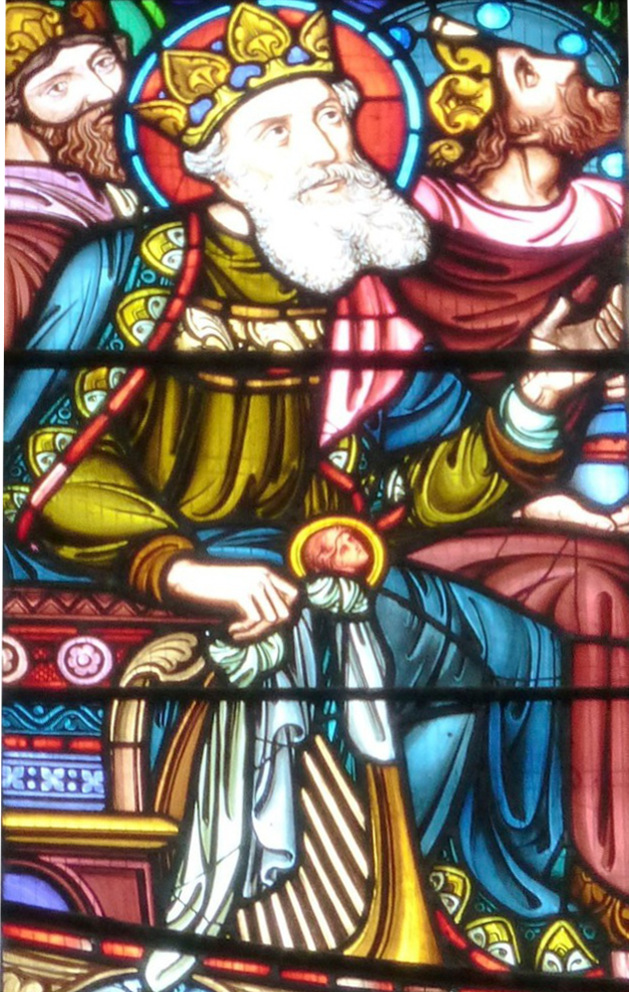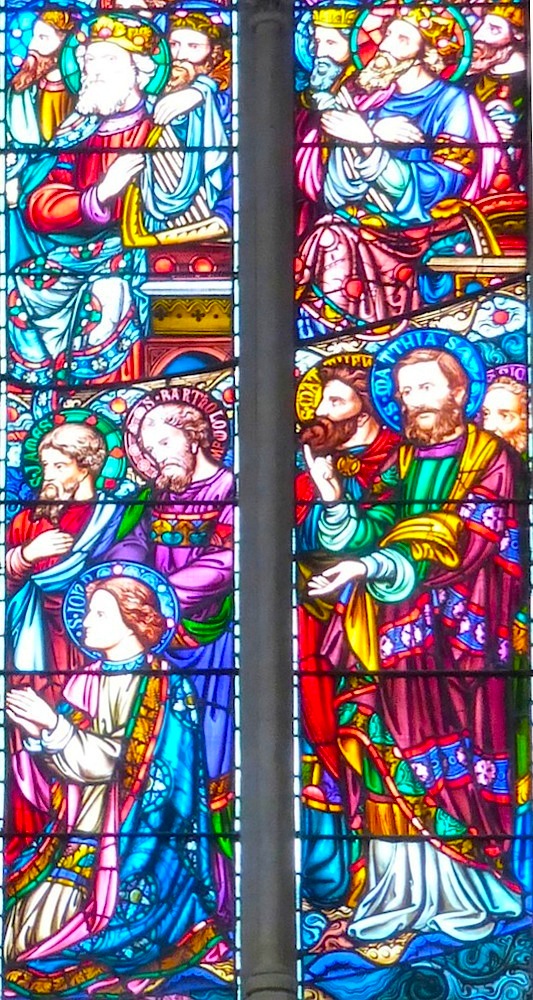 Left to right: (a) St Peter in the panel on the left. (b) One of the kings seated on thrones. (c) St James, St John and St Bartholomew, and St Matthew and St Mathias (and another saint).
The four panels of the main window show layers of kings and saints mostly looking upwards in adoration, some of the kings seated and with harps. This is a common theme in church iconography, developed from the Book of Revelations, but it is in such rich colours, and so vibrant, that it is indeed "[r]emarkable," as Nairn and Pevsner say. Interestingly, they add that the "oddly oversize heads portray local personalities" (331), which helps to explain the disproportion of the king shown in the centre, above, and also the appearance of the tiny woman's face beside his right hand, at the corner of his harp. Again, it is not unusual to find local or historic figures memorialised in such details, in carvings on the exterior of a church or cathedral for instance (think of the likeness of the architect on the roof of Notre Dame in Paris) but this human touch is very endearing all the same.
First two photographs (slightly modified here) kindly provided by Kate Kern, Heritage and Learning Officer at All Saints Church. Remaining photographs and text by Jacqueline Banerjee. You may use these three images without prior permission for any scholarly or educational purpose as long as you (1) credit the photographer and (2) link your document to this URL in a web document or cite it in a print one. [Click on the images to enlarge them.]
Related Material
References
"Church of All Saints, Kingston Upon Thames." British Listed Buildings. Web. 13 May 2015.
Eberhard, Robert. "Stained Glass Windows at All Saints." Church Stained Glass Windows. Web. 13 May 2015.
Nairn, Ian, Nikolaus Pevsner, rev. Bridget Cherry. The Buildings of England: Surrey. 2nd ed. London: Penguin, 1971.
---
Created 12 May 2015