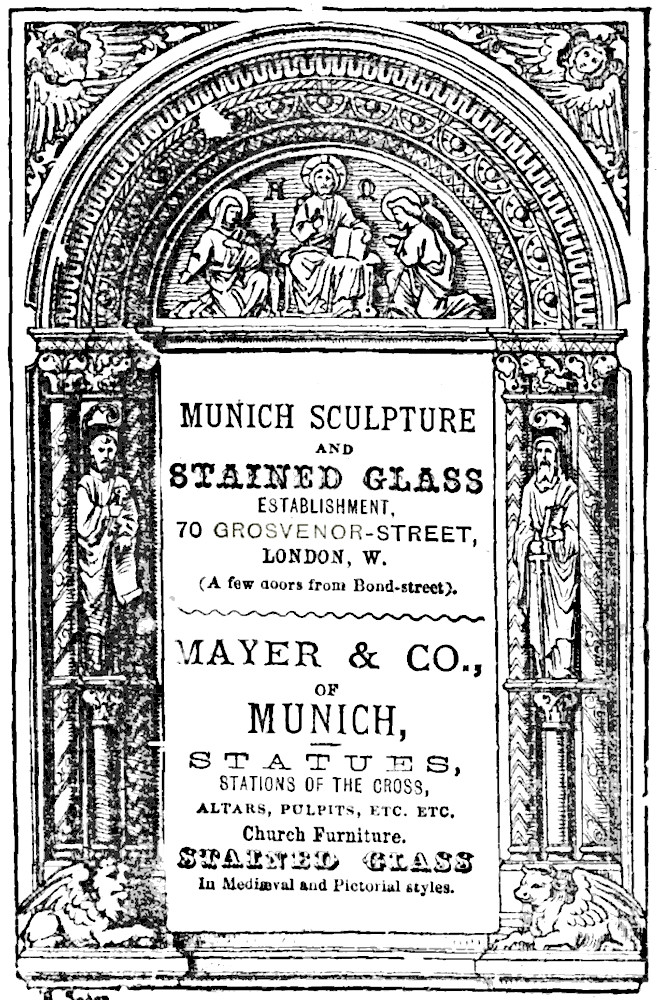 Joseph Gabriel Meyer (1808-1883) established an Art Institute in Munich in 1847, with royal patronage. By the mid-1850s he was operating studios and workshops in the Maxvorstadt area of the city. His aim was to promote and produce Christian artwork (religious carvings, altars, painted works etc.) inspired by the medieval era. It was very much a family business: after Mayer's daughter Therese married, a new stained glass department opened in 1862, managed by her husband, Franz Xavier Zettler (1841-1916). Then, from as early as 1865, Mayer & Co. begun setting up foreign branches, including one that very year in London. Adverts with the address 70 Grosvenor Street, London, can be found later on. Some stained glass windows in Britain are signed "Mayer & Co. London." William Wailes studied under Mayer in Munich (see "Core details"), and W. F. Dixon designed for the firm, moving to Munich in 1894.
Mayer's glass is easy to recognise, with a pronounced "Munich Style." The hallmarks of this are its detailed painterly depictions, employing perspective and avoiding obtrusive lead work. The studio achieved rich colour blends as well. These special effects were not the result of medieval methods at all, but of having top-class artists for the composition and main figures of the scenes, which were then painted on larger sheets of glass. Once complete, these were fused at great heat to the window glass itself (see "Francis Xaver Zettler Stained Glass Windows").
Zettler founded his own studio in 1870 and the two firms became rivals. Zettler's achieved "its first success with award-winning windows displayed at the 1873 International Exhibition at Vienna. By the end of the decade, Zettler's firm had 150 employees" ("Francis Xaver Zettler"). But the names current in Britain are Mayer, or sometimes "Munich Glass." The two firms finally merged in 1939. Mayer is still making glass and mosaics for an international market, especially for public art projects. — Jacqueline Banerjee
Works
Bibliography
"First Generation." M1. Web. 30 May 2021.
Franz Xaver Zettler Stained Glass Windows." Corpus Christi Catholic Church. Web. 30 May 2021.
[Source of advertisment] The Irish Catholic Almanac, Directory and Registry, 1876. Google Books. Free Ebook. See p. 8.
"Mayer and Co., established 1847." Gwydir Lliw yng Nghymru: Stained Glass in Wales. Web. 30 May 2021.
"Core details: William Wailes." Church of England. Web. 30 May 2021.
---
Created 18 2021