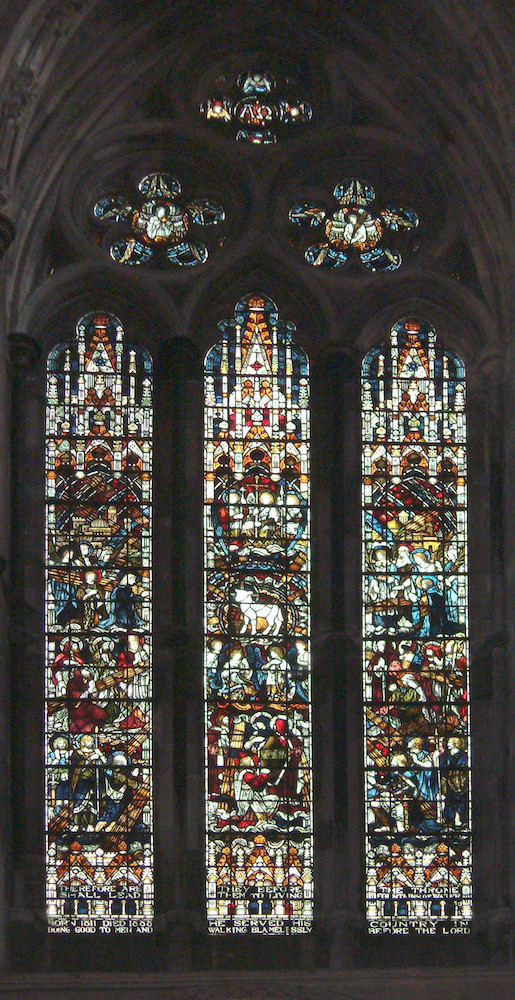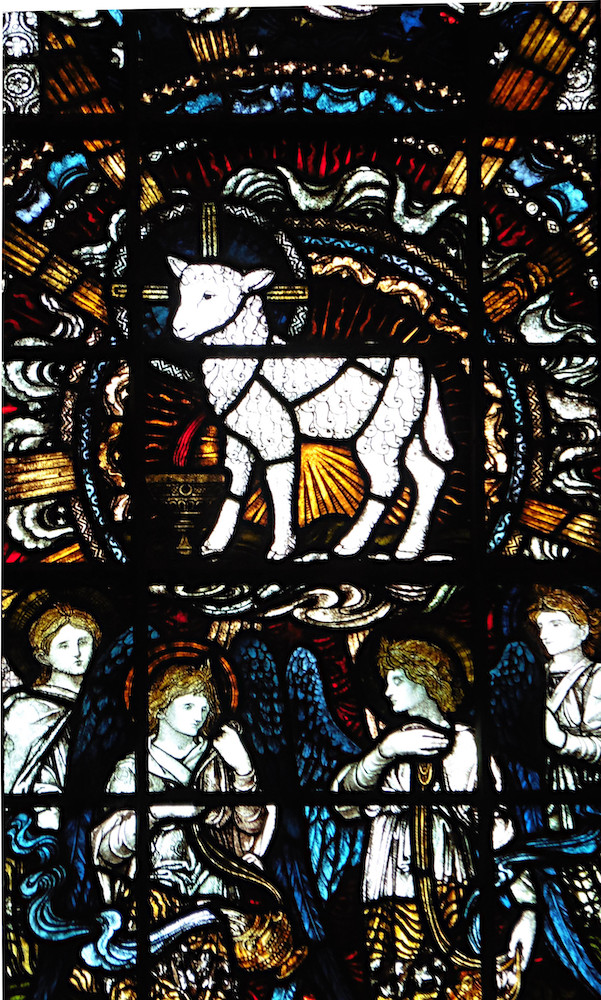 Left: The left-hand lights of the Great East Window. Right: The Lamb of God at the centre.
Great East Windows, Romsey Abbey, Hampshire, by James Powell and Sons, dedicated in 1890. As explained in Part I, both windows are very densely patterned, but while they let less light into the church, the stained glass itself is rich in colour and meaning. Both were given in memory of Palmerston's step-son William Cowper-Temple, later Lord Temple of Mount Temple, whose mother, Emily Lamb, had married Lord Palmerston. He had died in 1888. This one complements the other, which shows Christ enthroned, as in this text from Revelation:: "To the One who sits on the throne [on the left] and to the Lamb [on the right] be blessing and honour and glory and might" (5: 13). Central to the right hand window is the Lamb with rays of light shining out from it. It depicts the Lamb, his mother's maiden name, with reference to Revelations 7: 17: "The lamb shall lead them into living fountains of waters." [Click on all the images to enlarge them.]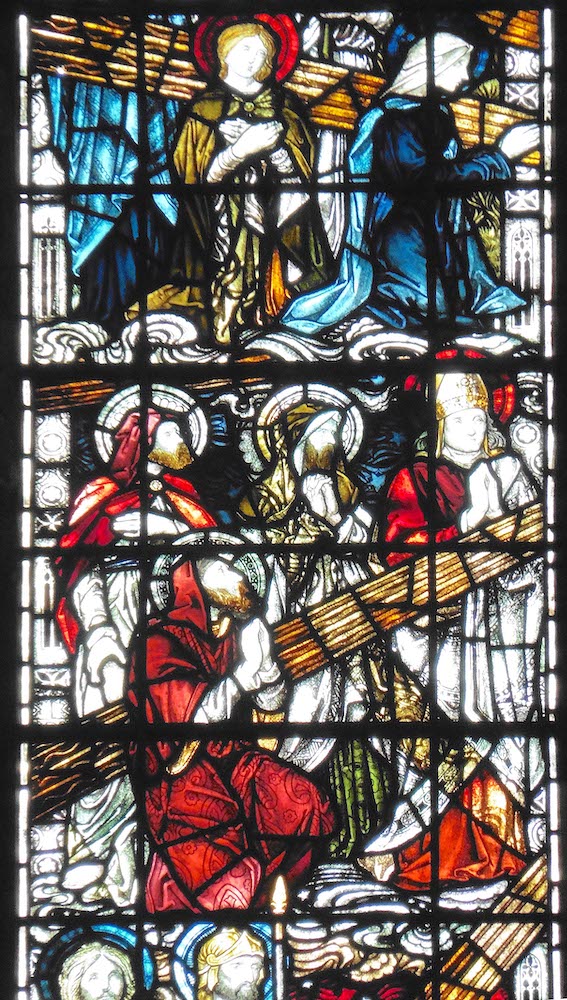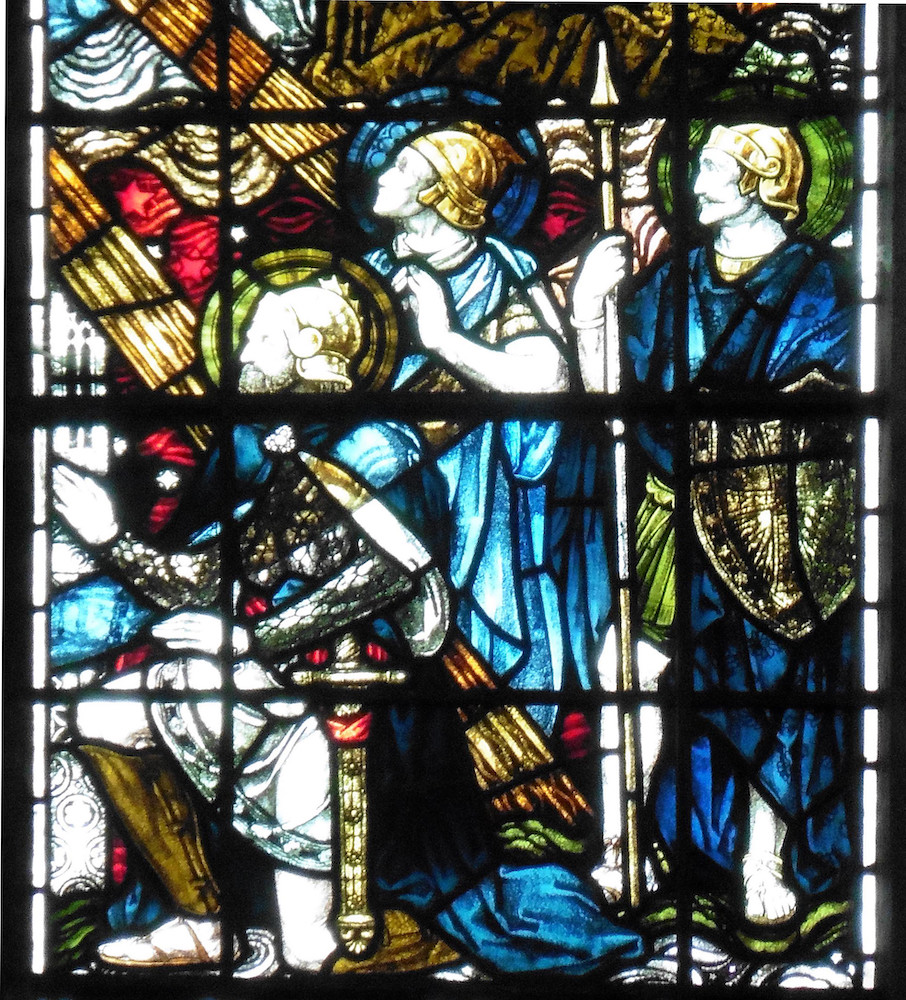 Left: Preachers and a bishop in the left-hand panel, with Mary and St John the Evangelist kneeling above them. Right: Soldiers of Christ in the lowest part of the right-hand panel.
In the central panel from the bottom upwards, pilgrims approach the Lamb, then angels. Above the Lamb other angels hold symbols of the Passion (cross, spear and sponge). The two side panels start with soldiers of Christ, then above them a group of preachers and bishops; above them those who have achieved the martyr's palm leaves, and at the top the towers of the new Jerusalem.
This six-winged angel in the tracery light on the left, carries a palm.
The upper sections of the window are filled in with angels in adoration, and tracery, composed of cherubs and monograms of Alpha and Omega are placed in the top spaces. The two lower cinquefoils are not just "angels" — they are six-winged seraphs. The faces of those paying homage are said to represent Lord Mount Temple's friends, including the Revd. E. L. Berthon, Vicar of Romsey at the time. Are they among the preachers or the group of worshippers?
Photographs and text by parish historian Liz Hallett; perspective correction, captions and formatting by Jacqueline Banerjee. You may use these images without prior permission for any scholarly or educational purpose as long as you (1) credit the photographer and (2) link your document to the Victorian Web or cite it in a print one.
Related Material
Bibliography
Eberhard, Robert. "Stained Glass Windows at Romsey Abbey, Hampshire." Church Stained Glass Windows. Web. 29 May 2019.
Hallett, Elizabeth. Romsey Abbey, the First 1100 Years (a chronological history), 2015 (available from Romsey Abbey, price £15, or via The Parish Office, parishoffice@romseyabbey.org.uk).
---
Created 29 May 2019